Newspaper Ridiculed for 'Racist' Cartoon Showing MS-13 Gang Member Crossing Border With Baby
An upstate New York newspaper continues to receive backlash over its publishing of a cartoon that shows a man covered with MS-13 gang tattoos and holding a baby as he crosses the U.S. border.
The Daily Gazette newspaper based out of Schenectady, New York, received dozens of irate letters over the June 20 cartoon from the syndicated, controversial and conservative-leaning cartoonist Tom Stiglich. Letters to the editor continue to pour in from towns across New York including Saratoga Springs, Niskayuna and Albany. Stiglich's provocative cartoons are no stranger to controversy, with his past illustrations provoking scorn—and high praise—at several other small and large publications across the country. Stiglich explained to Newsweek why some cartoons are considered more offensive than others in a nationwide political climate that frequently works itself into outrage.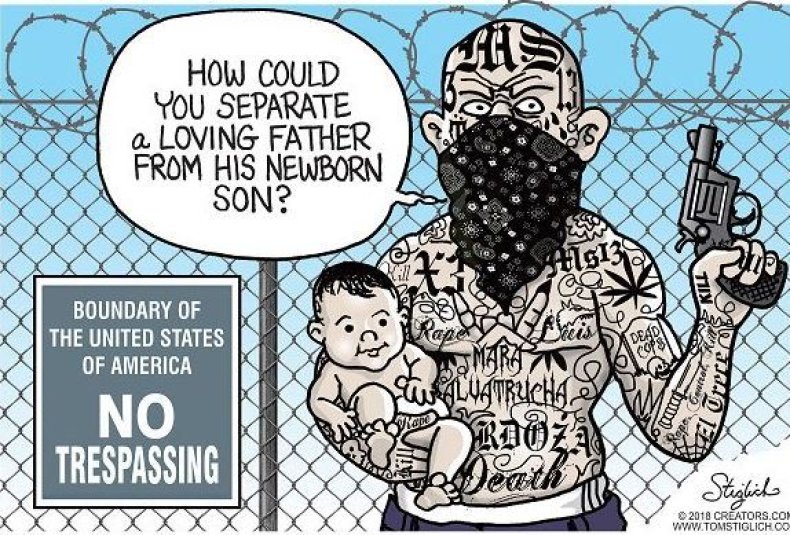 Stiglich's drawing published in the June 20 edition of The Daily Gazette titled "Immigration Separation Anxiety" makes light of the recent nationwide uproar over a now-reversed, "zero tolerance" Trump administration policy that separated thousands of migrant children from their parents at the border. But Stiglich's drawing ups the ante by depicting MS-13 tattoos and a bandana covering a man who is holding both a gun and a baby. "How could you separate a loving father from his newborn son?" asks the gang member in his quotation bubble. A chain-link fence with barbed wire and a sign reading "Boundary of the United States of America: No Trespassing" is seen in the background.
The cartoon riffs on a controversial narrative pieced together by political figures including President Donald Trump that the predominantly Central American gang of "coyotes" frequently traffick in children as a cover to commit crimes. Several isolated incidents in the past have documented the gang's brutal behavior, but Daily Gazette community members immediately demanded an apology from the newspaper along with a retraction for the "racist" attack on immigrants. The violent gang originated in Los Angeles in the 1980s, and a 2015 FBI report showed it's now comprised of more than 10,000 members across the country.
"Shame on The Daily Gazette for publishing Tom Stiglich's racist cartoon about the child separation crisis," reads one letter from Jeff Corbin of Niskayuna. "The purpose of political commentary like cartoons on your editorial page is to tell truth to power. But this cartoon does the opposite, preying on victims of a cruel policy that the United Nations commissioner for Human Rights has called 'unconscionable.' This was a clearly racist depiction of a whole class of immigrants."
Stiglich, a member of the Association of American Editorial Cartoonists, described his cartoon with the blunt caption: "Immigrant children are being used by criminals to enter the US, and by politicians as political pawns. MS-13 gang." In an email to Newsweek on Wednesday, the Philadelphia-based cartoonist said "any time that I include a minority, some readers will automatically scream 'that's racist.' That does tend to get old. I'm sure there aren't many caucasian MS-13 gang members."
Stiglich said there is "no denying" the U.S. immigration system is broken and that he is all for "common-sense legal immigration" that doesn't simply allow lawless, undocumented entry into the country. He also questioned why there is not more focus on millions of Americans living in poverty and veterans who desperately need assistance. But not all Daily Gazette readers are interested in hearing an explanation for the cartoon.
"The June 20 Gazette had one of the most reprehensible cartoons I can remember seeing. In it, Tom Stiglich portrays a completely unjustifiable image of an asylum seeker as an armed criminal," reads a letter from Don Porter of Schenectady. "I understand very well that The Gazette has the right to publish any opinion it chooses. I defend that right. You have the right to express all kinds of racist and anti-American views. I choose to exercise my right to oppose that loathsome expression."
Editorial page editor Mark Mahoney at the The Daily Gazette issued the following response:
Our role as a newspaper is to present a variety of viewpoints on issues of public concern and interest, even commentary with which some might disagree or find offensive.

The political cartoon that appeared June 20 showing a member of the MS-13 gang holding a baby represented a point of view of the immigration crisis shared by many, and therefore we felt it was fair commentary.

When we only choose to publish one point of view or limit our publication of commentary to that with which we agree, then the citizens are less informed about the opinions of others and therefore deprived of the opportunity to formulate and express their own points of view.

The very fact that so many readers responded to this cartoon is proof of the value of running such opinions in the newspaper.

As always, we welcome and encourage our readers' response to political cartoons, editorials, columns and letters to the editor as a way of sharing information and maintaining an open and diverse public conversation.
"It's one thing to try to represent diverse views, it's quite another to stoke racist fears and ignorance. This is neither funny nor thought-provoking. It's abominable," reads yet another letter from Kathryn Gallien of Saratoga Springs. A May cartoon from Stiglich showed House Minority Leader Nancy Pelosi holding up MS-13 gang signs on the left and then showed the California Democrat dismissing a pro-life, anti-abortion protester.
A comic from Stiglich entitled "Another School Shooting" was criticized by readers of Newsday in February. The cartoon shows a bullet-riddled yellow "school zone" street sign showing ammunition flying and children fleeing. Several readers ridiculed Newsday for making jokes about "The pains of Sandy Hook, Columbine and other frequent shootings at our nation's schools are not a cartoon matter. This cartoon is way over the line and insensitive, especially to parents who have lost a child in a school shooting."
Stiglich addressed the country's current political climate having turned more spiteful in recent years.
"The hateful rhetoric absolutely has increased in the past few years. Having Donald Trump as president may very well be a factor," Stiglich said in an email to Newsweek Wednesday. "I know personally when I see a late-night TV show or cartoon that I don't agree with; or even an opinion that I feel is just completely 'out there', I usually just shake my head and move along, but to each their own."
Formed in 1894 and dubbed "the locally owned voice of the capital region," The Daily Gazette is one of the largest privately held newspapers in New York and is still owned by the Hume family.