Boeing and major U.S. airline companies, having spent more than $90 billion buying shares in the past decade, now need a government bailout of at least $110 billion to survive a recession triggered by the coronavirus pandemic, and probably much more.
The scale of the bailout, as projected by most of the eight analysts who spoke to Newsweek, is likely to stoke a growing political controversy over share buybacks in which companies transfer cash to stockholders instead of building up reserves or investing in their business.
Boeing, which has been struggling for the past year with the safety of its 737 Max jet, has spent over $43 billion buying back stock over the past decade. The six airlines—Southwest Airlines, Alaska Air, Delta Airlines, United Airlines, American Airlines and JetBlue—have spent about $47 billion over the same period. American Airlines paid the most to investors at nearly $13 billion, and Alaska Air, the least at less than $1.6 billion.
All seven companies have seen their shares pummeled by news of travel bans and other restrictions imposed by federal and state governments to curtail the spread of COVID-19, a deadly respiratory disease that has overwhelmed hospitals in Europe with critically ill patients.
Six of the seven companies have seen their shares slump more than 60 percent this year, twice as fast as the S&P 500, which has dropped 30 percent. Southwest, the best performing stock in the group, fell 37 percent.
Boeing's problems are bigger and it has asked the government for a $60 billion bailout of the aerospace industry. Christopher Harrow, CEO of International Aviation HQ, told Newsweek that the airplane maker alone will need up to $75 billion to save it in its entirety.
Boeing has already announced that CEO Dave Calhoun and board Chairman Larry Kellner will both forgo all pay until the end of the year in the face of the financial crisis, and that the company would suspend its dividend until further notice. Any share repurchasing—already paused as of April 2019—will remain on hold until further notice, a company spokesperson told Newsweek.
"They have spent so much money on buying back shares in order to boost their share price, that they've neglected other parts of their business," Harrow said. "As such, they have a really strong share price, but it's built upon a house of cards, that only requires one push, and they'll all fall off."
A Republican proposal for a stimulus plan contained $50 billion in loans to the airline companies. The airlines have been lobbying about $30 billion in grants to offset the impact of the travel bans. Six of the eight analysts Newsweek spoke to said the airlines alone would need a bailout of between $50 billion and $100 billion to avoid bankruptcy. The median forecast was for a bailout of $75 billion.
All analysts expect the government to intervene and support the industry. The view is widely held. Goldman Sachs upgraded Boeing's stock to a "buy" rating over the weekend, citing its survival prospects.
Eric Schiffer, CEO of the private equity firm Patriarch Organization, said "without a bailout, you will experience an airline apocalypse which would take our country back to relying on railroads and Greyhound buses [as] people's mass transit." Schiffer expects the size of the U.S. airline bailout to be $75 billion.
The airline industry can survive without a bailout if there was certainty that the travel bans will be lifted by or eased by the end of April or May, Savanthi Syth, managing director, global airlines at Raymond James said.
"The issue is this could continue through the summer and beyond (none of the government entities that have enacted travel restrictions have even outlined what needs to be met to lift the bans)," Syth said. "U.S. airlines cannot handle little or no revenue for 6-8 months or longer. Hence the need to drastically shrink and furlough employees if there is no end in sight."
At a White House briefing last week, President Donald Trump said he wants to give airlines the money, explaining "we don't want airlines going out of business."
While he supports the idea of a bailout, Trump is no fan of share buybacks, taking the position of his Democratic opponents that companies that receive government money should not be allowed to buy shares.
"You can't take a billion dollars of the money and just buy back your stock and increase the value," Trump said on Saturday.
Wall Street executives view the criticism of share buybacks as unfair. Two of them—Donald Luskin, chief investment officer of Trend Macrolytics and Chris Hynes, CEO of Hynes Capital—took to the Opinion pages of The Wall Street Journal this week to push back against the idea that buybacks were "a uniquely evil form of predatory capitalism".
"For some reason progressives don't object when companies pay money out to shareholders through dividends. Buybacks are superior because they give shareholders a choice. Shareholders must receive a dividend when it's declared and pay taxes on it. In a share buyback, investors who want cash can sell some shares and pay taxes. If they don't want cash, they can choose to hold on to their shares." they wrote.
"Also, if airlines get bailed out, why not hotels, car rental businesses, and the list goes on and on." BMO Wealth Management's chief investment strategist, Yung-Yu Ma told Newsweek.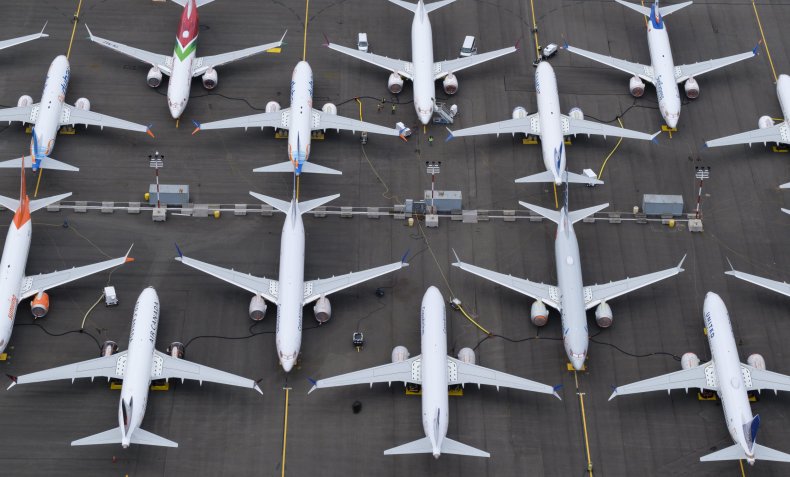 An unprecedented crisis
Last week, the Airlines for America (A4A) lobbying group wrote to lawmakers urging them to approve financial support of up to $29 billion in grants, $25 billion in loans and tax breaks to help airlines through the crisis. The letter was co-signed by Alaska, American, Atlas Air Worldwide, Delta, FedEx Express, Hawaiian Airlines, JetBlue, Southwest, United, and UPS Airlines.
The body said that if Congress agreed, participating carriers would not furlough employees or conduct reductions in force through August 31. The letter also said carriers would limit executive compensation, plus eliminate stock buybacks and stock dividends for the life of the loans.
An A4A spokesperson told Newsweek that the collective burn rate for the U.S. airline industry is currently around $10-12 billion each month. "This is about preserving the jobs of 750,000 U.S. airlines employees and the 10 million jobs supported by the airline industry," the spokesperson explained.
A spokesperson for United Airlines told Newsweek that the organization suspended purchases under its share repurchase program in February.
The spokesperson declined to say whether United now believes that its share repurchase program—which totalled $8.88 billion over the last decade—was a good policy, but said the company's investment in customer experience, job creation and profit sharing with employers "far exceeds our share repurchases."
Since United merged with Continental Airlines in 2010, the spokesperson said the company has invested some $30 billion to improve customer experience and another $10 billion to support workers.
"We made clear that we are calling for bipartisan action by the administration and the United States Congress to support the men and women of United Airlines," the spokesperson added, though did not say how much money the organization will require.
Earlier this month, United CEO Oscar Munoz and President Scott Kirby wrote to employees explaining that the firm would have to start redundancies at the end of March if Congress failed to pass support measures, in line with planned schedule reduction in April. May, they warned, would likely bring further cuts.
A Delta spokesperson told Newsweek that while it has spent $11.43 billion on share buybacks over the past 10 years, the company also invested 50 percent of its cash flow back in our business—30 percent into "achieving an investment grade balance sheet by paying down debt and funding our pension" and the other 20 percent going back to shareholders through buybacks and dividends.
The spokesperson added that the company has paid out some $9.1 billion over the past decade on its profit-sharing plan, and has increased wages for each of the past 10 years.
Southwest told investors on March 16 that it had decided to suspend future share repurchases—which accounted for more than $11 billion in since 2010—as a means to preserve cash, a spokesperson told Newsweek. They added that the airline has maintained "adequate cash reserves and modest debt levels" for unforeseen difficulties, but falling passenger numbers means "there is much uncertainty."
JetBlue and Alaska did not reply to requests for comment in time for publication. American referred Newsweek to the A4A letter sent to lawmakers last week.