Coronavirus Update, Map As Cases Pass 387,000, China Eases Lockdown in Wuhan, Italy Sees Drop in Cases
The coronavirus has spread to over 387,000 people across at least 169 countries. Over 102,000 have recovered from infection, while the death toll has surpassed 16,700, according to the latest figures from Johns Hopkins University.
Italy saw a slight decline in new cases, while the U.K. has been forced to enforce stricter lockdown measures as locals defy recent social distancing warnings. President Donald Trump is hopeful for the U.S. to be back to business as usual in a few weeks' time.
More cases of the virus, which was first reported in China's Wuhan city of the Hubei province, have been reported outside China than within. The country has more than 81,500 cases, with around 3,200 fatalities and more than 73,000 recoveries. It claims the outbreak has been mostly contained, having reported four new domestic cases on Monday, including one in Wuhan. The country will be easing travel restrictions in Hubei from Wednesday.
The pandemic is "accelerating" around the world
The Director-General of the World Health Organization (WHO), Dr. Tedros Adhanom Ghebreyesus, tweeted on Monday: "The #COVID19 pandemic is accelerating. It took 67 days from the 1st reported case to reach the first 100K cases, 11 days for the second 100K cases & just 4 days for the third 100K cases," following a media briefing.
He said: "Asking people to stay at home and other physical distancing measures are an important way of slowing down the spread of the virus and buying time."
He urged nations to "attack the virus with aggressive and targeted tactics—testing every suspected case, isolating and caring for every confirmed case, and tracing and quarantining every close contact."
China to ease lockdown in Wuhan
Outbound travel in the Hubei province is expected to reopen on March 25, while travel restrictions in Wuhan will also be lifted from April 8, the Hubei Health Commission confirms. The latest measures mark a major step toward resuming normal life in the province following a strict two month lockdown.
Nearly 11 million people in Wuhan, who have been under lockdown since January 23 in the wake of the outbreak, will no longer be under strict travel restrictions in about two weeks' time.
The rest of the province, which constitutes a population of nearly 60 million, will see traffic control measures lifted on Wednesday. Those leaving the province will need to have a QR code issued by the government indicating they are healthy, The South China Morning Post reports.
A few other cities, including Shanghai and Shenzhen, have previously announced those arriving from Hubei who have the required QR code will no longer need to be quarantined for 14 days and will be allowed to immediately return to work.
Two major car factories in Wuhan, Dongfeng Toyota and Dongfeng Motor, have also restarted their production lines on Monday, The South China Morning Post reports.
While domestic cases in the country appear to be dwindling, China has seen a rise in imported cases, seeing 78 new cases on Monday, nearly double that on Sunday. Four of the new cases were domestic cases, the country's National Health Commission confirmed.
Major cities such as Beijing, the country's capital, as well as Shanghai have already imposed mandatory 14-day quarantines on all travelers entering the country from abroad. From tomorrow, Beijing will also require travelers from overseas to be tested for the virus, the Associated Press reports.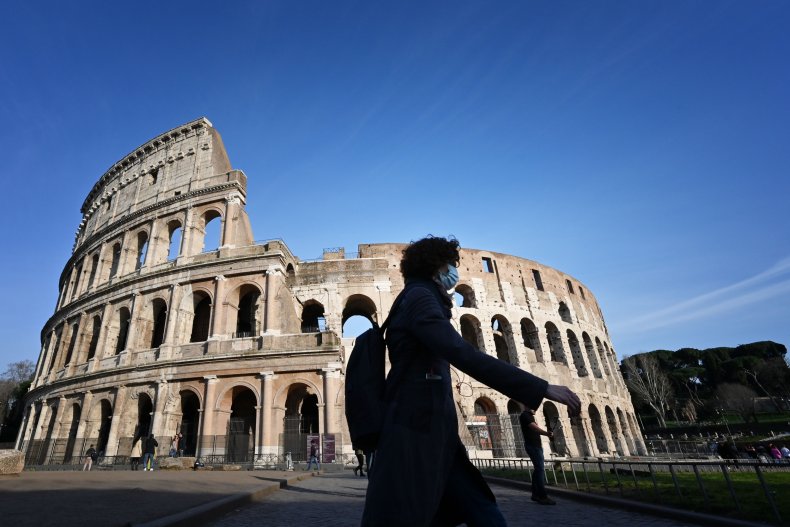 Cases in Italy see slight drop
Italy's death toll rose by 602 on Monday, which was its smallest increase for four days, bringing its death count to 6,077. The number of cases rose by 4,789 on Monday, which was the smallest spike for the past five days. The total cases dropped from 6,557 on Saturday to 5,560 on Sunday, and saw additional declines on Thursday and Friday, the country's civil protection agency confirmed, Reuters reports.
Giulio Gallera, the country's Health and Welfare Regional Minister of Lombardy, the northern Italian region worst-hit by the outbreak, told reporters: "Today [Monday] is perhaps the first positive day we have had in this hard, very tough month. It is not the time to sing victory, but we are beginning to see the light at the end of the tunnel."
Most cases in Italy have been concentrated in the north, while a few cases have been confirmed in the south, including in Tuscany and Sicily.
The first death in the south was recorded on Monday in the Basilicata region, which meant all of Italy's 20 regions have now reported fatalities.
Fears have been raised over the virus spreading to the south on a wider scale and whether its less-equipped health care system will be able to cope with such an outbreak, Reuters reports.
The graphic below, provided by Statista, illustrates the recovery curve compared to the infection curve of the virus.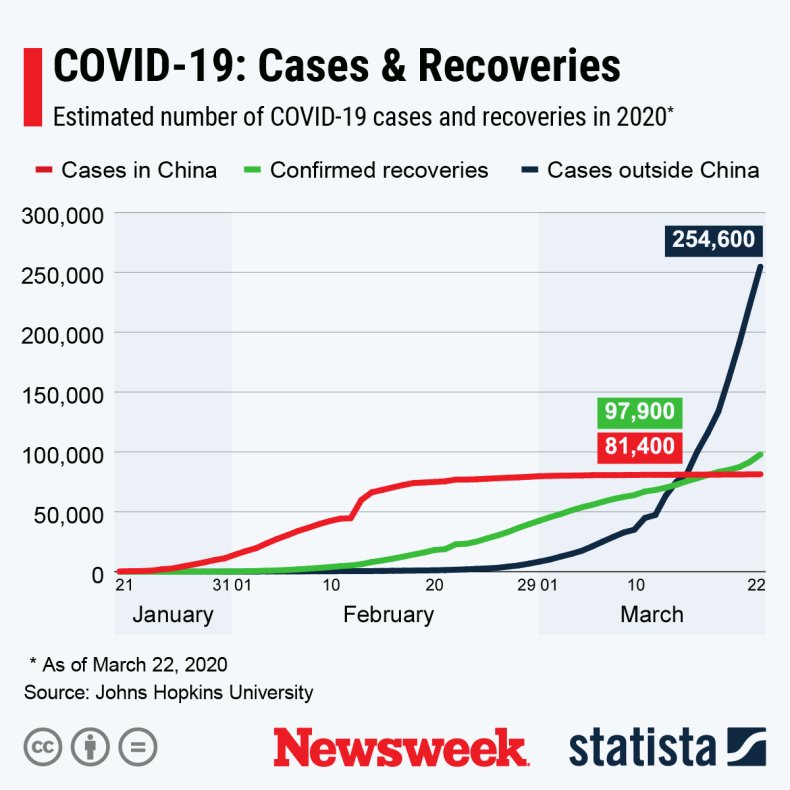 U.S. to be "open for business" soon
The death toll in the U.S. jumped by nearly 100 on Monday, with the total confirmed cases now at more than 46,400 and the death count at nearly 500.
New York and Washington state continue to dominate the death count, with at least 170 deaths in New York and at least 110 in Washington state, which has now joined other parts of the country in issuing a "stay at home" order.
Trump hinted U.S. businesses will resume normal operations soon. He noted at a White House press briefing on Monday: "Our country wasn't built to be shut down. This is not a country that was built for this. It was not built to be shut down."
"I'm not looking at months, I'll tell you that," he later added. "We can't keep it closed for years, okay? [Coronavirus] is going away. Once the medical community gives a region the okay, meaning the okay to get going, to get back, let's go to work."
U.K. imposes lockdown
British Prime Minister Boris Johnson announced stricter measures across the country on Monday as people were seen to be ignoring previous warnings against large gatherings over the weekend.
The new measures mandate that people are allowed to leave their homes for the following reasons only:
Shopping for basic necessities, as infrequently as possible;
One form of exercise a day - for example a run, walk, or cycle - alone or with members of your household;
Any medical need, to provide care or to help a vulnerable person; and
Travelling to and from work, but only where this is absolutely necessary and cannot be done from home.
The prime minister emphasized "these [the above] are the only reasons you should leave your home.
@You should not be meeting friends. If your friends ask you to meet, you should say 'No.' You should not be meeting family members who do not live in your home.
"You should not be going shopping except for essentials like food and medicine—and you should do this as little as you can. And use food delivery services where you can."
Johnson also warned that "police will have the powers to enforce them [the latest rules], including through fines and dispersing gatherings."
While parks will remain open so that people may exercise, all gatherings will be dispersed, the following venues and gatherings will be closed "to ensure compliance with the Government's instruction to stay at home":
All shops selling non-essential goods,​ including clothing and electronic stores and other premises including libraries, playgrounds and outdoor gyms, and places of worship;
All gatherings of more than two people in public—excluding people you live with; and
All social events​, including weddings, baptisms and other ceremonies, but excluding funerals.
Data on COVID-19 cases is from Johns Hopkins University unless otherwise stated.
The graphic below, provided by Statista, illustrates the spread of the COVID-19 virus across the world.