Boiling Lobsters Alive Is About to Become Illegal in UK Thanks to Animal Welfare Concerns
The once-ubiquitous method for cooking lobsters—by tossing them, still alive, into a pot of boiling water—has become increasingly controversial in recent years, with several countries banning the practice entirely. The United Kingdom now appears to be following suit via the new Animal Welfare (Sentience) Bill which is currently on its way to becoming law.
As many researchers have noted, evidence on the issue increasingly suggests lobsters—as well as other crustaceans, like crabs—are sentient creatures that experience pain. Stephanie Yu, Ph.D. notes, in a report for The Humane Society of the United States, that "there exists robust scientific evidence in support of crustaceans being sentient animals with the capacity to suffer." Despite that fact, she explains, "humane slaughter legislation in most of the world has not been interpreted as applying to crustaceans."
Specifically, on the practice of boiling lobsters alive, Yu notes it "appears to cause physiological shock" to the creatures, who "struggle violently for approximately two minutes after being placed in boiling water before they stop moving."
She goes on to call the practice "unnecessarily cruel"—a sentiment echoed by organizations that have taken up the humane slaughter of crustaceans as their cause.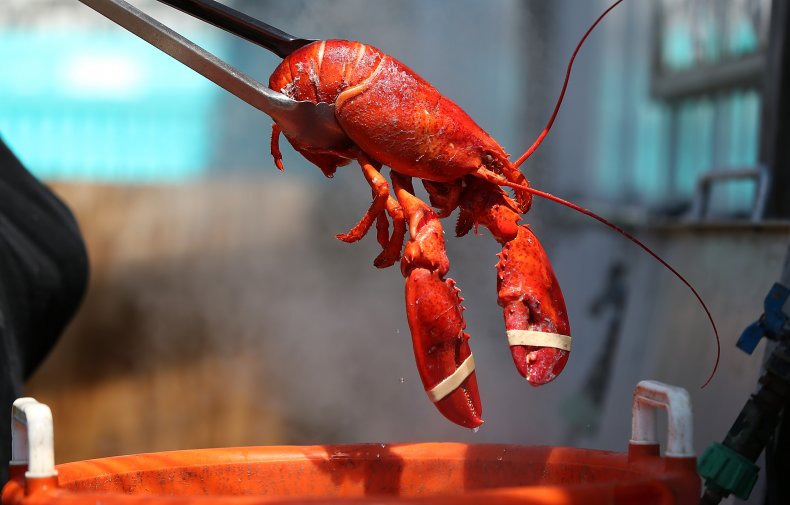 The bill is currently in the House of Lords, reported The Evening Standard, where it is undergoing changes to extend its reach beyond just lobsters—instead, it will also reportedly include crabs, octopi, squid, and other sentient invertebrates. Under the bill, anyone planning to kill or cook these creatures will have to stun or chill them before they are boiled. Additionally, it will reportedly be illegal to shrink-wrap crustaceans while they are still alive.
Crustacean Compassion is a U.K.-based organization that has led the campaign for increased protection for lobsters and other shellfish species. Their efforts date back several years, to at least 2018, when their petition to Michael Gove, Secretary of State for Environment, Food and Rural Affairs at the time, gained attention across the U.K.
According to their website, Crustacean Compassion specifically hopes to extend the reach of England and Wales' Animal Welfare Act of 2006 so that it includes not only mammals, fish, and reptiles, but "decapod crustaceans" as well.
"At the time that the Act came into force, there was evidence that crustaceans were capable of feeling pain, but the file was slim," explained the organization on their website. "A clause was inserted that would allow for their inclusion at a later date if the science was convincing. Now [that] there is stronger and better evidence available there is no excuse."
The Independent reported that both the RSPCA and British Veterinary Association (BVA) have expressed support for the bill, which was brought to Parliament in May. According to The Evening Standard, The Conservative Animal Welfare Foundation—with backing from Carrie Johnson, wife of Prime Minister Boris Johnson—is also lending support to the cause.
Similar legislation has already been implemented in a handful of countries, including New Zealand, Norway and Switzerland.