Boiling Water Floods Home After Years of Leaking Complaints: 'Terrifying'
Footage of boiling water flooding an English property went viral last week, prompting a swift backlash online.
"Terrifying morning with boiling water flooding our hallway," tweeted Alicia Bainbridge of London, England, alongside the video on Thursday. Her clip, viewed 1.7 million times, showed steaming water filling the hallway outside her front door. The water appeared to be so hot there was a fog in the hallway.
"Oh my god, f**king hell, it's so soaked, " she said behind the camera.
Bainbridge tagged London & Quadrant Housing Trust (L&Q), which owns the property. One of England's largest housing associations, the company owns and manages over 105,000 properties that house 250,000 people, according to its website.
"We have constantly complained about this pipe leaking since we moved in 5 years ago," Bainbridge said in a follow-up tweet. "L&Q always took the cheap option and refused to fix it properly. Result is seriously dangerous—boiling water raining down."
L&Q confirmed to Newsweek that the hot water leak was reported on Thursday morning.
"The London Fire Brigade attended immediately and turned off the hot water supply," said a spokesperson. "Our contractors were onsite at the time of the incident and identified the cause of the leak was a defective valve. The valve and a section of pipework was replaced by a specialist contractor and at 6:30pm the hot water was restored. There have been no more leaks since."
The housing association has battled years of complaints about substandard living conditions. In 2018, an exposé on L&Q from The Guardian revealed that tenants were living with sewage leaks, water outages, mold, cracks and vermin for years, while service charges only continued to rise.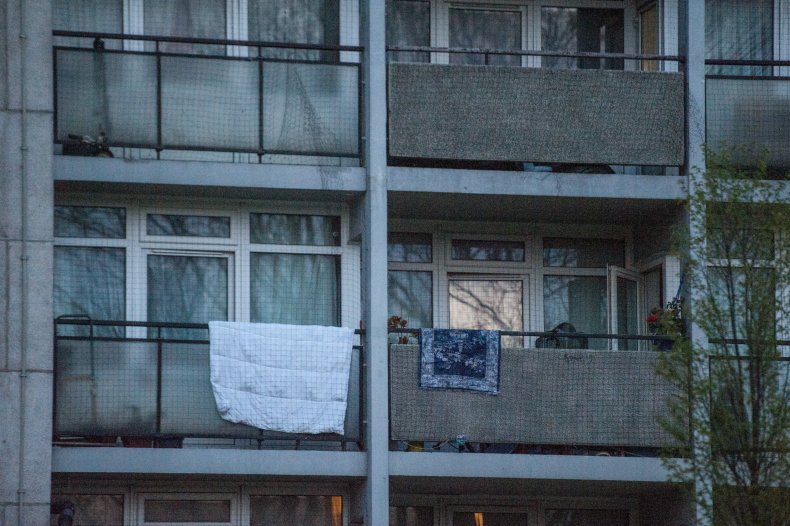 In February, a series of tweets from social housing activist Kwajo Tweneboa showed an L&Q property crawling with cockroaches, along with a massive leak over various power sockets that left black mold growing up the wall.
Meanwhile, on the review website Trustpilot, 74 percent of contributors rate the housing association as "bad." In just recent days, tenants have detailed repeated leaks, defective boilers, poor maintenance and scant communication from representatives.
Said one review post on Friday, "3rd leak in 8 days. This is what we've become used to over the last 8 years with this property. [...] This water system in our block is not fit for purpose, they know it, we know it, but they refuse to do anything about it."
Twitter users were furious over Bainbridge's living conditions.
"The more people who see that the better, to warn people not to rent properties from L&Q! L&Q deserve to be sued!" commented a viewer. "That's a potentially life threatening situation! You're filth!"
"I would get out of that flat immediately, you're in danger of getting electrocuted," warned another user.
Newsweek reached out to Bainbridge for comment.
Update: 08/09/22 4:07 p.m. ET: This article was updated with comment from London & Quadrant Housing Trust (L&Q).
Correction: 08/11/22 3:37 p.m. ET: Reference to social housing was removed