The Nigerian militant group Boko Haram has warned the parents of abducted schoolgirls, returned to their hometown after a month in captivity, to never to send them to school again.
A witness in the town of Dapchi, where a number of the girls had been returned to, told the Associated Press that Boko Haram claimed to return the girls "out of pity." The group also warned: "Don't ever put your daughters in school again."
According to CNN, the girls released by the Islamist group were abducted in late Feburary from the Government Girls Science and Technical College in northeastern Nigeria, a Boko Haram heartland. While 110 schoolgirls were initially abducted it is unclear how many had been returned.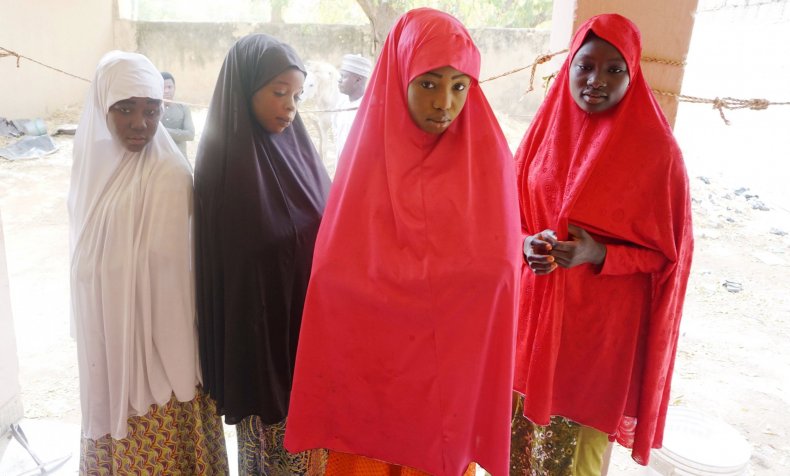 The secretary of the college's parents' association, Kachalla Bukar, said he had seen the girls walk into Dapchi early in the morning and counted about 50 of them. His 14-year-old daughter Aisha was not among them.
"I saw about 50 of them but I haven't seen Aisha, my daughter… parents are rejoicing here, but we can see they have suffered," Bukar said.
Read more: Nigerian slaves beaten, tied up with barbed wire and forced to drink from toilet in Libya
Last month's kidnappings echoed the 2014 abduction of 276 schoolgirls from Chibok, northern Nigeria. The abduction brought Boko Haram to the attention of the world's media. The group's name translates to "education is forbidden" in the local Hausa language.
The release of the girls to Dapchi follows the publication of an Amnesty International report accusing the Nigerian military of failing to prevent the attack, despite warnings. The Nigerian military has dismissed the report as a "falsehood."
However, Amnesty has said the military and police received at least five calls in the hours before the abduction. The international human rights group added that lessons had not been learned from 2014 and urged the government to open an investigation into what had gone wrong at Dapchi.