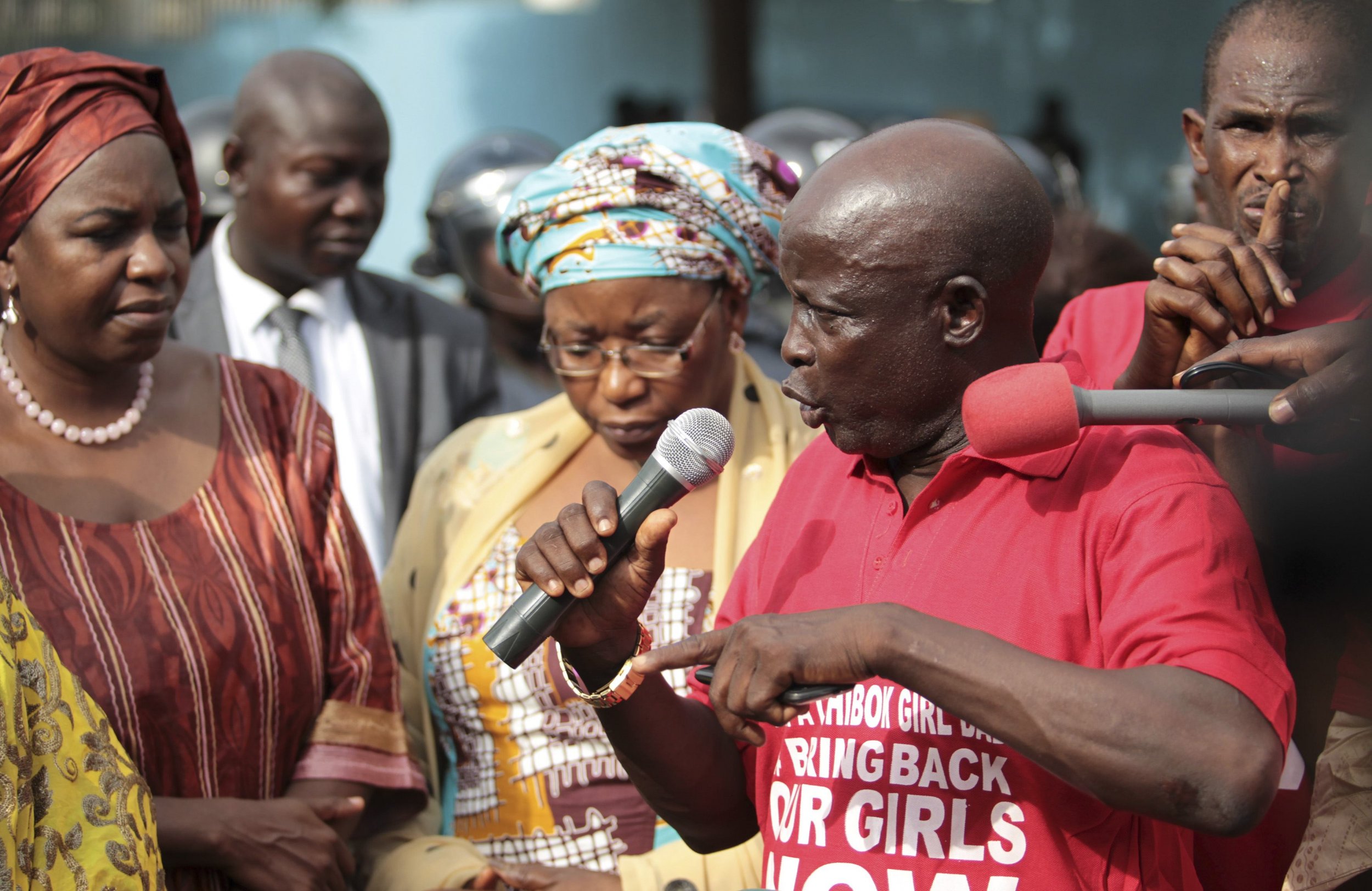 Six months ago last night, on April 14, nearly 300 schoolgirls in northeastern Nigeria were woken in their dormitories, their sleep punctured by the sound of gunfire. They were kidnapped and loaded into the backs of trucks by terrorists from the Muslim extremist group Boko Haram.
Their crime? Being female and going to school.
Since that night, 57 schoolgirls have managed to escape, but 219 are still missing. Despite a mighty and ubiquitous social media campaign using the #BringBackOurGirls hashtag, prompting everyone from Michelle Obama to Angelina Jolie to demand action and express outrage, not a single one has been rescued.
The six-month mark of abduction of the girls, who were studying for a test in a government school in Chibok, Nigeria, comes a few days after the International Day of the Girl Child, a celebration of the rights of girls across the world to receive an education instead of becoming a child bride.
It also comes just days after the Nobel Peace Prize was awarded to Malala Yousafzai, an advocate for girls' education. Yousafzai was shot in the head by the Taliban when she was on her way to school in Pakistan in 2012. Now 17, she visited Nigeria in July when the country's president, Goodluck Jonathan, assured her "that the abducted girls will return to their homes soon."
Boko Haram, the terrorist organization whose name translates from the Hausa language to "Western education is a sin," has killed more than 3,000 people this year alone and is attempting to establish an Islamic state in Nigeria. Three states in the northeast where militants are operating—Borno, Yobe and Adamawa—have been declared to be in a state of emergency by the government.
Initial reports on what happened to the girls painted a stark picture. In May, Boko Haram sent a video to the AFP news agency in which the group's leader, Abubakar Shekau, threatened to "sell" the abducted girls. The group said the girls shouldn't have been in school and instead should have gotten married.
"You can only imagine how many of those girls are six months pregnant, how many are ill," Kimberly Brown, legal consultant at the Nairobi office of Equality Now, an international human rights organization with a focus on women and girls, told Newsweek. "We can't even begin to speculate what their experiences have been."
Since Shekau's comments, "it's been a blackout in terms of what's actually happening" to the girls, said Brown.
Government Response
Protests took place outside the home of Goodluck Jonathan, with around 60 people demanding the government do more to save the schoolgirls, Reuters reported Tuesday.
The Nigerian government finished its investigation into the abductions in June, but made frustratingly little progress, Reuters reports. Brown says the families of the abducted young women aren't looking for state secrets; they just want to know what's happening to their daughters.
"The [government's] response has been inadequate at best. They keep saying they're negotiating, but there hasn't been any real transparency about what actions are being taken and what the varied forces that stepped up to the plate can contribute," said Brown.
A letter from the Nigerian Ministry of the Interior to Equality Now is "very generic," Brown says, and offers bland discussions about diplomacy and security rather than concrete plans to bring them home or confront Boko Haram.
"There has been no transparency whatsoever, especially from the authorities themselves. That's what makes it all the more worrisome, when you're being fed worst-case-scenario information by Boko Haram," said Brown.
A consequence of Boko Haram's reign of terror targeting young women attending school—and one that likely emboldens them—is fear within the region that it could happen again. Some 54 percent of Nigeria's girls attended secondary school in 2011, according to UNICEF, but families in the three states under a state of emergency, as well as neighboring Cameroon and Chad, are concerned about intimidation, said Brown.
"Simply the act of them showing up at school is a threat to their life," she said.
On Tuesday, the White House issued a "fact sheet" on its efforts to help the Nigerian government "in its fight against Boko Haram," which include enacting sanctions against the group, intelligence sharing and dispatching a team of experts to Nigeria earlier this year to advise on issues like hostage negotiations and civilian security, among other efforts. The U.S. Agency for International Development is also there, offering trauma counseling and education programs, according to the release.
Media Response and the Situation Today
Fifteen girls who escaped Boko Haram's clutches now attend the American University of Nigeria (AUN) in Yola, Adamawa State, after receiving scholarships as part of the school's #EducateOurGirls campaign. Margee Ensign, president of the AUN, told Newsweek the school is expecting eight more girls over the next week, and the first group of girls arrived about five weeks ago.
"We've got them in a very structured, individualized academic program to prepare them for their national exams, which happen in the spring," said Ensign. "We have them on campus, they're very protected. We're keeping their identities a secret because they're still worried about the families, but they're doing extremely well."
The students, ranging in age from 16 to 19 years old, are preparing for the Joint Admissions and Matriculation Board exams, the Nigerian national exam equivalent to the SATs, and West African Examinations Council exams, the West African exams, which the girls were taking when they were abducted.
The girls have been offered mental health counseling but haven't taken up the offer yet. Ensign says she's confident they will open up soon.
Efforts to raise awareness have continued in Nigeria despite the Western media moving away from blanket coverage of the story that dominated headlines in the West for a brief flash.
"We can only deal with so much in the human condition, of tragedy. [We are] finding a way to not just make it about the 219 girls, but how it could be in any state of insecurity, it could be anybody's daughter," said Brown.
Correction: The original version of this story incorrectly referred to the American University of Nigeria campaign as Educate Our Girls. The correct name is #EducateOurGirls.