A group of lawmakers in Bolivia is facing backlash after it sent a letter to President Donald Trump requesting he work to intervene in their country's upcoming election in order to block President Evo Morales from running.
The group of 12 politicians asked Trump to use Washington's influence within the Organization of American States to somehow prevent Morales from running for another term. In a 2016 referendum, which was later overturned by the South American country's Constitutional Tribunal, Bolivians voted to prevent Morales from seeking a fourth term.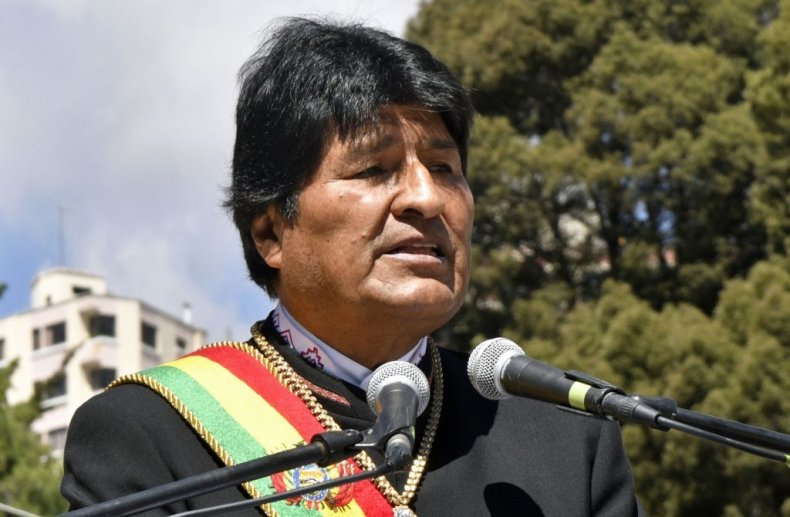 Morales, who has been in office since 2006 and has won re-election twice, has aligned himself ideologically with the Venezuelan government led by Nicolas Maduro. He has also strongly opposed U.S. intervention, kicking out the U.S. ambassador to his country in 2008 and later expelling the U.S. Agency for International Development (USAID) in 2013. The leftist Bolivian leader is now running for re-election for a fourth term, despite pushback from right-leaning politicians within the country's government.
Although the Trump administration has taken a strong stance against Venezuela's Maduro government, supporting opposition leader Juan Guaidó as the country's acting president, it appears unlikely that Washington is prepared to act similarly in Bolivia. The White House did not respond to requests for comment.
When asked for comment, the State Department referred Newsweek to a February tweet from Western Hemisphere Affairs' Assistant Secretary Kimberly Breier, in which she said: "The international community must remain vigilant to ensure free, fair, and transparent elections in October [in Bolivia]." The spokesperson also cited a December statement, which read: "The United States supports a healthy democracy in Bolivia that respects Bolivia's constitution and the will of the Bolivian people. Respect for political pluralism, and freedom of expression are fundamental rights and essential pillars of democracy and the rule of law."
Kathryn Ledebur, from the Andean Information Network, a Bolivian nonprofit nongovernmental organization, told Newsweek that the political and economic situations in Bolivia and Venezuela are very different. Whereas Venezuela has been experiencing a major economic crisis and has a unified opposition against Maduro's government, Bolivia's GDP growth is higher than that of the U.S.—averaging 4.9 percent—and critics of Morales have thus far failed to present a viable alternative.
Although Ledebur said she doubts the Bolivian letter is on Trump's radar, she pointed out that his administration has been unpredictable in its response to Latin America. "My guess is," she said, "Bolivia is not perceived as a political football like Venezuela. I think the Trump administration does not have a very significant, profound understanding of South American-Latin American politics." She also said that the Bolivian lawmakers' letter was not well-formulated, or well-received within the country. Prominent presidential candidates challenging Morales have distanced themselves from the effort.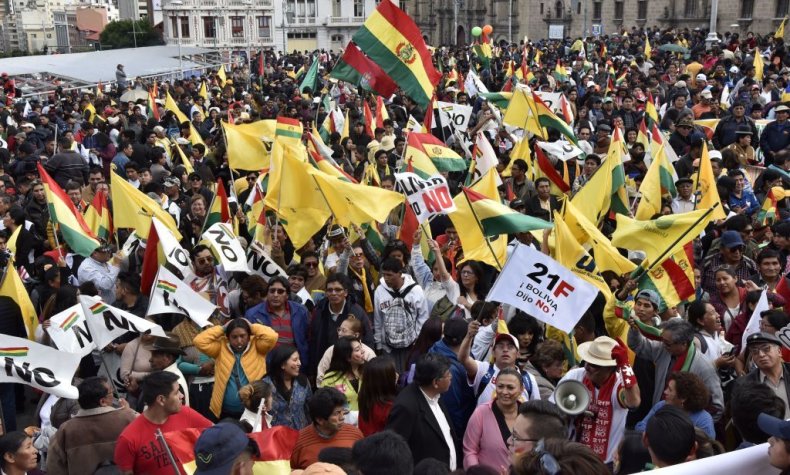 Allison Fedirka, director of analyst operations for Geopolitical Futures, told Newsweek that "the U.S. would very much welcome regime change in Bolivia and could provide rhetoric to encourage such an outcome." She explained, however, that "Bolivia does not rise to the same level of strategic importance for Washington as Venezuela." The Trump administration, she said, is currently focused on challenging governments in Cuba, Nicaragua and Venezuela, which the president's national security adviser John Bolton has dubbed the "troika of tyranny."
"There are presidential elections this October which will either provide a graceful exit for Morales or mark a turning point for when the opposition will need to seriously challenge the Morales regime," Fedirka said. "Between the lack of strategic value, already weakened regime and prospect of elections, there is no need in the foreseeable future for the U.S. to divert its attention and resources away from Venezuela, Cuba and Nicaragua towards Bolivia."
Although much of South America was dominated by leftist governments during the first two decades of the 21st century, Fedirka pointed out, the tide has been changing over the past few years. "Bolivia is among the last ones standing," she said.
Correction (04/17/19 (2:35 p.m.): A previous version of this article inaccurately stated that Bolivia's Supreme Court overturned the 2016 referendum. It was actually overturned by the country's Constitutional Tribunal.
Editor's note: This article has been updated with comment from the State Department.