"It's about time," Jon Bon Jovi said as his band was inducted—finally—into the Rock and Roll Hall of Fame in April.
He has a point. If the rock band from Sayreville, New Jersey, formed in 1983, were a person, it would be old enough to run for president. No other artifact from the hair-metal era has shown the same persistence. If you're a Bon Jovi fan, such astonishing longevity is a gift that makes its disciples happy and its singer very rich. And if you hate Bon Jovi—well, you ought to give them some credit for pissing you off for this many years.
Bon Jovi's bottomless appetite for crunchy riffs and lovestruck ballads has been documented on 13 studio albums. Frontman Jon Bon Jovi's gravelly voice and knack for soaring, arena-ready hooks, coupled with the band's reliably bombastic pop-metal riffs, made Bon Jovi into an indelible hit machine. Sometimes derided as the poor man's Springsteen because of their shared Jersey roots, Bon Jovi deserves respect (no, really!) for combining the Boss's working-dude appeal with hard-rock sleaze and managing to evolve and endure after the '80s faded.
In honor of the band's current tour, we ranked all the studio albums, not counting Burning Bridges—technically a compilation—or the acoustic rehashes of This Left Feels Right. Let the haggling begin!
13. THE CIRCLE (2009)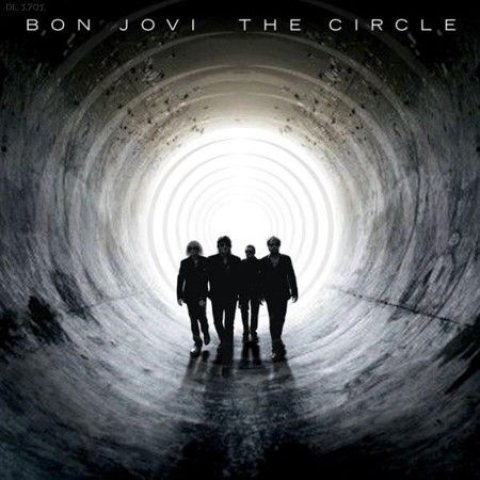 At some point, the New Jersey-based band graduated from the glammy testosterone of its '80s period and the working-class grandeur of its '90s music to become purveyors of dull platitudes about rising up and overcoming hardship. The Circle is a particularly colorless example of the latter, with Bon Jovi sounding more like a tedious motivational speaker than a rock band: Jon Bon Jovi exhorts listeners to "get up off your knees," "hold on to what you believe," "live before you die" and "learn to love the world you're living in." The band rips off U2 on "We Weren't Born to Follow," Collective Soul on "Bullet" and itself on "Work for the Working Man," which shamelessly recycles the bassline from "Livin' on a Prayer." A joyless wet cough of a rock album.
Random fact: "Bullet" was inspired by the 2008 murder of Jennifer Hudson's mother, brother and nephew.
12. WHAT ABOUT NOW (2013)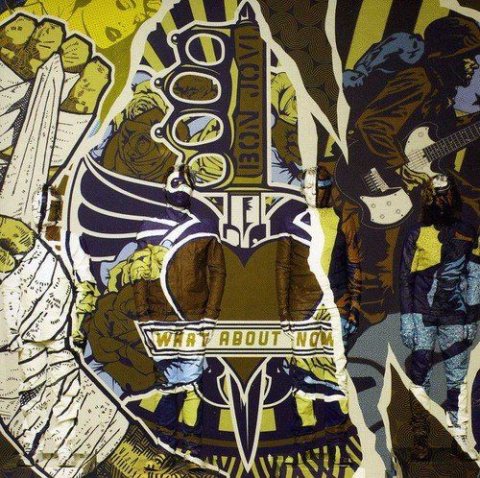 The trouble here isn't that Bon Jovi has matured since the band's horndog hair-metal days. It's that all of the sexuality and personality of Bon Jovi's youth has been razed in favor of dull and insipid arena rock. The opening track, "Because We Can," is an unlistenable faux-peppy fist-pumper. Bon Jovi has relied on heavy digital studio trickery at least since its 2000 hit "It's My Life," but the band has never sounded quite this faceless and overproduced. The lyrics aren't much better: Jon Bon Jovi is still preoccupied with bland platitudes about positivity, perseverance and absolutely nothing ("If you wanna take a bite / You'd better have the teeth").
Random fact: Richie Sambora abruptly and mysteriously quit the band in the middle of this tour.
11. THIS HOUSE IS NOT FOR SALE (2016)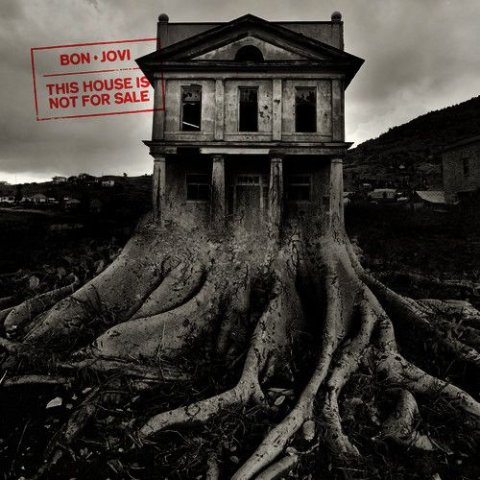 There are no great surprises or unexpected revelations on Bon Jovi's 13th studio album—the first without Jon's longtime sidekick Richie Sambora (replaced by Phil X). There are some palatable hooks and guitar riffs that sound like they were played by a human, rather than a Pro Tools plug-in. The best moments include the raucous title track, which reasserts Bon Jovi's faith in its own institution after three years of adversity, including Sambora's abrupt departure (he said he wanted to spend more time with his family) and record label turmoil.
Random fact: Jon Bon Jovi spotted the Jerry Uelsmann photograph in a magazine and decided to make it the album cover.
10. HAVE A NICE DAY (2005)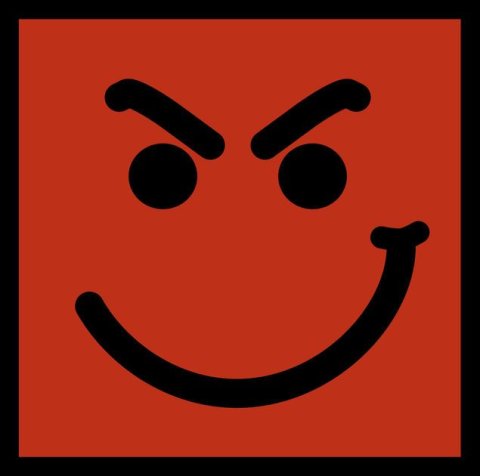 This was the first Bon Jovi album to feel like just another Bon Jovi album. Day's smash title single helped make it commercially successful, but the album didn't reboot Bon Jovi for a new era, like Keep the Faith, or demonstrate new maturity, like These Days; it didn't conquer a new generation of fans, like Crush, or attempt to address a national tragedy, like Bounce. There are a couple of gems—"I Want To Be Loved," "Who Says You Can't Go Home"—but otherwise the album is as faceless and inoffensive as its title.
Random fact: "Last Man Standing" was inspired by the death of Johnny Cash and "the idea that Bob Dylan was the last man standing, the last of the real gods."
9. 7800° FAHRENHEIT (1985)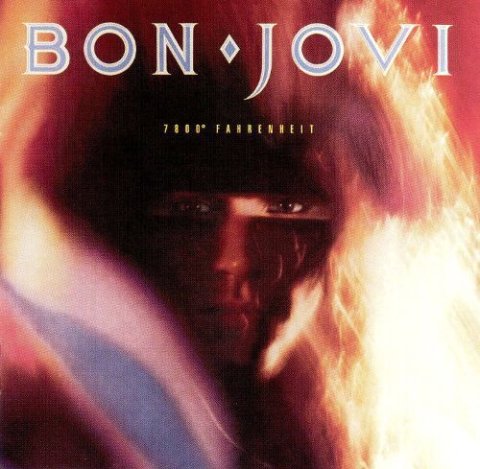 Pity the disappointing second album: U2's October, the Clash's Give 'Em Enough Rope—and Bon Jovi's 7800° Fahrenheit. All underwhelming sophomore efforts sandwiched between successful debuts and revelatory third albums. "King of the Mountain" boasts a neat call-and-response chorus, and "Only Lonely" remains a fan favorite, but too much of the album sounds tentative and corny—just not corny in the spectacular, fist-pumping way that made Slippery When Wet a cultural and sales monster. The album is interesting for one reason: It reveals what Bon Jovi sounded like before they figured out what Bon Jovi needed to sound like (not, for instance, the dramatic synth-pop of "To The Fire").
Random fact: The way Jon sings "Let it go!" in "Silent Night" sounds eerily similar to the way Bono sings the exact same lyric in U2's "Bad."
8. LOST HIGHWAY (2007)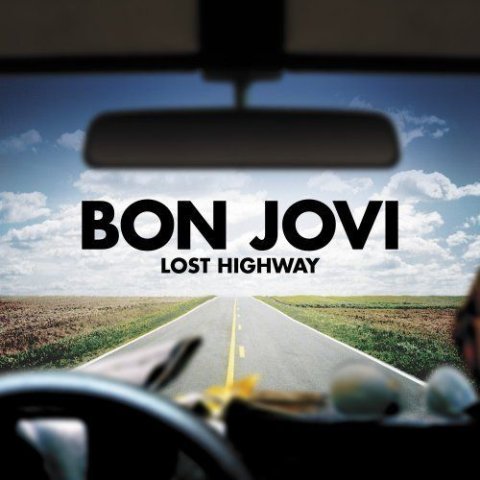 You either die young or you live long enough to make a country record. In 2007, Bon Jovi, apparently invigorated by the surprise success of a countryfied version of 2006 hit "Who Says You Can't Go Home," trekked to Nashville and made one—though "country record" might be an overstatement. This is breezy AOR pop-rock with some pedal steels, violins and collaborations with LeAnn Rimes (not bad) and Big & Rich (truly atrocious). But the country element did offer a welcome stylistic challenge for the band, and it certainly helps Lost Highway stand out in the heap of post-2002 Bon Jovi albums
Random fact: The album takes its title from the label Lost Highway Records, not from the David Lynch movie.
7. BOUNCE (2002)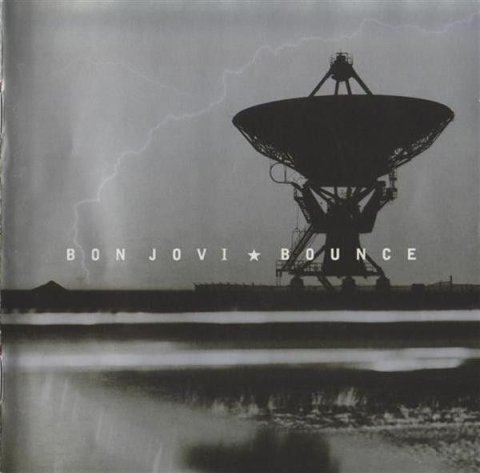 In 2002, everyone and their grandma was writing post-9/11 anthems. (Springsteen's similarly themed The Rising came out around the same time.) Once you push past the flag-waving clichés of "Bounce" and "Undivided"—"Where we once were divided / Now we stand united" is about as politically charged a statement as Bon Jovi will make—this record is a hash of chugging, nü-metal guitar tones and hyper-slick "It's My Life"-style production. The redeeming material is the lighter fare: "Misunderstood," one of the band's catchiest ballads; "Right Side of Wrong," a Butch Cassidy-referencing criminal anthem with Elton John-style piano; and "Joey," a distant cousin of 1988's "Blood on Blood."
Random fact: Bon Jovi wrote several more 9/11 songs in the immediate aftermath of the tragedy, but declared them "just too sad" and decided never to record them.
6. BON JOVI (1984)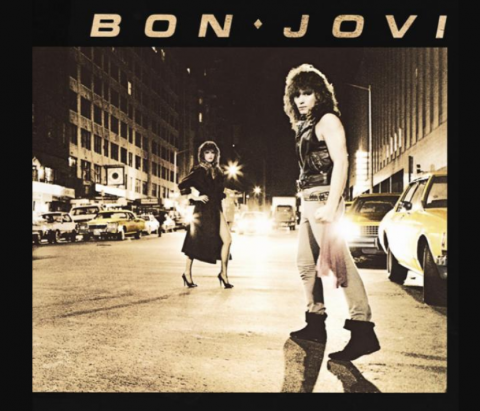 The band's inoffensively enjoyable debut is most notable for its hilarious cover art (there's Jonny!) and for containing "Runaway," the hit that introduced top 40 listeners to these poodle-haired romantics and the only early Jovi cut to remain in the band's set lists after New Jersey. (The band didn't even wait until the '90s to purge the rest of the album from its shows.) Most here is indistinguishable from the rest of the cheesy, mid-'80s glam-metal pile. And note the track "Shot Through the Heart," which has nothing to do with the later hit "You Give Love a Bad Name"—sorto of like if the Red Hot Chili Peppers had an obscure early song called "Sometimes I Feel Like I Don't Have a Partner."
Random fact: "Runaway" was written with a local Jersey songwriter named George Karak, who is still collecting royalties 30-plus years later.
5. CRUSH (2000)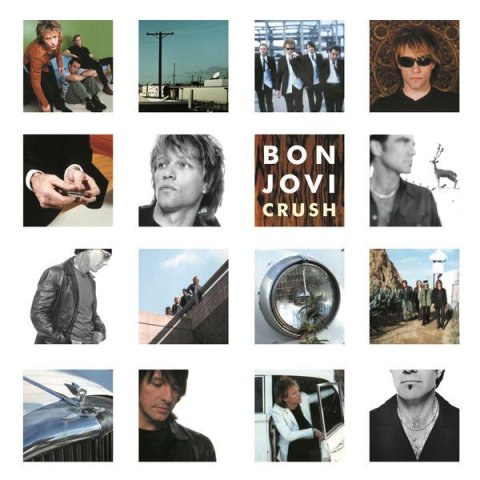 An impressively deft argument for aging gracefully, even if you have to hire sentient karaoke machine Max Martin to do it. This album wasn't just Bon Jovi's second major comeback in as many decades; it managed to convert an entirely new generation of fans, largely on the strength of the Martin-assisted mega-hit "It's My Life," which updated Sambora's talk box with an array of digital loops and whistles. The gloom and doom of These Days is gone. At its hook-heavy best, Crush finds Bon Jovi sliding confidently into ragged heartland rock ("Just Older"), Tom Petty swagger ("Two Story Town") and glorious Beatles-esque pop ("Say It Isn't So").
Random fact: The gap between These Days and Crush was almost exactly five years—the longest-ever wait between Bon Jovi albums.
4. SLIPPERY WHEN WET (1986)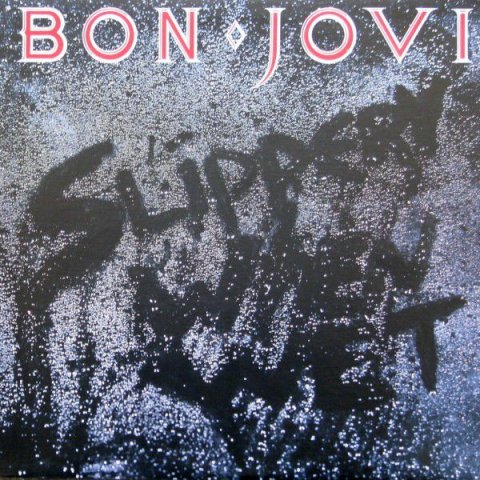 This isn't the best Jovi album, but it is the most iconic. The album's eight weeks atop the Billboard charts transformed the five into global superstars virtually overnight. It also defined the pop-metal era. The hits are immense: Any given night, at least four songs from here are being howled at a karaoke bar somewhere in your city. Of particular note: the working-class anthem "Livin' on a Prayer"—nearly spiked from the album, only to became Bon Jovi's greatest song—and "Wanted Dead or Alive," which accurately foretold a lifetime of touring.
Random fact: In a real-life Spinal Tap situation, the band wanted to put a close-up of a woman's wet T-shirt on the cover. The record label balked.
3. KEEP THE FAITH (1992)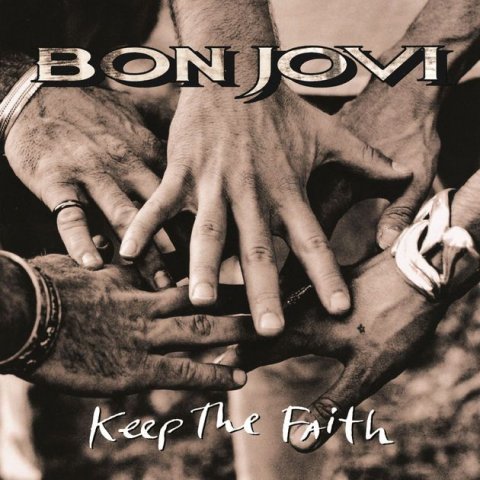 They cut their hair but kept the hooks. Anyone wondering how Bon Jovi managed to not only survive but somehow flourish during the grunge era is advised to listen to Keep the Faith, which ditched the dated hair-metal iconography, incorporating crisper production and tighter musicianship. The gambit worked; Bon Jovi retook its rock throne in late 1992, aided by some of its best songs to date: the galvanizing title track, the nearly 10-minute epic "Dry County" and the very good ballad "In These Arms." (Confession: If not for the ballad "Bed of Roses," which positively reeks, this would have ranked higher.)
Random fact: "Dry County" is Bon Jovi's longest song at nearly 10 minutes.
2. THESE DAYS (1995)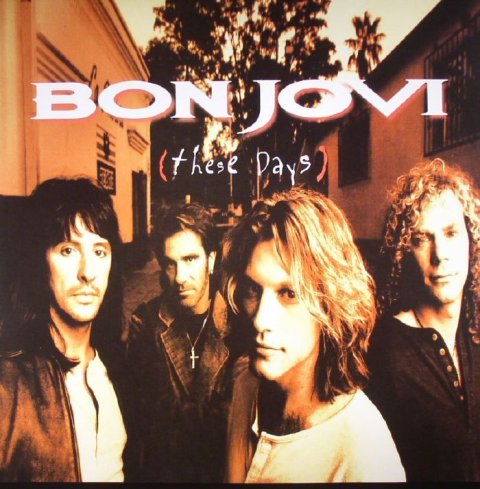 If you're a Bruce Springsteen type, you can consider this Bon Jovi's Darkness on the Edge of Town: an unusually heavy aberration from the band's typical brand of feel-good hits, populated by songs about spiritual crisis and economic despair. The lyrics are a checklist of depression symptoms: "It keeps on getting harder hanging on," "I lost all faith in my God," etc. It works because it's the rare Bon Jovi record that doesn't just aim to please, and because the earnest sense of desperation is aided by some of the band's bluesiest arrangements to date. Moody highlights "Something to Believe In" and "Damned" are lesser known but among the band's best work ever.
Random fact: "Diamond Ring" was performed live as early as 1988.
1. NEW JERSEY (1988)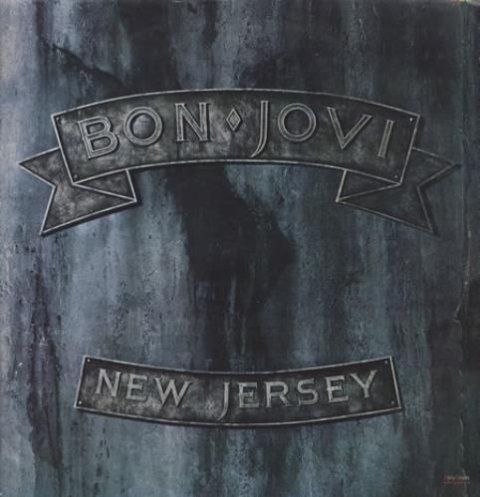 If Bill and Ted produced a rock album, it would sound like this. New Jersey (the most on-the-nose album title since Dirty Mind) is Bon Jovi's first set of songs that sound as if they were recorded specifically for packed stadiums outfitted with pyrotechnics. Everything about this record is gloriously huge: the hooks, the solos, the goofy "Lay Your Hands on Me" intro, the overall haze of Springsteenian testosterone and state-of-the-art '80s cheese. While the Slippery When Wet hits are more recognizable to the casual fan, New Jersey is a better and more varied album overall, from the boyhood nostalgia of "Blood on Blood" to the indelible anti-marriage anthem "Living in Sin" and prom-ready classic "I'll Be There For You." Bon Jovi never made a perfect record (and there's some filler here too—see "Wild Is the Wind"), but this represents the band—and pop-metal in general—at its puffy-haired peak. No wonder Bon Jovi had to take a two-year hiatus to recover.
Random fact: "99 In The Shade" is the second Bon Jovi track to mention the fictional couple "Tommy and Gina" (formerly mentioned in "Livin' on a Prayer").