Bon Jovi Shares Video of Ukrainians Building Blockades to 'It's My Life'
Stirring video from the Ukrainian port city of Odessa showed dozens of residents preparing barricades against Russian forces, while a young man with a drum set banged out the rebellious tune of Bon Jovi's famous song, "It's My Life."
The clip circulated through Twitter on Tuesday, with posters hoping the rock band would notice. "Will someone show this to @BonJovi please?" asked Ukrainian diplomat Olexander Scherba.
His wish was granted. Bon Jovi has shared the video, quoting a lyric in their caption: "This is for the ones who stood their ground... Odessa, Ukraine. #SlavaUkraini." Slava Ukraini translates to "Glory to Ukraine."
The song is gaining a new life as a Ukrainian resistance anthem. On Sunday, at an anti-war concert in Berlin, the Ukrainian band Selo i Ludy sang "It's My Life" via livestream from a bunker in Kharkiv. The "Sound of Peace" concert at Berlin's Brandenburg gate raised nearly 12 million euros ($13 million USD) for humanitarian aid in Ukraine.
In the clip shared by Bon Jovi, a chain of people organized along the beach to fill sandbags and load them onto a truck. Civilians have been packing sandbags in Odessa since shortly after Russia invaded Ukraine on February 24, using them as barriers to protect monuments and landmarks in the proudly historic city, multiple outlets have reported.
Photos from Odessa have shown sandbags lining the streets, stacked around the Odessa Opera and Ballet Theater and blanketing a monument to Duke de Richelieu, regarded as one of the city's founders.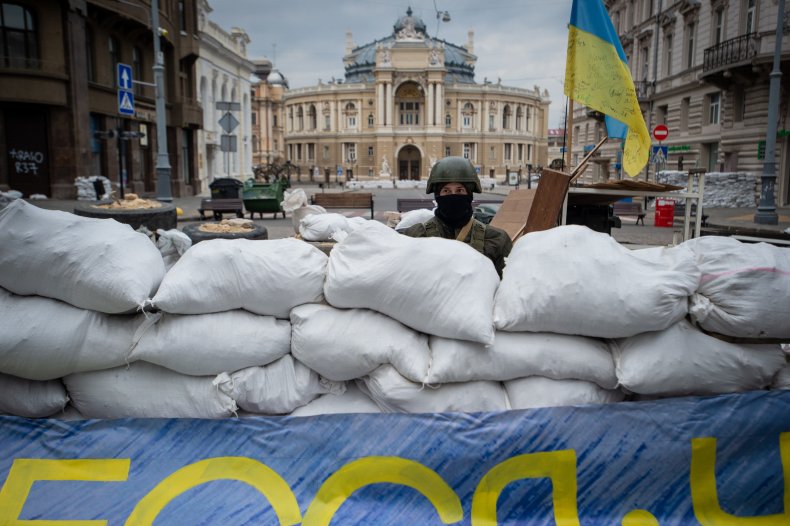 Reports from earlier this month described people bursting into song while building barricades across the city, crooning Bobby McFerrin's "Don't Worry, Be Happy," along with the national anthem and other patriotic songs.
Although Odessa has so far been spared the level of bombardment and fighting seen in other coastal areas, military analysts have said the city is vital to Ukraine's economic survival, as more than half the country's trade moves through its port. The economic and symbolic importance of Odessa makes it a critical strategic target for the Russian army.
On Tuesday, Russian forces fired five missiles from the Black Sea toward Odessa, but none of them hit the target.
"As of March 23, the situation in the city and region is stable and under control," announced Officer Vladislav Nazarov of the 122nd brigade of Ukraine's Defense Forces today. "The enemy continues to exert psychological pressure on the civilian population of the Odessa region."