Cory Booker Chooses His Moment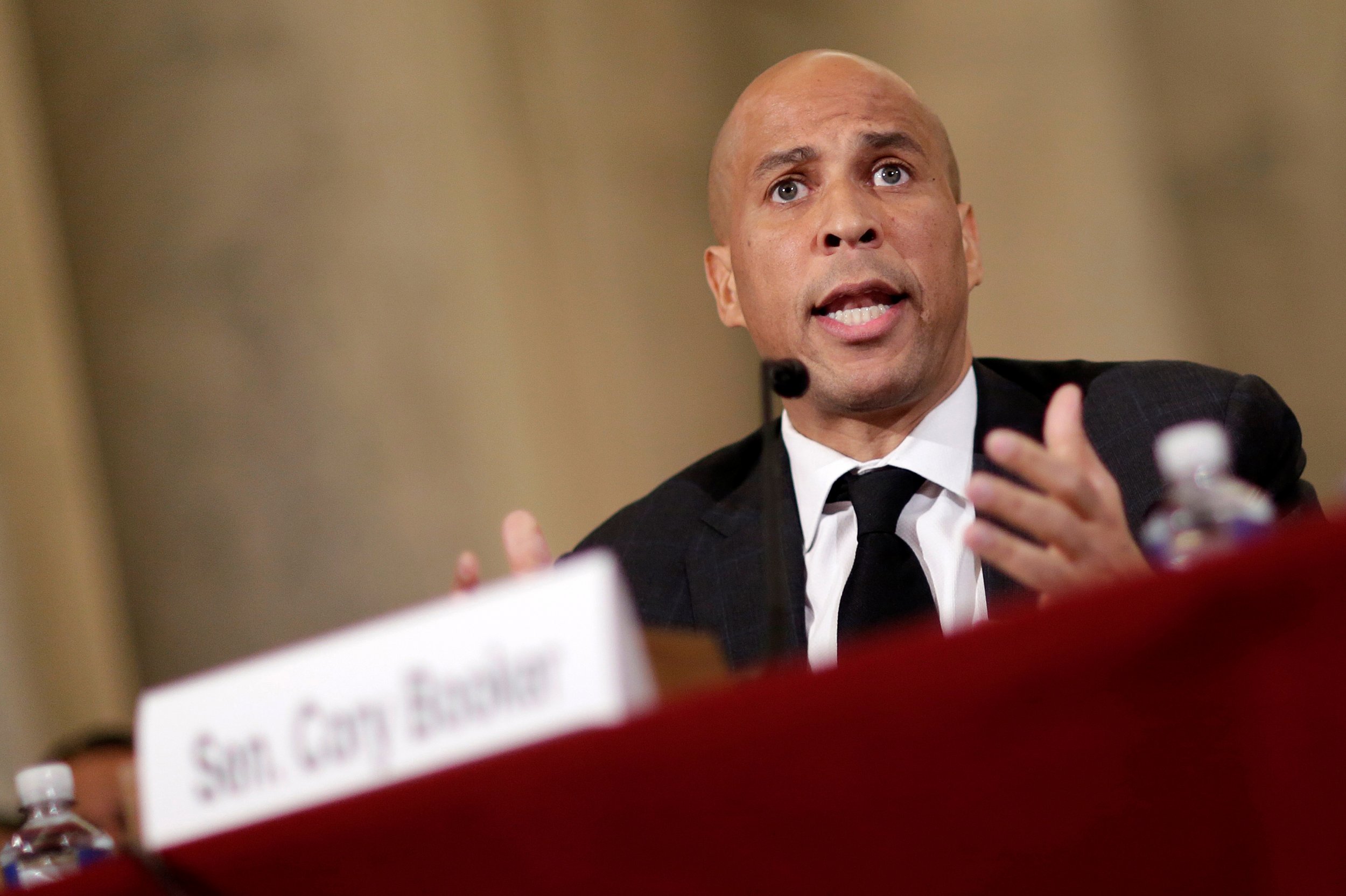 The Senate is not always as civil as it makes itself out to be. In 1856, after delivering a series of abolitionist speeches, Senator Charles Sumner of Massachusetts was nearly beaten to death in the chamber by Representative Preston Brooks, a South Carolinian who laid in wait and greeted Sumner with a gutta-percha cane with a gold handle. In 1989, senators crushed one of their own, voting to deny John Tower, a Texas Republican who had served in the Senate for a quarter century, confirmation as secretary of defense, hauling out his drinking and hitting on female soldiers—as they should have.
Still, Senator Cory Booker broke precedent on Wednesday in testifying against the confirmation of a colleague, Senator Jeff Sessions of Alabama, to be the next attorney general. It's something no one has done in the body's history and it comes a day after President Barack Obama, a politician to whom Booker has been compared, gave a farewell speech calling for greater civility in public life.
Related: Sessions, Democrats spar on race at confirmation hearing
Sessions has served in the Senate for 20 years. One of its most conservative members, he was rejected for a judgeship in 1986 after alleged racial incidents, which he denied and/or explained. But Sessions will be confirmed as attorney general. There's no doubt about that. No Republicans will defect and at least one Democrat, Joe Manchin of West Virginia, has indicated that he'll support the 74-year-old.
Booker was free to speak out against Sessions in any other forum, including on the Senate floor when the nomination comes for a vote. But he made the unprecedented choice to do so during the Sessions nomination hearing before the Senate Judiciary Committee. Some of his Republican colleagues deemed Booker's testimony a stunt that they said was tied to a possible presidential bid in 2020. But Booker clearly felt sincerely about the matter. In a terse five-minute statement, he said Sessions would not defend the rights of African Americans and other minorities. "The arc of the moral universe does not just naturally curve toward justice, we must bend it," Booker said. "America needs an attorney general who is resolute and determined to bend the arc. Senator Sessions 's record does not speak to that desire, intention or will."
Booker was in a somewhat awkward position because just two years ago he and Sessions had sponsored a resolution to give Congressional Gold Medals to those who marched at Selma, Alabama in 1965. The New Jerseyan had kind words for Sessions at the ceremony bestowing the honor. It's being replayed repeatedly in conservative media and, indeed, on Wednesday he acknowledged his colleague's "collegiality." But there's nothing inconsistent about having kind words for Sessions then and not thinking he's the right person to lead the Department of Justice. Booker has been a bipartisan leader on criminal justice reform, a movement that Sessions hasn't done much to support.
But the truth is that another norm has been shattered, this time not by Donald Trump but by a venerated liberal senator who is deservedly one of his party's stars. (The other two African Americans in the Senate, Kamala Harris of California, a Democrat, and Tim Scott of South Carolina, a Republican, will split on Sessions.) Booker is rightfully praised for helping to turn around Newark, New Jersey and for bringing people together. (See the documentary Street Fight, about his race against the entrenched black establishment.) But did he really change hearts or minds for a good cause? Or just trample a small bulwark of politesse? No matter, now. It's gone.