Sessions, Democrats Spar on Race at Confirmation Hearing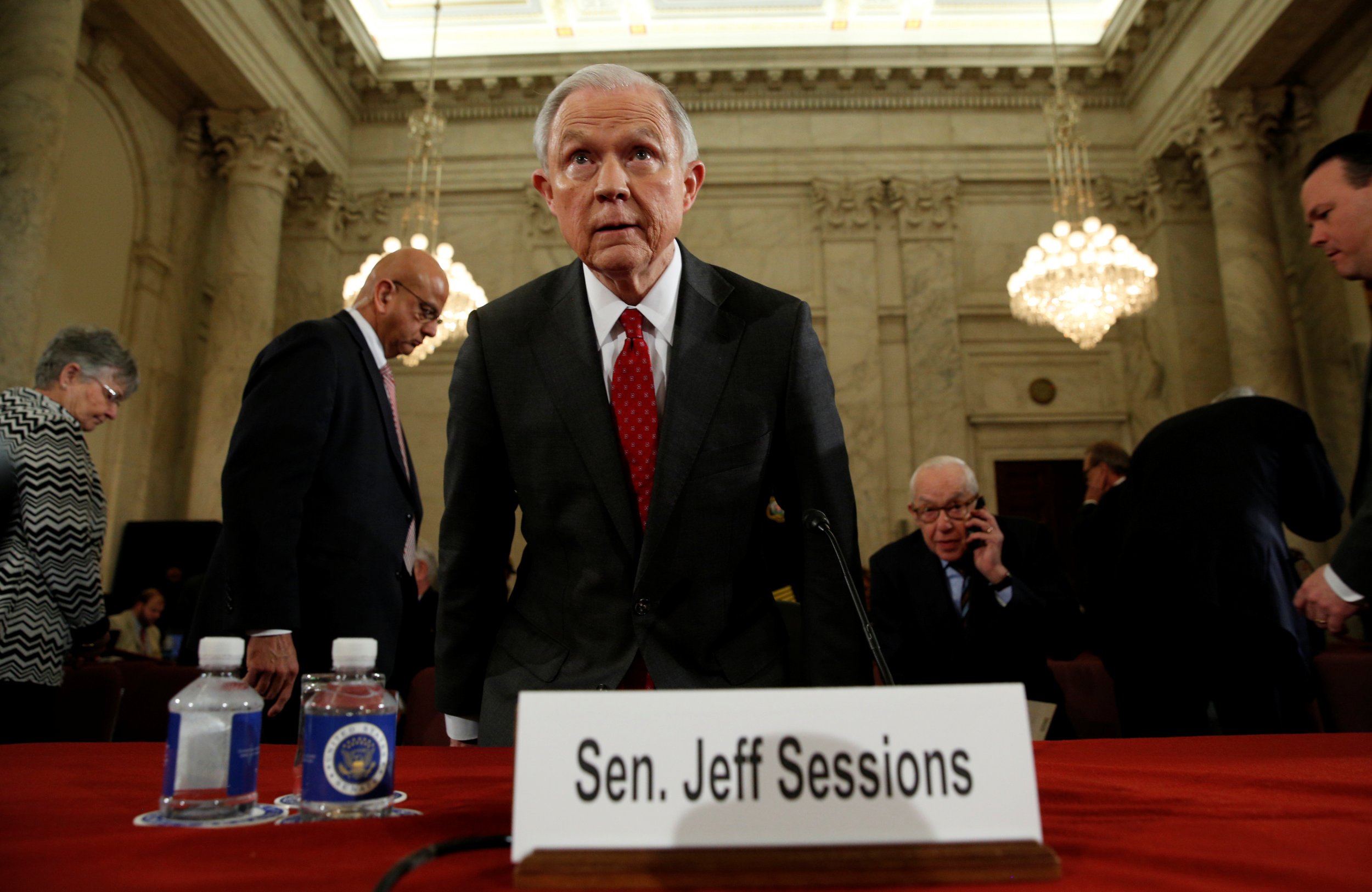 Senator Jeff Sessions on Tuesday tried to quiet criticism of his record on race and immigration. Opponents of the nominee for attorney general were not mollified.
While Democrats in the Senate have little chance of derailing the Sessions nomination, they did all they could on Day One of his confirmation hearing to instill doubts about their fellow senator's judgment, not to mention that of his future boss, President-elect Donald Trump.
Related: Democrats promise to grill sessions—respectfully
In a daylong hearing that was interrupted intermittently by chanting protesters, Sessions repeatedly denied that he is racist; that he opposes civil and human rights; and that he is anti-immigrant. "I did not harbor the animosities and race-based discrimination ideas that I was accused of, I did not," the Republican told the Senate Judiciary Committee, responding to the allegations of racism that sunk his 1986 federal judicial confirmation.
But Sessions had trouble explaining away his many past remarks—made from the 1980s up to more recent times—expressing skepticism of civil rights groups, immigrants and discrimination against women and the LGBT community.
Democratic Senator Patrick Leahy noted that in 2009, the Alabama senator opposed a hate crimes bills, saying in a hearing that he wasn't sure women or people of different sexual orientations face that kind of discrimination.
"That does not sound like something I said or intended to say," Sessions replied.
"But you did say it," Leahy said.
"I understand, but I've seen things taken out of context or not given an accurate picture," Sessions insisted.
He had similar explanations when Democrats resurfaced other past quotations, including Sessions suggesting the NAACP and other civil rights groups are "un-American," and saying, "Almost no [immigrant] coming from the Dominican Republic…is coming because they have a skill that would benefit us and that would indicate their likely success in our society." Sessions explained that in the first instance, he was referring to civil rights groups' support for Nicaragua's socialist Sandanistas in the 1980s; the latter remark was pulled from lengthier critique of America's family-based criteria for immigration, as opposed to a skills-based approach. As for deeming the Voting Rights Act "intrusive," Sessions maintained that "it is intrusive" but that the Supreme Court demonstrated "it was justified."
He had a harder time defending exaggerated claims he's made about his role in civil rights cases as a U.S. attorney. Pressed by Democratic Senator Al Franken, Sessions conceded he'd overstated, in past interviews, the number of desegregation cases he'd filed. And he struggled to explain why he'd claimed he personally handled desegregation and voting rights cases when former Department of Justice colleagues recently attested he only signed off on them, but did not have any personal involvement. "When a lawyer signs a complaint, he's required to affirm that he believes in that complaint…and supports that legal action, which I did," Sessions said. That seemed unlikely to reassure critics.
Republicans senators, meanwhile, took pains to point out that their colleague helped lead the investigation into and punishment for the lynching of a black Alabama man by the Ku Klux Klan in the 1980s. Texas Republican Ted Cruz challenged the press covering the hearing to not just focus on the anti-Sessions protesters, but also the fact that, as a U.S. attorney, the nominee helped prosecute Klansmen in Alabama. "We did everything possible to destroy, defeat and prosecute Klan members who were involved in this crime," Sessions affirmed.
At times, Sessions ducked Democrats' probes entirely, repeatedly refusing, for example, to say how he would approach the 800,000 young undocumented immigrants President Obama granted temporary legal status under an executive order known as the Deferred Action for Childhood Arrivals. He also refused to say how he would weigh in on voter identification laws currently being challenged in courts, or whether he would appoint a special prosecutor to investigate potential conflicts of interest in a Trump administration. "We would have to examine it," he said of the last query.
Sessions was clear, however, on a few legal controversies Trump stirred up on the 2016 campaign trail. As the nation's top law enforcement officer, Sessions promised he would recuse himself should his department conduct any investigations into Hillary Clinton's email practices or her charitable foundation. The senator acknowledged at the hearing's outset that he had made comments about the Democratic presidential nominee during the 2016 election that raised legitimate questions about his objectivity. "Did you ever chant lock her up?" asked Democratic Senator Sheldon Whitehouse. "No, I did not. I don't think…" Sessions responded.
The Alabama Republican also said he opposed banning all Muslims from the United States, as well as starting a national registry of Muslims in the United States—ideas candidate Trump floated at various points. "I think we should avoid surveillance of religious institutions," like mosques, Sessions added. And after conflicting statements during the campaign, the attorney general nominee firmly renounced one of the most infamous Trump quotes that emerged in 2016, confirming that grabbing a woman by her genitals amounts to sexual assault. "Clearly, it would be," Sessions told the committee.