'Borat 2' Star Johnny the Monkey Has a Hilarious Fake Website
Borat 2's combination of scripted segments and interactions with real people can sometimes make it hard to know what is real and what is invented for the Amazon Prime Video movie. The makers of the film, however, are determined to blur those lines even further by creating an internet presence for the character of Johnny the Monkey.
In Borat Subsequent Moviefilm, the initial plan is to give this monkey as a gift to Donald Trump in order to gain his favor for the president of Kazakhstan. In the film, Johnny the Monkey is the most famous celebrity in the country, a multi-hyphenate TV and porn star, who is also Kazakhstan's minister for culture.
Of course, Johnny the Monkey is not a real Kazakhstani celebrity, and is one of the many fabrications about the country that have led to the Borat films getting a mixed reception in Kazakhstan.
That has not stopped someone from creating a real website for this fake monkey. At JonnyTheMonkey.com (the character's name has an "h" in the film but not in the Borat tie-in book that introduced him), Borat 2 viewers can say "jagshemash!" to the character, described as "animal actor Jonny the Monkey, who dress like Humphry Bogarts and smokes cigarettes. He children's favorite and was star of Transibiersky Ekspress and many other pornos."
A particular highlight of the website is its page featuring a fake filmography for the monkey porn actor, including fake movie posters. Included in his credits are King Khram in 3D, which "was boxing office smash hit and sell out all seven movie theaters in a Kazakhstan," and Almaty Summer which, "was huge blockbluster success in my country and earn almost 180 US dollars." [sic]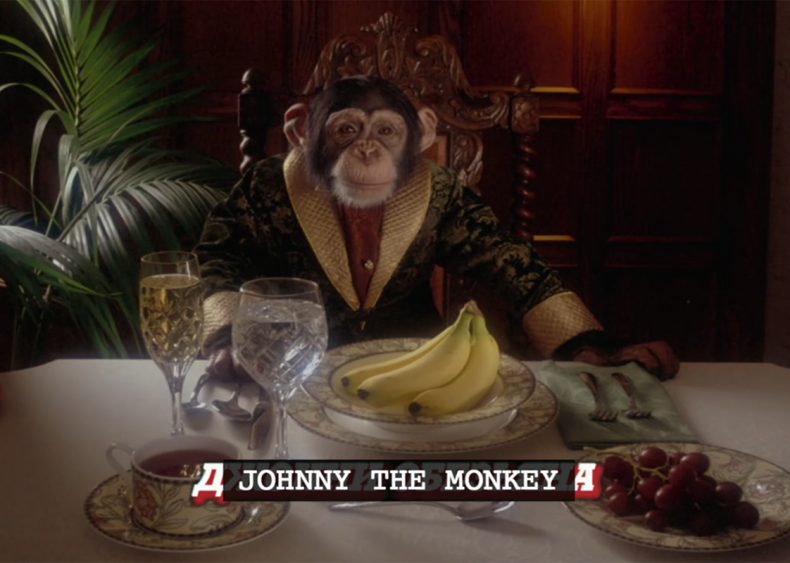 Per the website, the monkey also starred alongside Hollywood actors Julianne Moore and Colin Firth in Transibiersky Ekspress Too. The website explains: "We get big Hollywood movie star actor and actress lady because Kazakh government steal their private sexytime videos for make blackmail."
A Google search reveals that the Jonny the Monkey page was actually created in September 2007, as part of the promotional campaign for the Borat tie-in book BORAT: Touristic Guidings to Minor Nation of U.S. and A. and Touristic Guidings to Glorious Nation of Kazakhstan, released later that year.
The fact that the website was created in 2007 perhaps explains why Jo(h)nny the Monkey has a MySpace account where, of course, his "top 8" is headed by the account for Borat.
Jonny also had a Facebook account set up in November 2008. Among the page's few posts is one promoting Tag, a film starring the wife of Borat actor Sacha Baron Cohen, Isla Fisher, suggesting the actor himself may have something to do with the account.
The post reads: "This beautiful woman who likes to fish is wife of the very dirty Sanchez Baron Cohen, who fire good friend Borat from reporter job on Dat Ali G Show.
"She earn money not by pull plough in field, but star in new moviefilm Tag. It is as funny as joke about chair that walk with shoes. #tagfilm" [sic]
More recently, the account posted the trailer for Borat Subsequent Moviefilm, as well as a fake pro-Trump video titled: "All of Kazakhstan salute Premier Trump for crush COVID given to him by Democrats."
Of course, in Borat 2, the character suffers the unfortunate fate of being eaten by Borat's daughter Tutar (played by Maria Bakalova), so do not expect much in the way of updates from the simian star from now on.
Borat 2 is streaming now on Amazon Prime Video.