'Borat 2': Did Sacha Baron Cohen Really Crash Mike Pence's CPAC Speech?
In Borat 2, which is now streaming on Amazon Prime Video, Rudy Giuliani is not the only American politician to have to face the Kazakhstani reporter. In another scene of the movie, as teased in the trailer, Borat (played by Sacha Baron Cohen) is seen in seen interrupting Vice President Mike Pence's Conservative Political Action Conference (CPAC) speech earlier this year while dressed as Donald Trump.
A little background: The plot of Borat Subsequent Moviefilm sees Borat tasked by Kazakhstani President Nursultan Nazarbayev (Dani Popescu) to give a gift to President Donald Trump so that the premier can join what he calls the "strong man's club" of politicians Trump is friendly with.
Originally, Borat is due to give him a famous Kazakhstani monkey, but after he gets eaten (or, as Borat's daughter claims, eats himself), he decided to give his daughter Tutar (Maria Bakalova) to Mike Pence—after all, Borat posits, if Pence famously cannot be alone in a room with a woman without his wife present, it must be because he is a "ladies' man."
To give Pence this "gift," Borat decided to surprise him during Pence's speech at CPAC. However, because people keep recognizing the character within the film (and in reality because there was no chance that CPAC was going to let in a character known for embarrassing politicians), Borat puts on a disguise to "blend in"—a Donald Trump suit, complete with a prosthetic mask.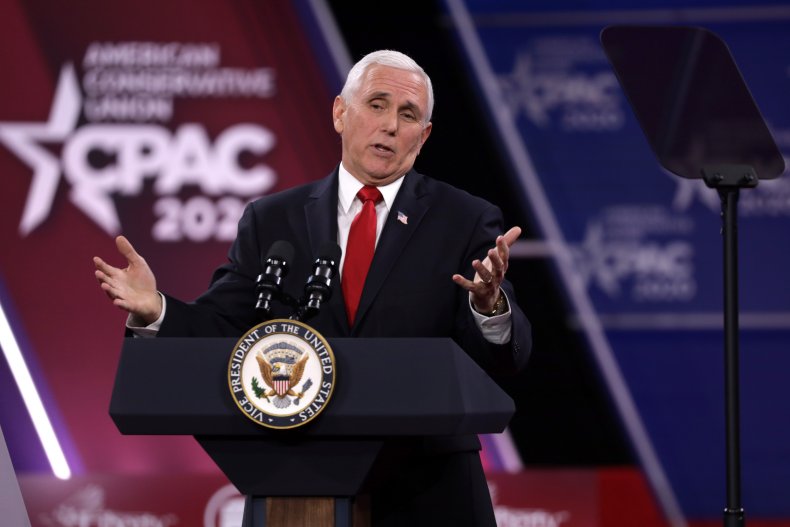 Baron Cohen-as-Borat-as-Trump then interrupts Pence's speech by trying to give him Tutar, until the actor is escorted out by security.
Though Baron Cohen's films are often selectively edited (or so those who fall for his pranks claim), it seems that this stunt went down almost exactly as shown in Borat 2.
CPAC 2020 was held in National Harbor, Maryland on February 27, 2020. On the CSPAN footage from the speech, Cohen can be seen dressed as Trump in the crowd (at around the 9:45 mark) shouting to Mike Pence, and the shouts of "U.S.A., U.S.A." that the crowd makes to drown him out can be heard. The audio also cuts out in the CSPAN video just before we see Cohen in the crowd, suggesting that the actors heckling has been cut out.
Attendees at the conservative conference, meanwhile, captured footage of Baron Cohen getting escorted out by security in his Trump suit.
Notably, Maria Bakalova is not with him, suggesting that he may have been carrying a doll over his shoulder that got left behind rather than the real Tutar as seen in the film. In the Daily Caller video of the incident, however, he can be seen with the doll slung over his shoulder.
Speaking to the New York Times, the actor revealed exactly how he pulled off the stunt. He said he spent five hours applying prosthetics to make his face look like Trump's, and was wearing a fat suit with a 56-inch waist.
He managed to bypass security by lying when their beeper went off, saying he had a defibrillator. "Then I ended up hiding in the bathroom, listening to conservative men go to the toilet for five hours until I broke into the room," the actor added, "we were surrounded by Secret Service and police and internal security."
Borat 2 is streaming now on Amazon Prime Video.