QAnon Believers Tell Borat That Hillary and Bill Clinton Drink Blood in Movie Sequel
Borat 2 sees the intrepid Kazakhstani reporter (played by Sacha Baron Cohen) confront some of the biggest hot-button issues in America in 2020, from the Trump presidency and its controversial immigration policies to the coronavirus. It is no surprise, then, that Borat Subsequent Moviefilm also tackles the QAnon conspiracy theory in an alarming segment of the Amazon Prime Video film.
In the film, Borat is seen looking for his daughter (Maria Bakalova) in the empty streets of an American town in what appears to be the beginnings of the coronavirus pandemic in the U.S.
Close to a gun shop, he encounters a man who offers Borat a place to say. There, we see two men engage in a conversation about sinister practices that they believe the former President Bill Clinton and his First Lady and one-time Senator, Secretary of State and presidential nominee Hillary Clinton engage in.
Ever the provocateur, Borat asks the two men who is more dangerous, the Democrats or the coronavirus, to which they emphatically say the former.
They continue: "I think with the Democrats, with Obama and I think it goes back to the Clintons when they were also in office." They then agree with Borat when he asks if the Clintons created "this plague."
The second man then says: "The Clintons are very evil. Mostly they torture these kids, it gets their adrenaline flowing in their body, then they take that out of their adrenal glands, and then they drink their blood and that."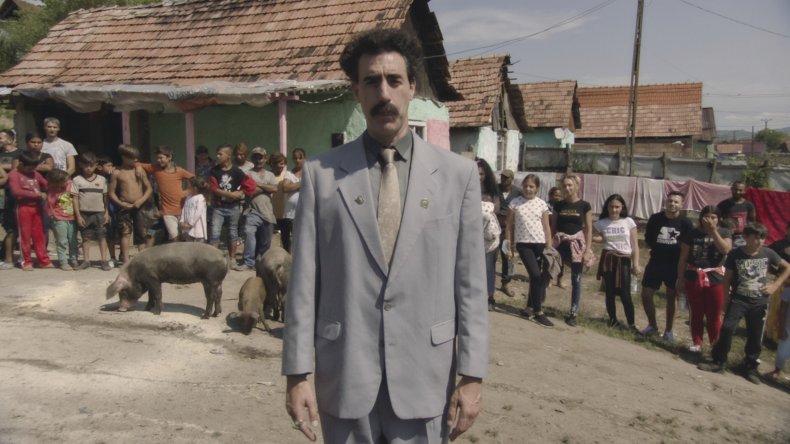 Borat then asks them directly whether Hillary Clinton drinks the blood of children, to which the man replies, "that's what we've heard...it's been said."
This conspiracy theory about the Clintons seems like an extension of what became known as "pizzagate," a 2016 conspiracy that posited that the couple and other prominent Democrats ran a sex-trafficking ring from a Washington, D.C.
Though this theory was baseless—the pizza restaurant mentioned in the theory did not even have a basement—that did not stop Edgar Maddison Welch from entering the restaurant with an assault weapon in December 2016. He found, of course, no trafficking ring, and was sentenced to four years in prison after firing his weapon inside the eatery.
In an interview with the New York Times, Welch confessed: "The intel on this wasn't 100 percent," and confirmed there were no child slaves in the pizzeria.
As "pizzagate" wound down as a conspiracy, however, many of its most lurid inventions became part of QAnon, which has falsely claimed multiple times that the arrest of Hillary Clinton is imminent
In a voiceover, Cohen-as-Borat then mockingly refers to the two men as "two of America's greatest scientists." A later scene shows one of the men reading a story featuring a picture of Joe Biden on The Patriots Report, a website PolitiFact says, "posts fake news."
In another moment, one of the men says of the Democrats: "We can't do to them what we would like to do because they, unfortunately, have the same rights we do." Then, we see Borat and the two men in front of a computer on The Patriots Report website, with Cohen saying on the voiceover he is "looking for QAnon stories with my buddies."
The QAnon conspiracy theory has been condemned by the U.S. House of Representatives, and the FBI has labeled the movement around it as a domestic terrorist threat. However, in September a Daily Kos/Civiqs poll of 1,368 people found that a majority of Republicans believe the conspiracy of a deep-state pedophile ring is either "mostly true" (33 percent) or true in "some parts." (23 percent).
More recently, a Yahoo News/YouGov poll saw that while 59 percent of the 1,583 registered voters polled thought QAnon was "an extremist conspiracy theory with no basis in fact," half of Trump supporters said they believed that the President is fighting against a child sex-trafficking ring run by Democrats.
Borat 2 is streaming now on Amazon Prime Video.