'Borat 2': Why Sacha Baron Cohen Might Be Sued for KKK Scene
Borat 2 has angered many of those who appear in it as much as it has delighted viewers across the world. Though Rudy Giuliani has notably criticized the movie, the Conservative Political Action Conference (CPAC) and its organizers the American Conservative Union (ACU) have gone one further and threatened legal action over their depiction in the Amazon Prime Video movie.
In a letter sent to Sacha Baron Cohen and production company Four By Two Films (per Fox News), the ACU demands that they, "immediately cease and desist from using any content filmed during CPAC in Borat 2 and its trailers.
Particularly, the ACU has taken objection to a scene in Borat Subsequent Moviefilm in which Borat (played by Sacha Baron Cohen) or another member of the Borat 2 crew appears to enter CPAC dressed in the robes of the Ku Klux Klan. In the letter, the ACU's representatives write, "any implication that KKK style hatred would be welcome at CPAC is false and malicious."
They later added: "If Amazon and the Borat team somehow believe that racism and white supremacy is amusing or entertaining, please know that CPAC strongly disagrees and finds repugnant your trivialization of the KKK's legacy of hatred, intimidation, and murder."
This is not the first time that CPAC has condemned the actor dressed in the KKK robes at their conference. In March, for example, the conference's official Twitter account released a tweet reading: "We unequivocally condemn the KKK, white supremacists and racism. We hope liberals will join us in also condemning whoever was responsible for the disgusting prank when a paid Hollywood actor strolled through the hotel lobby wearing a robe of hate."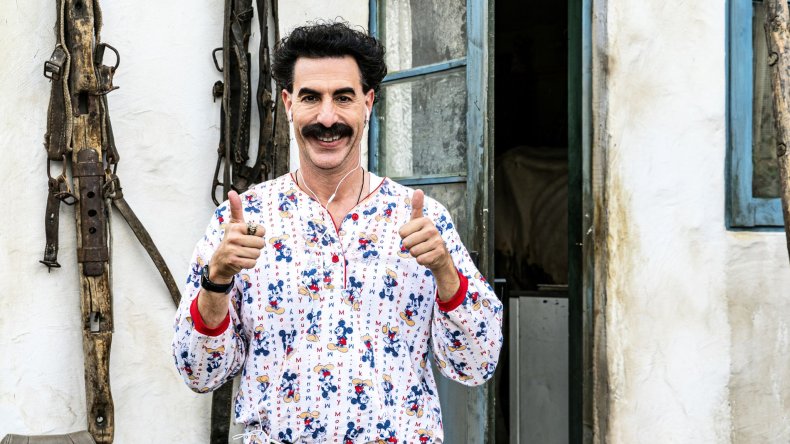 The letter also says that if the movie does not cut out scenes filmed at CPAC, its logos and the KKK incident, "we will vigorously pursue all available legal remedies."
This is not the only potential lawsuit aimed at the film despite it only being released a few days ago. The family of Holocaust survivor Judith Dim Evans tried to sue due to the way the late woman was portrayed, claiming she was tricked into appearing. In the film, Evans appears in the film calmly explaining to the Jewish Sacha Baron Cohen, playing Borat dressed as a racist caricature of a Jew, that the Holocaust was real.
However, the lawsuit was dismissed by a judge after Amazon was able to produce a signed release form from Evans, and it was revealed that Baron Cohen had revealed his true identity to her out of respect.
Baron Cohen, in fact, is no stranger to lawsuits, though the majority of these have gone on to be dismissed. Among those who have unsuccessfully sued the actor are etiquette coach Kathie Martin from the first Borat movie, who had her lawsuit dismissed after her release form was shown to the court, and frat brothers Justin Seay and Christopher Rotunda from the 2006 film who were seen making racist remarks, whose suit was dismissed in 2007.
One of the few successful suits against the first movie came courtesy of Macedonian Romani singer Esma Redžepova, who was awarded €26,000 ($30,700) after her music was used in the film without her permission. She had sued for €800,000 ($677,000) but was awarded less after it was revealed that Baron Cohen had asked her production house to use the song, but the singer had never been notified.
Newsweek has reached out to Sacha Baron Cohen and the American Conservative Union for comment and will update this article when we get a response.
Borat 2 is streaming now on Amazon Prime Video.