Border Officials Brace for Potential 'Mother of All Caravans' Assembling in Mexico
About 1,500 miles south of the border in Tapachula, Mexico, activists are organizing a caravan of an estimated tens of thousands of Haitian and Central American migrants that's being labeled the "Caravana Madre" or Mother Caravan.
Reports of this caravan were detailed in a piece by Border Report that confirmed the Department of Homeland Security and the Texas Department of Public Safety (DPS) were aware of the caravan's development.
In response to the development, DPS has deployed 1,000 state troopers and Texas Rangers to improve border security operations.
"The Texas Department of Public Safety is committed to securing our southern border," DPS wrote in a statement to Border Report. "While the department does not discuss operational specifics, we continue to monitor the situation as it unfolds in order to make real-time decisions and will adjust operations as necessary."
Less than three weeks ago, DPS was part of the operation that dealt with clearing out some 15,000 migrants from a camp near Del Rio, Texas. This mission saw DPS deploy a line of vehicles to act as a "shield" along the border riverbanks.
That was the same incident that produced the infamous photos of U.S. Border Patrol agents on horseback appearing to wrangle migrants with what appeared to be whips. U.S. Customs and Border Protection told Border Report that it would be ready to address the potential upcoming surge.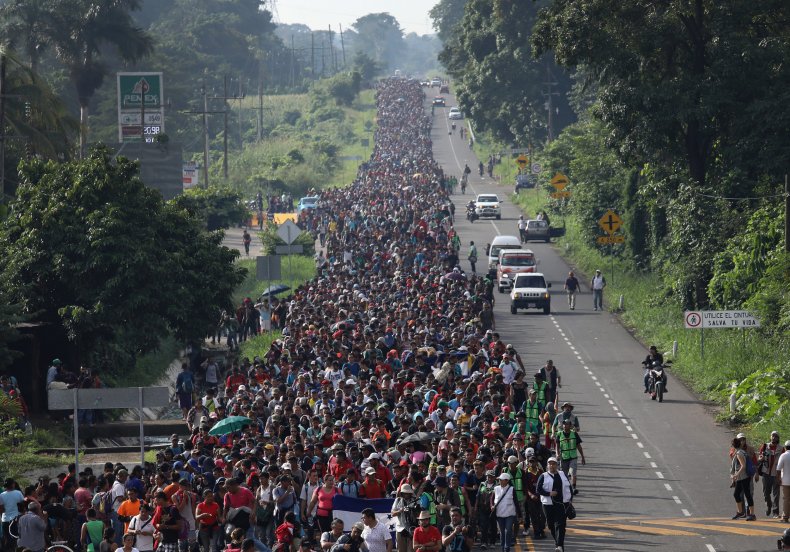 "CBP plans for all possible scenarios based off information on the operations of smugglers or the movements of migrants," a CBP spokesperson told Border Report. "Our posture and response are based on comprehensive analysis, not on any single report. CBP stands ready to address any potential increase in migrant encounters."
In an effort to dimmish the migration flow, the Biden administration has urged Mexico to support border control efforts. The Mexican government responded by boosting National Guard presence at the Guatemalan border and accepting migrants expelled from the U.S. under the Title 42 public health explosion policy.
Policy analyst Ariel Ruiz of the Migration Policy Institute told Border Report that the Del Rio incident was likely to get past these measures because caravans took advantage of the reduced number of Mexican immigration officers deployed on Mexico's Independence Day, September 16. She also said a number of Haitians were already in the country and were moving in smaller groups.
Since then, Mexico has bolstered its enforcement policies, Border Report wrote, requiring people at bus stations to show ID cards in an attempt to deter unauthorized migrants. Mexican authorities have also fortified their presence on highways in the Isthmus of Tehuantepec in Oaxaca and Veracruz where migrants often cross through. Ruiz told Border Report that she does not expect this caravan to create as high profile a confrontation like the one seen in Del Rio.