Prevented From Seeking Asylum at U.S. Ports, Migrants Cross Rio Grande to Have Cases Heard
The Migrant Protection Protocols (MPP) program went into effect this week, and under the measure, those seeking asylum in the United States must remain in Mexico while their cases are processed but still cannot initiate these claims at U.S. Ports of Entry due to Title 42.
Under Title 42, the president can prohibit the entry of people coming from nations where "there is serious danger of the introduction of such disease." This has resulted in individuals being turned away when seeking asylum.
Despite this rule, a new article by Border Report wrote that some ports are seeing a renewed flow of migrants amid the change in MPP rules, and those who are being turned away are resorting to alternative means to have their cases heard.
In a video investigation with El Paso, Texas-NBC affiliate KTSM Channel 9, Border Report said it documented "several families and individuals from Mexico and Central America with the intent of applying for asylum being turned back by U.S. Customs and Border Protection officers at the middle of the Paso del Norte International Bridge."
Because migrants have been unable to present their claims, Border Reports wrote Mexican media found that some have taken to crossing the Rio Grande illegally and surrendering themselves to Border Patrol at the wall as a bypass around the Port of Entry. Mexican media reported that a group of 15 Central Americans turned themselves in at the other side of the river on Tuesday.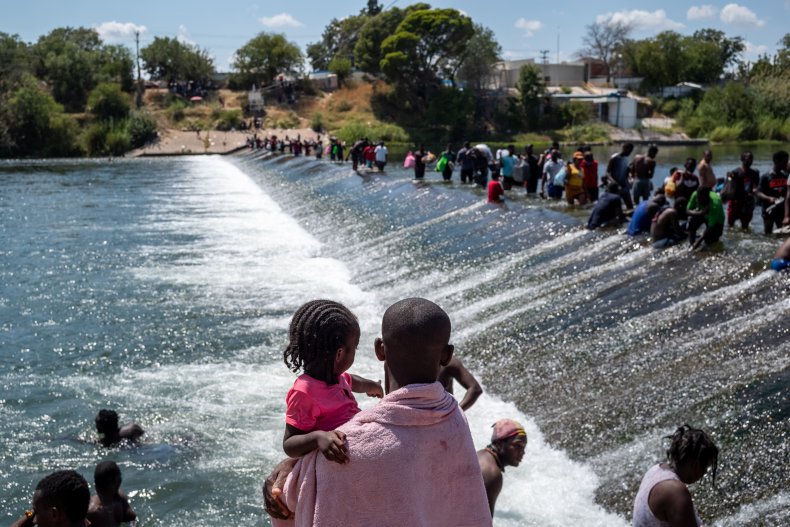 "Seeing photographs of people crossing the river or going over the wall shows the desperation that people have to try to seek asylum in the United States. The fact that people feel they have to risk their lives and health and safety to try to enter the U.S. is an illustration of just how broken our immigration system continues to be," Melissa A. Lopez, executive director of Diocesan Migrant and Refugee Services in El Paso, told Border Report.
Last week, upon news of the reimplementation of MPP, Newsweek gathered a number of testimonies from human rights organizations linked closely to the issue. Among the concerns voiced, one of them happened to be that border authorities would not follow the guidelines set by the MPP program.
"Even for groups slated for exemptions—like members of the LGBTQ+ community and individuals with medical or psychological concerns—we are concerned that exemptions will not be consistently applied and fear that these vulnerable groups will be returned to harm with little recourse," Alexandra Miller, asylum seekers and families program director with the International Rescue Committee's Arizona office, told Newsweek.
The Department of Homeland Security (DHS) sent a statement shared by Border Report where the agency stated that it was "closely coordinating the court-mandated reimplementation of MPP with the Government of Mexico to address security concerns and operational constraints." DHS declined to provide further details beyond this "due to operational security."
Newsweek reached out to the DHS for comment.
Correction 12/08/2021, 12:46 p.m. ET: A previous version of this article misstated that Border Patrol agents prevented migrants from applying for asylum at U.S. Ports of Entry when in fact these ports are not accepting asylum claims due to Title 42. The headline of this article has also been changed to remove mention of Border Patrol agents.