As Border Patrol Agents Resist Vaccines, Fear Mounts Staffing Issues Could Hurt Security
By November 22, all federal employees, including the agents of U.S. Customs and Border (CBP) Protection, must be fully vaccinated against the coronavirus, as per the guidelines set by President Joe Biden's "Path Out of the Pandemic" agenda.
This mandate has come under scrutiny from certain employees in nearly all agencies. However, some government officials are rallying to help Border Patrol agents avoid the shot.
According to Border Report, Congressman Tony Gonzales (R-Texas) wrote a letter that was co-signed by 43 other lawmakers and sent to Department of Homeland Security (DHS) Secretary Alejandro Mayorkas on Wednesday asking him to consider alternatives to enforcing the vaccine requirement on the CBP workforce.
"Our men and women in the Border Patrol have worked tirelessly to manage the crisis at our southern border," the letter reads. "This year especially, they have been subject to extraordinary amounts of mental and physical stress. With morale at an all-time low, this mandate will serve as the last straw for agents who can easily leave the agency for other law enforcement organizations at the state and local level or retire."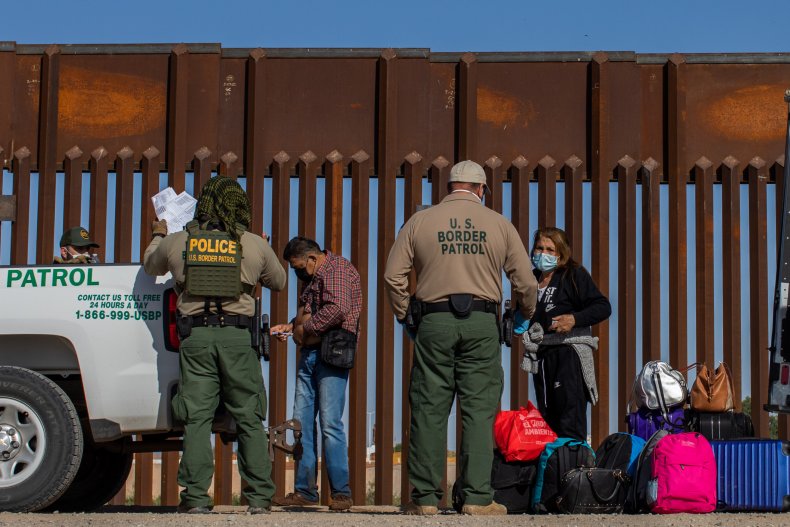 The letter went on to stress that it takes "400 days for [Border Patrol] applicants to go through the hiring process" and "over 20 weeks" for them to be trained at Border Patrol Academy. Gonzales and the other lawmakers fear that should there be a mass exodus of workers as a result of the mandate, Border Patrol may be unable to fill vacant positions.
A spokesperson for DHS told Newsweek that letter had been received.
Since Biden became president, CBP reports that roughly 1.4 million migrants have been encountered at the southwest border. In September 2021, over 192,000 people were encountered at the border; this is compared with over 57,600 in 2020 and more than 52,500 in 2019.
A large number of the individuals attempting to cross the border come from Central America's Northern Triangle of El Salvador, Guatemala and Honduras. These three countries rank among the six poorest in the Western Hemisphere, and are plagued by gang violence and environmental devastation that are tied to global warming. These problems have been exacerbated by the COVID-19 pandemic, which has heightened economic concerns and empowered local gangs.
Border Patrol's budget did not increase during the last year of the Trump administration and actually increased since Biden took office. However, Border Report says that the perception of a friendlier presidential administration may serve as a driver for the increased number of crossings.
While the funding may be there, the lawmakers attached to Gonzales' letter say any lapse in CBP staffing could overwhelm the agency and allow more people to enter the U.S. illegally.
"If this vaccine mandate is enforcer without any flexibility, we can expect an untold number of additional vacancies across our border," they write. "At this point, no agent is expendable given the crisis we are facing, but there is talk that Customs and Border Protection may claim that having any number if unvaccinated employees will create an undue burden on the agency opening the door for an untold number of employees to be removed from federal service."
Newsweek reached out to the office of Gonzales, but did not hear back in time for publication.
Update 11/1/2021 3:14 p.m.: This story has been updated to include a comment from the DHS.