Border Patrol Encountered 212K Migrants During July in 'Unprecedented' Surge, Mayorkas Says
U.S. border agents encountered more migrants during July than any time in the past 21 years, according to Homeland Security Secretary Alejandro Mayorkas.
In a visit to Texas on Thursday, Mayorkas said that 212,672 migrants were stopped at the southern border last month—a 13 percent increase from the 188,000 migrants who attempted to cross into the U.S. in June.
The July numbers are the highest since March 2000, when more than 223,000 immigrants were stopped by the Border Patrol.
"We are encountering an unprecedented number of migrants in between the ports of entry at our southern border," Mayorkas said during a press conference.
He stressed that the surges in migration are "not new" but acknowledged that it is "one of the toughest challenges we face."
The number of border encounters since January now totals more than 1.1 million, which is greater than the population of San Jose, California—the 10th-largest city in the country.
Mayorkas said Thursday that worsening conditions in the countries of origin, including poverty and corruption, are one reason why more migrants are arriving at the border than in previous years.
Another reason, he said, is an end to the "cruel policies" of former President Donald Trump's administration.
President Joe Biden has reversed many of the hard-line immigration policies put into place by the Trump administration, signing executive orders to freeze border wall construction and reunite families separated by the "zero tolerance" policy in 2018.
Biden also stopped expelling unaccompanied migrant children under Title 42, a public health law that allowed for the quick deportation of people—who would otherwise be held at a port of entry or Border Patrol station—because of coronavirus concerns.
But Biden and Vice President Kamala Harris have urged people not to make the journey to the U.S. border as the number of migrants continues to rise. In addition, Biden recently extended Trump's Title 42 policy for single adults and families indefinitely.
"Do not come," Harris warned during her first international trip to Guatemala earlier this summer.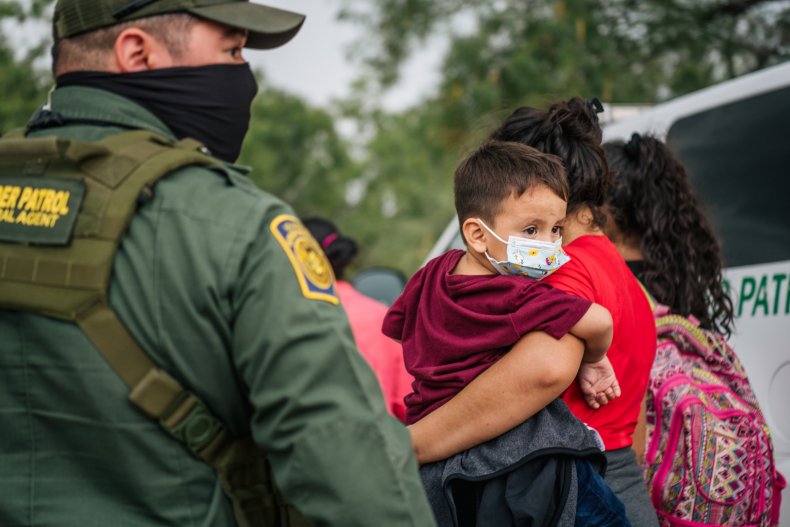 Republicans have criticized the administration over its handling of the border crisis. Earlier this week, Representative Andy Biggs moved to impeach Mayorkas for allegedly botching the border crisis.
"Secretary Mayorkas is a threat to the sovereignty and security of our nation," the Arizona congressman wrote in a statement. "As a result of his actions and policies, America is more in danger today than when he began serving as Secretary. He is willfully refusing to maintain operational control of the border and is encouraging aliens to enter our country illegally."
Newsweek reached out to U.S. Customs and Border Protection for additional comment but didn't receive a response before publication.