U.K. Prime Minister Boris Johnson Accused of Plagiarizing Prominent Legal Blog In Tweets About London Bridge Attacker
U.K. Prime Minister Boris Johnson has been accused of plagiarizing a prominent legal blogger for a Twitter thread about the London Bridge attacker.
Johnson wrote a series of tweets on Sunday morning that he said were about the "inaccuracies" being reported about the release of Usman Khan, a convicted terrorist who killed two people in a rampage in London before he was shot dead by police on Friday afternoon.
But The Secret Barrister, an anonymous legal blogger and published author with substantial following, who describes themself as a junior barrister specializing in criminal law, said on Twitter that Johnson's 16-part thread was "basically copied and pasted" from a post they had published the day before.
"The Prime Minister had basically copied and pasted my blogpost into a thread and passed it off as his own explanation," they wrote. "A blogpost which I had to write to rebut the lies he spent yesterday spouting."
The Secret Barrister, who has written a best-selling memoir Stories of The Law and How It's Broken, added: "This is weapons grade sh*thousery."
The Secret Barrister claimed that Johnson had even linked to the same document by the Prison Reform Trust charity that they had cited in his post and noted that Johnson repeated his observation about the "misreporting" of Lord Justice Leveson's comments about the involvement of the Parole Board in Khan's case.
In a statement to Newsweek, The Secret Barrister added: "I find it fascinating that, having never previously shown any interest in explaining complex areas of law to the public, within hours of my posting of a full explanation of the legal issues involved in this case, the Prime Minister's Twitter account embarked upon a 16-tweet legal thread drawing on the same sources that I refer readers to and making similar observations about the misquoted remarks of Leveson LJ regarding the Parole Board.
"It looks very much as if he has taken the substance of my post, stripped out the inconvenient context and adopted a false conclusion. Utterly fascinating."
The Secret Barrister had written his blog post, titled "10 things you should know about the London Bridge attacker and "early release," on Saturday to explain aspects of Khan's case after "politicians [had] lined up in descending order of deplorability to exploit the tragedy for their own ends."
The blogger singled out Johnson and noted the Prime Minister had told reporters that he has "long argued that it is a mistake to let serious and violent criminals out of prison early."
The Secret Barrister added: "This afternoon, Labour and Conservative figures took turns to cast blame, each frantically trying to plunge the hands of the other into the victims' blood before it dried, notwithstanding the pleas of victims' families not to make political capital out of lost lives.
"Amid all the shouting and, in the case of the government, outright lying, the truth about how and why Khan was sentenced as he was has barely had a look in. So it is worth taking a quick look at ten things we actually know."
In an update on the blog post on Sunday, The Secret Barrister again criticized Johnson for announcing "hastily scrawled" new policies in op-eds in Sunday newspapers and "falsely suggesting we still have the same system as in 2008."
The blogger clarified that in 2019, no terrorist sentenced to prison is subject to automatic early release. "The Prime Minister's attempts to suggest that we have the same system as applied at the time of Usman Khan's sentence, and that he is the man to fix it, are dishonest, cynical and exploitative," they added.
Newsweek has contacted 10 Downing Street for comment.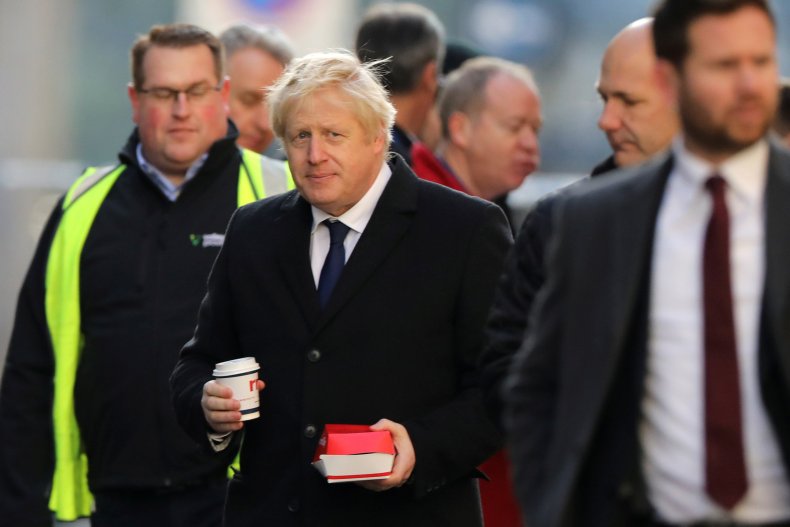 Update: This story has been updated to include comments from The Secret Barrister