British Prime Minister Boris Johnson has come under fire after comparing the plight of Ukrainians fighting Russia's invasion of their homeland to Britain's vote for Brexit.
In a speech at the Conservative Party's spring conference on Saturday, Johnson said Ukrainian people were choosing freedom, just as the British people had in the 2016 vote to leave the European Union.
"I know that it's the instinct of the people of this country, like the people of Ukraine, to choose freedom every time," he said.
"I can give you a couple of famous recent examples. When the British people voted for Brexit in such large numbers, I don't believe it was because they were remotely hostile to foreigners, it's because they wanted to be free to do things differently and for this country to be able to run itself."
The comment sparked criticism from politicians in the U.K. and Europe, including some from Johnson's own party.
Guy Verhofstadt, the European Parliament's chief Brexit negotiator, said Johnson's remarks were "insane."
"Brexit was about undoing freedoms and leaving the EU...Ukrainians want more freedom and to join the EU!" Verhofstadt said on Twitter.
Donald Tusk, who formerly served as the president of the European Council, said Johnson's comments were offensive to Ukrainians and Brits.
"I can still remember the enthusiasm of Putin and Trump after the referendum," Tusk tweeted. "Boris, your words offend Ukrainians, the British and common sense."
Conservative MP Tobias Ellwood, the chair of the defence select committee, also tweeted criticism of Johnson's remarks.
"Comparing the Ukrainian people's fight against Putin's tyranny to the British people voting for Brexit damages the standard of statecraft we were beginning to exhibit," he wrote.
Ed Davey, the leader of the Liberal Democrats, branded Johnson—who has resisted calls to resign following a series of scandals in recent months—"a national embarrassment."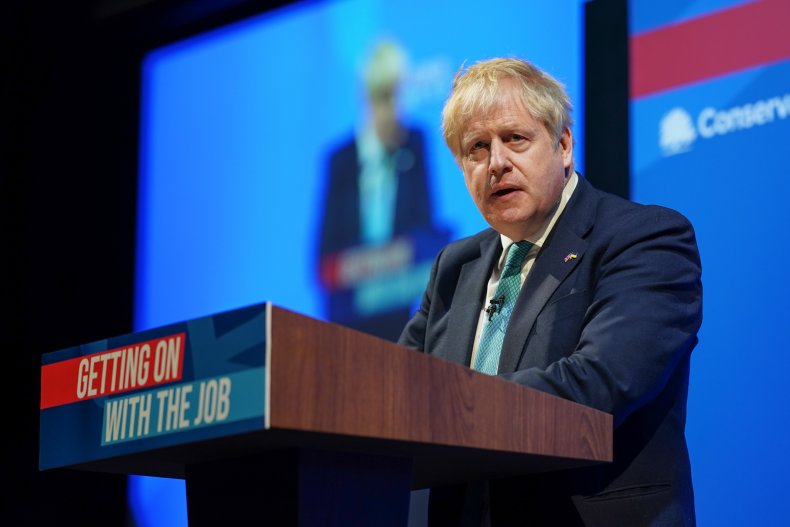 "His buffoonery contrasts with the courageous leadership of President Zelensky," he wrote on Twitter. "To compare a referendum to women and children fleeing Putin's bombs is an insult to every Ukrainian. He is no [Winston] Churchill: he is Basil Fawlty."
The U.K.'s finance minister, Chancellor Rishi Sunak, defended Johnson in appearances on Sunday morning programs.
In an appearance on the BBC's Sunday Morning, Sunak said: "I don't think the prime minister was making a direct comparison between these two things, clearly they're not directly analogous."
Sunak added: "He was making some general observations about people's desire for freedom."
But the Labour Party's Shadow Chancellor Rachel Reeves called for Johnson to apologize for the remarks.
"It is utterly distasteful and insulting to compare the fight for freedom and the aggression of the Russian state to the decision to leave the European Union," Reeves told Sky News.
"He should take back those words and apologize to the Ukrainian people and the British people for those crass remarks."
Downing Street has been contacted for comment.