British PM Boris Johnson Could Be Kicked Out Before Next Election
British Prime Minister Boris Johnson has the enviable habit of winning.
He became the first Conservative mayor of London in a predominately left-wing city, twice. He managed to help lead a Brexit campaign to victory that had an 18 percent chance, according to pollsters and bookies, of winning in a two-horse race only a couple of weeks before the vote.*
He told the House of Commons in Parliament that a "zombie Brexit deal" with Europe could not be reached before taking over as prime minister and getting a surprisingly similar deal voted through by politicians.
He called an election in one of the most turbulent political times of a generation and returned the biggest Conservative majority in over 30 years. This happened at a time when polling experts said it wasn't even certain that he'd return any majority at all.
So why is Alexander Boris de Pfeffel Johnson at risk of not even lasting as British prime minister until the next general election, scheduled in May 2024?
Events, dear boy, events.
"We're not even sure he'll be in charge for that long," Steven Fielding, professor of political history at the University of Nottingham, tells Newsweek.
"The talk around him and the nature of the COVID crisis itself means you've got to really want to be in government and really apply yourself. There are things about Johnson that people have questions about—his capacity and whether he wants to do this [in the long term]."
For all the global catastrophes of the COVID-19 crisis in humanitarian and economic terms, there have been winners and losers politically.
Scottish First Minister Nicola Sturgeon has jumped in the polls, with 4 in 5 Scottish people saying she has handled the crisis well, according to polling company Ipsos Mori.
Similarly, in New Zealand, Prime Minister Jacinda Ardern's handling of COVID-19 has both seen her arrive on the global stage and become the most popular prime minister the country has had in a century.*
By the middle of June, the U.K. ranked joint-worst alongside Mexico for how citizens of each country regarded the response to the crisis, at least partly perpetuated by the actions of Johnson's chief adviser Dominic Cummings, who kept his job after, in the police's opinion, breaching lockdown guidelines.*
But even without COVID-19, many were skeptical of Boris Johnson as a leader.
The criticisms of Boris Johnson are widely known, that some say he is "incompetent," that he is out of his depth when discussing issues with global leaders and, as editor of news magazine Private Eye Ian Hislop will tell anyone listening, "not that bright."
Johnson also stands accused of changing his opinion all the time, with a number of high-profile U-turns while in government following writing a newspaper column both in favor of and against leaving the EU. He only published the one in favor of leaving after deciding.
There are numerous accounts that he is a serial cheater on partners—he once said that he is "bursting with spunk"—and he has refused to confirm in any interview how many children he has fathered, with Wikipedia recording it as "at least six."
Critics have bundled this "dishonesty" along with his sacking as a journalist for making up a quote in an article, for writing a number of questionable articles about European policy, including the accusation that the EU wanted to regulate the shape of bananas, later called a "myth" by those involved.
This extends to his Brexit campaign bus, which had the slogan "We send the EU £350m a week, let's fund the NHS instead" on the side. This was found by numerous fact-checkers to be misleading and Johnson was keen to distance himself from this claim soon after the referendum vote.
But this hasn't stopped him becoming one of the most successful politicians in a generation that would take a shift in voting never seen before to make sure he didn't win a majority in the next General Election.
"There is nothing in Boris Johnson's current data to suggest he could not fight and win in 2024," Ben Page, chief executive of polling firm Ipsos Mori, tells Newsweek.
"His personal ratings are net neutral and not net negative. The hill [opposition party] Labour has to climb, the fact that Johnson remains well ahead of [Labour leader] Keir Starmer on who would make best prime minister, the lack of progress so far in Labour being seen as ready to govern all suggest that at least in polling terms, Johnson can win. But, of course, a year is a long time in politics."
If a year is a long time in politics, the nearly four years before the next scheduled election might be a lifetime. The U.K. is now officially in recession, COVID-19 is nowhere close to being "solved," for want of a better word, and Johnson's desire to "have [his] cake and eat it," as he said in 2001, means that he walks a very precarious tightrope.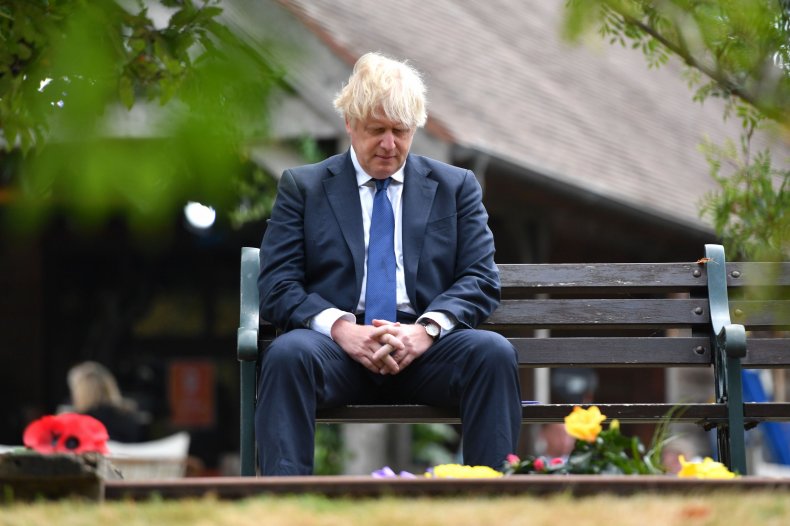 "Whatever Boris wants to do, there are people around him who don't want to do the same," Prof Fielding says.
"People like [Home Secretary] Priti Patel and other ministers around the Cabinet table are not happy with big government or even a relatively modest government. There are so many tensions in the Conservative Party about all sorts of things and there are questions about the person in charge about whether he really is in charge."
When Johnson first arrived in Downing Street, he expelled 20 members of parliament (MPs) from the party after they voted to block a no-deal Brexit. It was later U-turned (that theme runs through a lot of his criticism) but an already tense relationship with backbenchers, those MPs who are members of the ruling party but are not directly a part of the government, was made even worse.
While Downing Street has not responded to questions raised in this article, a good example of how Johnson might be seen is a recent report by the New Statesman.
It said that when the prime minister popped up in the Conservative MPs' WhatsApp group to defend a policy decision, they all moved to a different group to discuss things without him.
The party has a long history of getting rid of prime ministers if they fall foul of the backbenchers once too often.
Former Conservative Prime Minister Margaret Thatcher, after three General Election victories, was forced to resign after, in the words of BBC News' James Lansdale, the "unpopularity of the poll tax, the divisions over Europe, the resignation of [then deputy prime minister] Geoffrey Howe, and the self-inflicted mistakes during her leadership campaign."
The unpopularity of how recent exam results were dealt with risked becoming a "poll tax moment," the divisions over Europe remain and the "self-inflicted mistakes" during the COVID-19 response are even starting to be acknowledged, slowly, by the government itself.
That said, the government so far has remained relatively intact with few resignations and little public dissent from government ministers.
And given that Boris Johnson has the habit of winning, is it realistic to think that he might become the fall guy for a Conservative government keen to stay in power for as long as possible?
"If the party wants rid of him, it will be knives from all directions," Dr. Simon Lee, a senior lecturer in politics at the University of Hull, tells Newsweek.
"If the economy falls apart, there are serious food shortages and/or riots or serious public disturbances, such as we had in England in 1981, and if [Scottish ruling party] The SNP triumphs in the next Holyrood elections and the momentum for a second independence referendum becomes unstoppable, the party will not hesitate to drop him.
"I see only trouble ahead for Boris Johnson. Will he or fellow Conservatives really want him to be the leader of his party, when he was voted in to deliver an 'oven-ready' exit from one political union [the European Union] but then fails on that front before inspiring the end of another much longer-standing political union [with Scotland]?
"I could see Johnson himself deciding to walk away. He has the perfect alibis: his health and young son."
Despite the whispers, the facts remain that the Conservatives have a strong majority, Boris Johnson doesn't have a negative approval rating and, in normal times, it would be unlikely to remove a sitting prime minister in his first term.
But we are are not in normal times and those whispers do exist. So if it really did come to it, would he resign or would it take a firm shove to remove him?
"I'm a bit of an optimist so it doesn't tend to occur to me to resign," Johnson told the Observer in 2003.
"I tend to think of a way of Sellotaping everything together and quietly finding a way through if I can."
*Survey and polling information
Updated 08/18/20 09:45 EDT: This article has been updated to add information about the "Brexit bus" and Johnson's sacking as a journalist to add more evidence behind critics calling him "dishonest"