Boris Johnson's Best Brussels Dispatches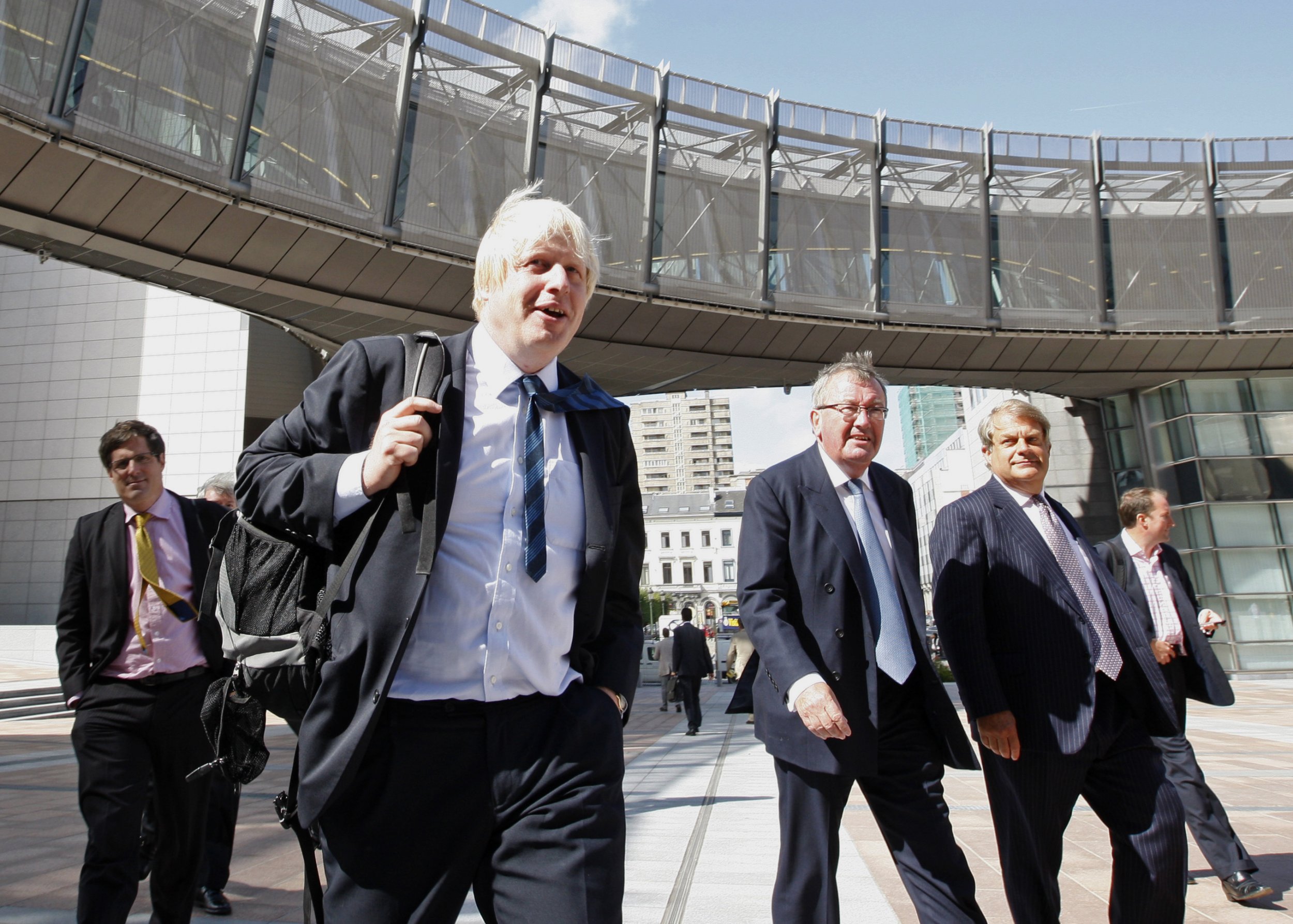 "Britain stood alone last night as…"
That, according to the charismatic Mayor of London Boris Johnson, was his stock opening sentence when he served as the Brussels correspondent for Britain's right-wing Daily Telegraph. There, he made a name for himself as a bullish 24-year-old wunderkind serving up weird and wonderful tales of barmy Eurocracy.
His dispatches were often criticized for bordering on the unbelievable, or even the untrue. "He made stories up," Brussels journalist Rory Watson told Johnson's biographer Andrew Gimson. Legendary Brussels reporter for the French daily Liberation Jean Quatremer, who says he knew Johnson at the time, tweeted today: "[Johnson's] motto: 'Never let the facts interfere with a good story.'" Johnson has defended his journalistic record, telling a 2013 BBC documentary that accusations of his inflating stories were exaggerated.
Still, Johnson's stories are credited with helping to popularize right-wing Euroskepticism. "It was absolute bliss… I had every possible luxury and convenience. Those were the great days of course where nobody had mobile phones, and nobody knew where you were," he recalled in a 2014 interview. Now, the Mayor's announcement that he will campaign for Britain to exit the EU in an upcoming referendum is seen as a major boost for the Leave camp.
Here are three of the best and brightest scoops Johnson filed when he wasn't avoiding calls from the newsdesk.
Headline: "Euro Headquarters to be Blown Up"
What? A young Johnson reported in the early 1990s that the Berlaymont building in Brussels was to be demolished using controlled explosions due to fears that it contained asbestos. This, Johnson conceded in 2013, "didn't turn out to be quite true." The building remains in place today, decades on, serving as the headquarters for the European Commission.
Headline: "Europe proceeded with plans to abolish the prawn cocktail flavor crisp" (as recalled by Johnson, summing up one of his stories in a 2014 interview)
Eh? This is a Bojo classic, from 1993, and was cited by the mayor in the Daily Telegraph column he used to announce his campaigning stance on Sunday. It's often rubbished by pro-Europe types but, according to an official EU blog, it looks like it was true. A Brussels fact-check post claims that "there was never any intention of the sort," but adds that "in the process of drafting a directive to reconcile different national rules on the amounts of sweeteners and flavorings in different foods... unfortunately U.K. negotiators overlooked the effect on the production of specially flavored crisps." Maybe it wasn't the EU's fault, then, but Britain's beloved fishy snacks nearly did suffer a terrible fate.
Headline: "Delors Plan to Rule Europe"
What's going on? This one actually had a serious impact, or so Johnson says. The Sunday Telegraph in May 1992 splashed on his story stating that following the signing of the Maastricht Treaty in February of that year, then-European Commission President Jacques Delors was working on proposals involving the centralizing of more power in Brussels. "It was huge in Denmark," wrote Johnson in 2003. "With less than a month until their referendum [on the Maastricht treaty], and with mounting paranoia about the erosion of Danish independence, the story was seized on by the No campaign. They photocopied it a thousandfold. They marched the streets of Copenhagen with my story fixed to their banners. And on June 2, a spectac ularly sunny day, they joyously rejected the treaty and derailed the project."
The Danes eventually ratified the treaty after another referendum in 1993.