Boss Dragged for Wanting Presentation About Why Prospect Should Be Hired
A company who demanded a potential hire—who had already been interviewed three times—jump through further hoops, all unpaid, has been dragged by posters to Reddit.
In the post to the r/antiwork subreddit, u/atwarwiththemystics_—who takes their name from an album by the Flaming Lips—earned over 20,100 upvotes and 1,000 comments for their post, "Companies desperate for employees still seem to think they have the upper hand in the hiring process."
"Can't believe I'm typing this but this is absolutely absurd," u/atwarwiththemystics_ opened their post.
They say they had been interviewing for a "high level sales position" in "a niche industry." The first interview was set up by an internal recruiter. They said the recruiter told them the company had been having trouble finding people.
Following this interview, they had a second interview with an operations manager, and they felt optimistic about their chances, albeit with some concerns.
"They're totally in office, said they're a little bit old school with things and are a little behind adapting to the new work culture but looking to change that," u/atwarwiththemystics_ wrote. "I still was intrigued by the industry and money."
Still, they went ahead with the process. Next came an interview with the person they'd be directly reporting to. Though they got there on time, there was no receptionist, and it took 10 minutes for someone to greet them and direct them to who they were meant to see.
The interview went well, and the potential boss said they'd be in touch by next Wednesday. But that day came and went, and u/atwarwiththemystics_ assumed they'd been passed over. The next week, the operations manager said the company never heard back and he was wondering if they were still interested in the position. He adds that the manager liked them, but was annoyed at how they were 10 minutes late to the interview.
The operations manager said that he'd like them to take a Wonderlic test. The Wonderlic test was created in 1939, consisting of 50 multiple choice questions about general knowledge. The testee only has 12 minutes to take the test. A sample question is "A clock lost 2 minutes and 36 seconds in 78 days. How many seconds did it lose per day?" according to a practice test meant to prepare takers for the Wonderlic.
Following the Wonderlic, u/atwarwiththemystics_ says they were contacted by the operations manager again, and asked if they have a few minutes to talk. Expecting to be offered the position, they agree. The manager tells them that they were very impressed by the results of the Wonderlic, so the company will go ahead with the final step of the interview process.
The final step is that the company will provide contacts for every employee, and they're to take two weeks to reach out to all of them to learn about the company—about 25 people, "everybody from the CEO down," u/atwarwiththemystics told Newsweek.
"I could call as many or as few people as I wanted but the idea was to give a presentation on the company and how I would be an asset. The operations manager said it was purposely vague," they said.
After that, they're expected to make a presentation about why the company should hire them, in front of all the managers, the vice presidents and the CEO of the company. Doing all this is still not a guarantee that they'll be offered the position.
"I could barely get words out I was so stunned. The f**king hoops they wanted me to jump through we're straight up disrespectful to my time. When the f**k do I have time to do a research project for you just to prove I'm good at the job? Did my 3 other interviews not do the trick?" u/atwarwiththemystics_ wrote.
"I understand now why the initial recruiter said they're having a hard time finding candidates. They must think if a candidate is desperate enough to jump through hoops like that they can mistreat them as employees," they added. "I promptly declined and when asked why I told them I didn't have time for a 2 week unpaid project. Really wished I told them to f**k off."
u/atwarwiththemystics_ told Newsweek that they did find a new job, but not with that company.
"I ended up taking a job for a bit less money but with flexibility to be home and where I felt a higher level of respect. My dad worked long hours in NYC when I was a kid and he was always so exhausted when he got home late. It's extremely important to me as a young dad to be present in my kids lives," they said.
"I hope the working culture changes so people can spend more time with their families and find more happiness in their day to day life," u/atwarwiththemystics added. "Nobody gets old and wishes they spent more time at the office."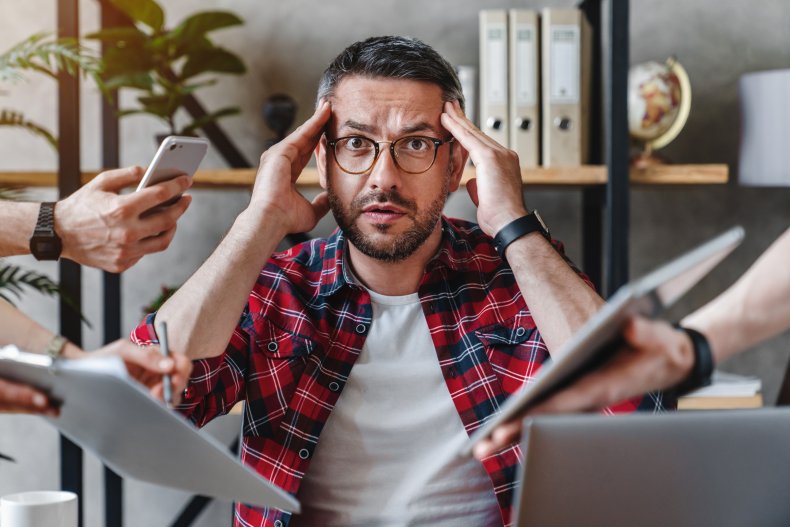 Some companies are moving towards a longer hiring process, according to the BBC, with some even with as many as seven rounds of interviews. Though too little vetting of a potential hire can be costly for companies if a new employee doesn't work out, the outlet says, too much vetting can drive away candidates like u/atwarwiththemystics_.
Jenny Ho of International Workplace Consulting told the BBC the number of interviews should scale with how high up the position is—but even for a new director, the maximum number of interviews should be three or four, she says.
"For positions below director level, it's a maximum of three; preferably two," Ho added.
Google agrees, with a report of the company's past interview data showing that four interviews was enough to make a choice with 86 percent confidence, the BBC reports. As of 2016, companies took 23 days on average to hire a new employee, according to the Wall Street Journal.
Redditors agreed that the company was asking way too much of a potential hire without paying them for their time.
"Instead do a presentation on why this company can't find candidates and just waste all of their time," u/Psychological_Bet226 suggested.
"What's amazing about this is that the company is also wasting the time of every single one of its employees, not just the candidate," u/Did_Gyre_And_Gimble replied. "I'm quite used to companies thinking that candidates' time is free to waste and abuse, but it's quite another for a company to waste the time of paid employees so wantonly."
"If this story is accurate as told, Op is supposed to call and drain off time from every. single. employee. Depending on the size of the company and how much time he needs to use to 'learn everything' about the company, this could be a significant amount of productivity loss," they added. "Add to all that the presentation. The company could, easily, be spending thousands of dollars in lost productivity for this exercise."
"It wasn't a test of your abilities, it was a test of your desperation," u/shelbyknits said.
Another Redditor shared their own horror story.
"I work in web development, this was about 5 or 6 years ago. Went through 4-5 different interviews with this company of about 300 employees," u/flyingV87 wrote. "Was all going well until I got to the guy who would be my boss. You could tell he was burnt out on the phone. But he liked me and said he would follow up in an email with the final step."
"I got the email and it was a 40 hour project. But not only that, it was clearly coding a module that would be used in their actual product! I promptly email him back saying I know what youre doing here, youre getting free labor out of interviewing people and I never heard back," they added.
Update 4/29/2022, 5 p.m.: This article has been updated to include comment from u/atwarwiththemystics_.