Boss Slammed for 'Gaslighting' Response to Employee Asking for Raise
A woman who works in the orthodontic field said she had an "upsetting confrontation" with her boss when spoke to him about potentially getting a raise.
Reddit user u/bianksterrr shared her post—which amassed more than 14,000 votes—on the popular forum "Antiwork," where she explained she began looking for a new job due to the stress that came with her doing all the front office work. You can read the full post here.
When she received an offer from a new office that would include a higher salary and benefits, she decided to talk to her boss to see if he was willing to give her a raise. However, u/bianksterrr said the conversation did not go well.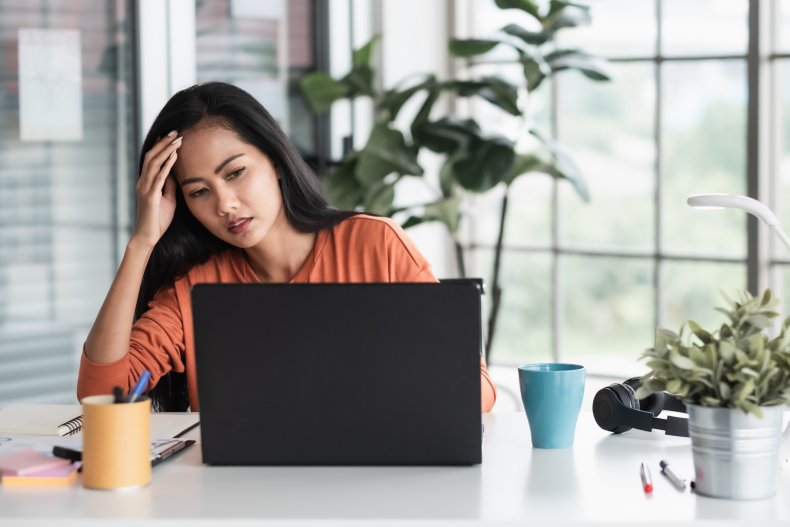 Quitting A Job
According to Monster Jobs, there are tactful ways employees can quit their jobs.
Employees are encouraged to share their grievances in a professional manner to avoid burning bridges.
"Don't get into an emotional interchange with your boss," the organization advised. "Although tensions may rise, keep yourself in check and remain professional."
"Antiwork"
In her post, u/bianksterrr wrote that she enjoys her job but feels underpaid.
She said some of her job responsibilities include answering phones, working with X-rays and photos and solving patient and employee issues.
"So about a month ago I got super upset and started applying to other jobs because I honestly felt exploited and stressed," u/bianksterrr said. "I have voiced my concern and stress for the past month and a half to the doctor and to my manager and I have been heard but no change has come at all."
She said she interviewed for the same position with a different office and received an offer that came with a raise, benefits and bonuses.
After thinking about the job offer, u/bianksterrr decided to discuss it with her boss to see if he was willing to match the offer or negotiate her current salary, but the conversation did not go well.
"He said he didn't want to play this game of me looking for a job every once in a while and asking for more (I never have?), he was upset that I was even looking for something new and he basically said he felt under-appreciated," u/bianksterrr wrote.
After she explained why she felt stressed at work, u/bianksterrr said her boss seemed "apologetic" and said he felt like he "failed" her.
Reddit Reacts
Although u/bianksterrr said she felt torn after her conversation with her boss, Reddit users encouraged her to take the new job.
"Benefits are worth hundreds of dollars per paycheck," a top comment read. "Sounds like he realized his gaslighting wasn't working so he switched to a fake sympathy."
"This is a professional relationship," one Reddit user wrote. "Your boss would fire you if you underperformed. Your boss is underperforming for you. You need to fire your boss/company."
Others wrote that taking a new job is not personal and she would be replaced once she left.
"And you're replaceable," a Redditor commented. "At every job. Ever. I hate how easy it is for people to become emotionally or socially invested in a workplace."
Another said that if u/bianksterrr were to stay, her boss may take advantage of her even more.
"If you stay, he will know you can be easily manipulated into exploitation," they wrote. "He won't pay you more but he'll make you feel guilty about even wanting more."
In the comments section, u/bianksterrr said she accepted the job and has a start date.
Newsweek reached out to u/bianksterrr for further comment.
Other Viral Posts On "Antiwork"
A Reddit user received support from fellow Redditors after they revealed they were laid off from their job six weeks after starting it.
Another post sparked a debate when a Reddit user said they were told by a recruiter that their salary expectations were too high.
One post prompted Reddit users to caution an applicant against following up with a job that appeared to be a scam.