Boss Slammed for Wanting to Fire Employee for Working 'Only' 60 Hours
Commenters slammed a boss for telling an employee they needed to dedicate their weekends to the job and work more than 70 hours a week.
The Original Poster (OP), known as u/promotionsguyforreal, posted about the situation in Reddit's popular "Antiwork" forum where it received more than 37,000 upvotes and 3,200 comments. The post can be found here.
Work Around the World
While there is no maximum amount of hours an adult can work in a week, the average full-time employee in the United States works about 37.5 hours a week.
According to data published by software company Everhour, Denmark has the lowest average amount of work hours with 1,380 hours per year compared to 2,137 hours per year in Mexico.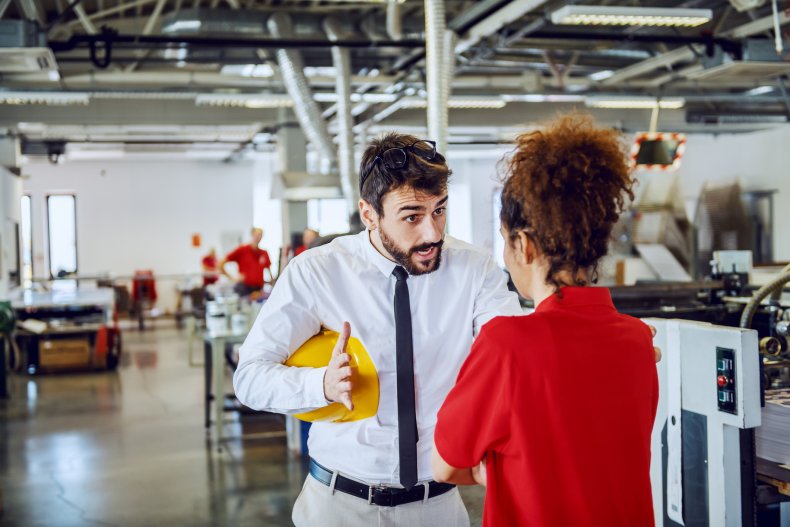 The average employee in America works roughly 37.3 weeks out of the year, while France averages about 30 weeks a year.
America also follows a five-day work week, with Mexico and Thailand following a six-day work week and other countries opting for a four-day work week.
'Dedicate the Weekends'
In the post titled "my boss wants to fire me because I only work 60 hours. I'm supposed to work the weekend too," the OP said they spend almost 12 hours a day doing hard labor outside in the sun.
The OP said their boss is unimpressed with them, saying they are also supposed to "dedicate the weekends" to the job as well.
"I tell my boss that there's no f**king way I'll work the weekend," the post read. "They tell me that they don't have enough people for anyone to take off the weekends."
Recently, the OP received a call from their direct supervisor who said they are being "privileged" and that he wished he could take the weekend off, too.
'Guilt Trip Me'
"He tries to guilt trip me by saying they'll need to cover me cause I'm lazy," the post read. "It's a f**king circus and they're all clowns."
The OP said their boss recently fired another employee because he took the company truck for "random joy rides" and never worked, yet wants to fire them for working 60 hours a week.
"What a bunch degenerate, knuckle-dragging, lifeless sacks of s**t," the post read. "HIRE MORE PEOPLE. What the f**k? Who gets upset when they can only squeeze sixty hours out of an employee?"
Redditor Reactions
More than 3,200 users commented on the post, many sharing similar experiences and criticizing their boss's expectations.
"Your boss is a gaslighting manipulative twat," one user commented. "12 hours a day hard labour..weekend work will burn you out and nobody is worth your mental and physical health not even your twat of a boss."
"Been there. Former boss told me I was mediocre because I would work 'only' 60 hours a week," another wrote. "If I wanted to stand out I should be working 70 to 80 hours a week. Detail: I was an intern."
"This guy has a slaveowner mentality. Get the hell away from him as quickly as possible," another user commented. "I'm surprised he hasn't said he's going to flog everybody to make them work harder."
"My dad's company pulled that s**t. Dad being dad he sucked it up and did what he was told. Ended up so broken physically he barely made it to early retirement age," another commented. "Ended up spending his last couple of years in a wheelchair."
"You have to come in because we haven't enough people to do the job or we fire you..." another wrote. "What a strange logic."
"I'd look at local labor laws. Then if you're feeling really bold, call them on their bulls**t," another commented. "If he wants to fire you because you're only working 60 hours, you're likely to get unemployment benefits and probably have grounds to sue."
Newsweek reached out to u/promotionsguyforreal for comment.
Other Viral Posts
In another viral post in Reddit's "Antiwork" forum, an employee was fired and told they owed the company more than $1,100 for the time he "wasn't working."
Another woman's boss was slammed for calling the police after she left work early and a new employee was backed for quitting after an 11-hour work day.