Boston Marathon Start Time, Route and How to Watch Live
The Boston Marathon, the world's oldest annual marathon, takes place on October 11. The race is usually held on the third Monday in April (Patriot's Day), but was rescheduled this year due to the ongoing COVID pandemic.
This year's event features some changes to the normal protocol, including a "rolling start" as opposed to previous "wave starts" (the race start times are staggered according to the participant's division) amid COVID safety rules.
Before race participants pick up their bib numbers, they are required to either show proof of full vaccination via a vaccine certified by the World Health Organization or produce a negative COVID test result. Tests will be administered on site in a Boston Marathon medical tent.
Once their vaccination or a negative COVID test result has been verified, each race participant will receive a bracelet that must be worn at all times to access bib number pick-up areas and participant transportation areas on the day of the marathon.
All race participants will be asked to wear face coverings up until the starting line, where trash bins will be available. Masks are required until they cross the start line.
They are not required to wear masks during the marathon, but masks will be available at the finish line for those who wish to wear one when the race ends. Face coverings will be required and provided in all medical tents along the marathon route, the Boston Athletic Association (BAA) says.
2021 Boston Marathon Start Time
Transportation to the marathon starting point will be provided by BAA buses for race participants at different times designated according to their assigned bib number. The loading of the buses will start from 7:15 a.m. ET.
"All runners have been numbered according to qualifying times, facilitating a rolling start comparable to previous wave starts. Runners are seeded among other runners with similar qualifying times," the BAA explains.
Below are this year's schedule of start times, as outlined by the BAA.
Military March - 6:00 a.m. ET
Men's Wheelchair - 8:02 a.m. ET
Women's Wheelchair - 8:05 a.m. ET
Handcycle & Duo Participants - 8:30 a.m. ET
Professional Men - 8:37 a.m. ET
Professional Women - 8:45 a.m. ET
Para Athletics Divisions - 8:50 a.m. ET
Rolling start begins - 9 a.m. ET (rolling start ends 11:30 a.m ET)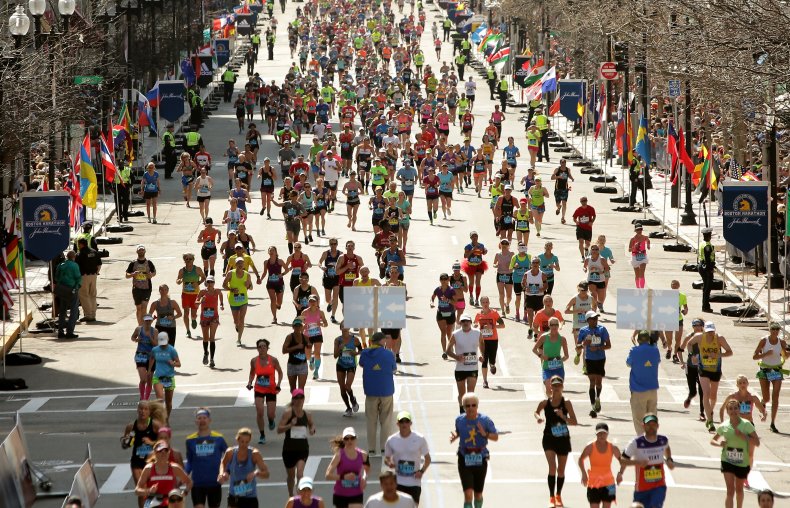 2021 Boston Marathon Route
The Boston Marathon begins on Main Street in Hopkinton, a town around 30 miles west of Boston). It continues through the Ashland, Framingham, Natick and Wellesley areas, before going through the Newton Lower Falls village and down Commonwealth Avenue through the Newton Hills. The Newton area is home to "some of running's most famous (and infamous) roadways," including Heartbreak Hill.
The course then heads to Cleveland Circle in Boston and later turns left onto Beacon Street, continuing through Brookline, Kenmore Square and along Massachusetts Avenue.
The route turns right onto Hereford Street, before turning left onto Boylston Street, where the race ends near the Boston Public Library in Copley Square.
See the BAA website for a map of the full Boston Marathon route.
How to Watch the 2021 Boston Marathon Live
Viewers can watch the marathon live either in person along the course or via a live broadcast.
Watching From the Course
The Boston Marathon can be watched live from various points in the race, including the Ashland, Framingham, Natick, Wellesley, Newton and Brookline areas.
Those who plan to watch the race from these points along the race are advised to allow themselves sufficient time to arrive at the viewing point as traffic will be heavy.
Spectators approaching viewing areas may need to pass through security checkpoints and security personnel may ask to inspect their bags and other items being carried, the BAA explains.
See the BAA website for more information about viewing the race from different points along the marathon course.
Watching Live on TV or Online
The NBC Sports Network and the NBC Sports app will provide exclusive national television broadcast and live streaming of the Boston Marathon.
The race will be broadcast live on NBC Sports Network and the NBC Sports app from 7:30 a.m. to 12 p.m. ET. A replay of the race will also air on Olympic Channel at 8 p.m. ET. Viewers can catch video highlights of the race at the NBC Sports website.
CBS Boston's WBZ-TV will provide exclusive local coverage of the marathon. The live race coverage on WBZ-TV will air from 7 a.m. to 5 p.m. ET. The race will be re-broadcast on myTV38 at 8 p.m. ET.