'Puddle of Blood' After Escalator Turns Into Slide in Freak Malfunction
Nine people were taken to hospital with injuries after an escalator malfunctioned at a Boston rail station on Sunday, authorities said.
Boston EMS said multiple units responded to an incident at the Massachusetts Bay Transit Authority's (MBTA) Back Bay T station shortly after 6 p.m.
"A total of 9 patients were transported to area hospitals with injuries reported to be minor in nature," the agency said in a tweet.
Witness described the gruesome scene after the escalator malfunctioned, and said they saw victims who appeared to have sustained serious injuries.
"This little girl at the bottom, she had most of the side of her face gone, and her ear was almost off her head," Claire Maia told CBS Boston. "And her mother had part of her scalp missing."
Andrea Kiene replied to Boston EMS on Twitter, writing: "Had to be more than minor. We were on that escalator. I saw what happened. The panic and terror was real for those two children who had to see their mother pinned under people."
Eli Smith told NBC Boston that he had been waiting for his train when the incident occurred. He initially thought there had been a shooting because of how many people he saw covered in blood.
"There was a whole bunch of commotion coming from this escalator, so out of pure curiosity I go over and look and there was like four people laying down and like a puddle of blood at the end of the escalator," Smith said.
Smith added that personnel at the station told him the escalator's steps flattened like a slide. "It turned into a slide, and then went backwards, and then that's when people fell," he said.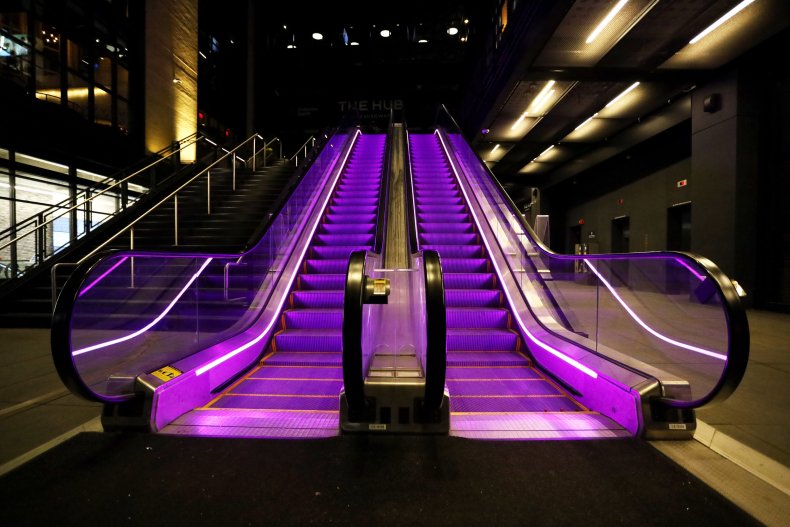 Other witnesses also said the escalator had suddenly reversed direction, which led to people falling. "The escalator was moving upwards and then just went backwards, and everyone just started falling like dominos," Krystal Tremblay told CBS Boston.
"Escalator at back bay went backwards super fast with lots of people on it," a Twitter user said.
In another tweet, the user added: "It happened as soon as i got up the stairs. heard a lot of people yelling behind me and i saw a pile of bodies down the escalator."
An MBTA spokesperson told Newsweek that transit police, Boston Fire and EMS responded to the incident involving an escalator from the Amtrak and Commuter Rail platforms to the street-level lobby of the station to malfunction.
"The escalator will remain out of service while the incident is thoroughly investigated," the spokesman said.
UPDATE 9/27/21 7.20 a.m. ET: This article has been updated with comment from the MBTA.