History will be made Tuesday in at least two elections, regardless of who wins. Both the state of Virginia and the city of Boston will choose a woman of color for a prominent political office.
In Virginia, that position will be lieutenant governor, where Democrat Hala Ayala is facing off against Republican Winsome Sears. Meanwhile, two women of color are vying to be the next mayor of Boston: Michelle Wu and Annissa Essaibi George, both of whom are Democrats.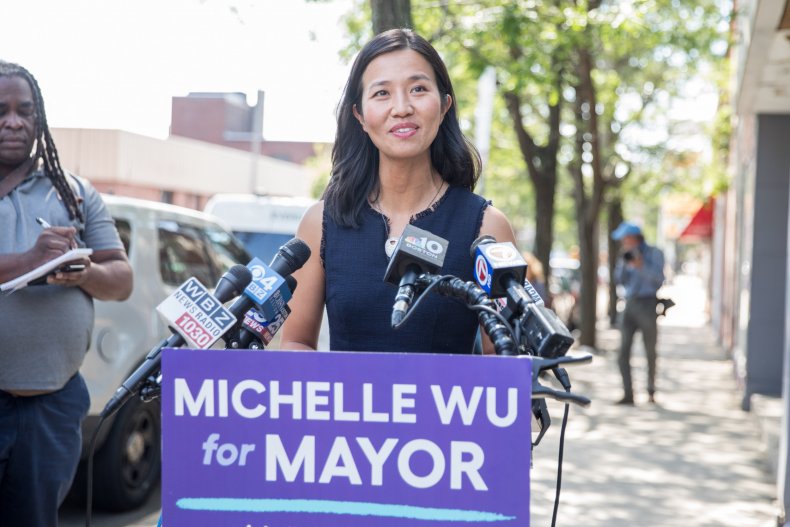 Much of the national media coverage of Tuesday's Election Day in Virginia has centered on the heated gubernatorial race between Democrat Terry McAuliffe, who previously served as the state's governor, and GOP candidate Glenn Youngkin, a businessman in private equity.
However, the lieutenant governor's contest has also become nearly deadlocked. According to the most recent poll from The Washington Post/Schar School, Ayala was ahead of Sears by a 50-percent-to-46-percent margin among likely voters with a margin of error of 4 percent.
Ayala currently represents the 51st District in the Virginia House of Delegates. She identifies as Afro-Latina, Lebanese and Irish. Health care and climate change are major issues for her campaign.
Sears, who is Black, is a businesswoman and a Marine Corps veteran. She once represented Norfolk's 90th House district for one term in the 2002-2003 General Assembly session. The Republican hopes to focus on the economy if elected and has talked of cutting regulations and eliminating the state's grocery tax.
Meanwhile, the winner of Boston's mayoral runoff between Wu and Essaibi George will also be the first woman and the first woman of color elected into the office. Currently, the city's interim mayor is Kim Janey, who is the first female and first woman of color to serve in the role. However, she was appointed to the position after President Joe Biden tapped former Mayor Marty Walsh to serve in his Cabinet as Secretary of Labor. In September, Janey lost in a runoff to remain in office.
Wu is a member of the Boston City Council and the first Asian-American woman to serve on the council. She has received Janey's endorsement and has pushed progressive policies like eliminating fares on the Massachusetts Bay Transportation Authority (MBTA) and drastically changing how the city manages economic development.
Essaibi George has positioned herself as more moderate than Wu and as an ally of Walsh. Like her opponent, Essaibi George is a member of the Boston City Council. She identifies as Polish-Arab American, which has caused some debate about the U.S. Census, which lists people of Arab descent as "white."
"It's unfortunate that Arabs don't have that proverbial box to check, and it is important for the Arab community to be counted, to be seen, to be heard and to be recognized," Essaibi George said in a recent interview on GBH News.
According to an Emerson College poll conducted last week, Wu has a commanding lead over Essaibi George, by a 61-percent-to-31-percent margin.
All four women have remarked on the historic day. Sears told WRC-TV, an NBC-affiliated station in Washington, D.C., last week: "The only thing I would want for this history thing is for children to see me and say, 'Oh, Winsome is there. If Winsome can do it, I can do it."