Why the Grossest Part of Having a Baby Is Good for Newborns and Their Mothers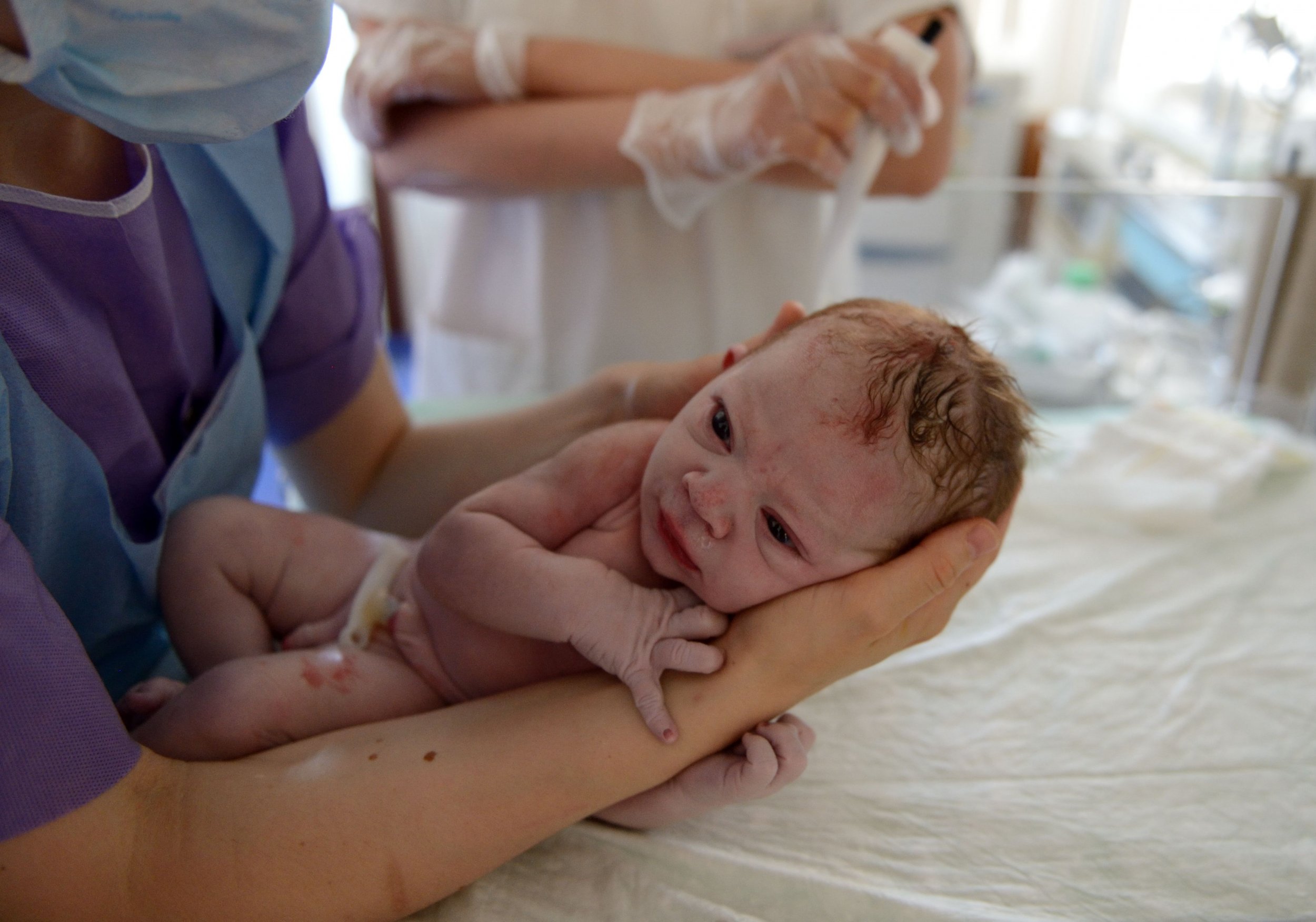 Updated |Childbirth is messy and some aspects are more dreaded than others. But a growing number of health experts are making the case that even the most cringeworthy parts of delivery have a necessary role in infant health, and should be celebrated rather than dreaded.
Scientists note that the array of bacteria inside the gut of infants is becoming less diverse, especially in developed countries, such as the U.S., where cesarean section deliveries are on the rise. One bacterium, Bifidobacterium longum subspecies infantis, also known as B. infantis, appears to be particularly affected, Dr. Annette Fineberg, an obstetrician at Sutter Health in Davis, California, told Newsweek.
Now, some researchers are looking into how to make sure babies experience the traditional benefits of birth no matter the delivery method.
According to the Center for Disease Control and Prevention's latest figures, 31.9 percent of all U.S. childbirths in 2016 were delivered via C-section. In 1991, C-sections only made up about 23.5 percent of births in the U.S.
The U.S. is not alone in its high percentage of C-section deliveries —from 1990 to 2014 there has been a 12.4 percent increase in the global average C-section delivery rate, a 2016 study found. This increase may be driving the decrease of B. infantis in newborns' guts.
It's an icky subject but here's how it works: B.infantis is typically found in the mouth and the gastrointestinal tract. This particular bacteria also loves to live in airtight places, and is found in abundance in the colon. For this reason, newborns born in vaginal births are typically exposed to B.infantis when mothers pass a bowel movement while delivering, putting the child in contact with fecal material.
Eileen K. Hutton, of the department of obstetrics and gynecology and the midwifery education program at McMaster University in Hamilton, Ontario, told Newsweek that due to the basic physiology of how babies are delivered, there is a large chance that they will come in contact with some of this fecal bacteria.
"The vast majority of babies are born face down, so we are designed to be exposed to the bacteria of the rectum," Hutton told Newsweek.
More C-section deliveries mean less babies are initially exposed to not just B. infantis but a wide range of healthy bacteria passed on from mother to child. A 2011 study from the University of Florida found increasing rates of cesarean section delivery are concurrent with an epidemic of autoimmune diseases such as type 1 diabetes, Crohn's disease and multiple sclerosis, as well as allergies and asthma.
A study last year suggested that certain components in breast milk may also play a role in the transfer of healthy bacteria from mother to child. Of the 107 mother-child pairs in the study, infants who got at least 75 percent of their nutrition from breast milk during the first month of life received more healthy bacteria from their mothers than infants who did not. While the CDC reports that breastfeeding rates in the U.S. continue to rise, American mothers are still not breastfeeding for the recommended time period of at least 12 months.
It turns out the human body is constantly covered with an array of bacteria referred to as microbiome. We acquire many of these bacteria at birth. But we still don't know much about it. Our ability to understand microbiology, a branch of science that focuses on microorganisms, dramatically shifted in recent years when scientists developed a way to identify the DNA of different bacteria. This allowed them to better understand which bacteria lived where in the body and what functions they might have.
Noel Mueller, an assistant professor in the department of epidemiology at John Hopkins Bloomberg School of Public Health in Maryland, told Newsweek that the association between C-section birth and lack of good bacteria colonization is well noted.
"We have found in some of our observational research that cesarean delivered children have a slower colonization by certain bacterial groups, including bacteroides genus and also bifidobacterium and lactobacillus," said Mueller. "Whether or not those bacteria have a causal effect with C-section associated diseases is still unknown as most of the research to this point has been observational."
Mueller's research team hopes to reintroduce bacteria to babies through a different process called vaginal seeding. This involves taking vaginal fluids and applying them to a newborn. So far the results of a large randomized clinical trial have been positive in suggesting the reintroduction aids with bacteria colonization in a baby.
Related: Probiotics: Panacea of Just A 'Big Fad'?
Others are mulling different potential solutions.
Rather than suggest mothers forgo certain health practices, medical professionals need to figure a way to introduce the bacteria to babies who may not have been exposed to it at birth, according to Tracy Shafizadeh, a scientist who works at Evivo, a probiotic company for infants. Evivo that specifically adds B.infantis back into the digestive system of babies. Fineberg was involved in the product's clinical trials.
"We don't know if adding the B. infantis back will take care of this epidemic of autoimmune diseases, but we do know that babies that have it [B.infantis] are at lower risk," Shafizadeh told Newsweek.
A viable solution, however, may be far off.
Hutton, who is not associated with the Evivo probiotic, explained that while some research does seem to suggest that lack of certain bacteria in the microbiome is associated with health outcomes, it's not clear if adding the bacteria post birth is the answer. Hutton cautioned that our understanding of the human microbiome is still relatively new and limited.
"I think we are really at the beginning stage," said Hutton. "People are leaping to solutions before we know what the problem."
Correction: This article has been corrected to state that Dr. Annette Fineberg works at Sutter Health in Davis, California.