With the holiday season in full swing, festive favorites such as stuffing, cranberry sauce, turkey and, of course, pumpkin pie are on the menu.
One toddler got his first taste of the sweet treat while celebrating Thanksgiving this year.
Mom Tia Dunham shared a clip to her TikTok page @tia.dunham, capturing the reaction of her son, thought to be called Kasiah.
"When you try pumpkin pie for the first time," she wrote in the on-screen caption.
The short clip shows the boy in his highchair. A hand feeds him the pie on a spoon and the toddler, who celebrated his second birthday on December 1, initially furrows his brow.
As the sweet mixture sweeps its way across his tastebuds, a smile spreads across his face and he rolls his eyes back. He then balls his hands into tiny fists and begins to shake as he savours the pie.
"My boy ain't know what to do," Dunham, from Colorado, captioned the clip, which can also be seen here.
Dunham told Newsweek: "We bought it from our local grocery store and yes he definitely had more after the video. He's never reacted to food that way before."
Since being shared to the site on Sunday, the hilarious video has amassed more than 5 million views.
Jada Page joked: "Omg he's glitching." Temmyturner thought: "Ya'll just hit his reset button."
Trey commented: "Bro started to power up." Miriam reckoned: "Little dude astral projected." Kako thought: "He done caught the holy ghost."
"His taste buds were just awakened," Idk added.
Seerahh quipped: "Please he showed the definition of 'soul food'."
Kennie wrote: "This is the moment he gained consciousness."
Che Durena replied: "The holy ghost in that kid lamo." While Faith Johnson added: "Holy spirit activate."
A few people were worried by his reaction, however, prompting Dunham to clarify in the comments: "Also please stop messaging me and commenting about your 'seizure concerns' he's fine!"
Pumpkin pie is a staple of the holidays and consists of a pie crust—which you can make from scratch or buy—and the all-important filling.
Its ingredients include pumpkin puree, heavy whipping cream, eggs, brown sugar, spice and vanilla.
Website History.com says of the dish: "It's hard to imagine an American Thanksgiving table without the ubiquitous orange-crusted custard made from strained, spiced and twice-cooked squash.
"By the early 18th century pumpkin pie had earned a place at the table, as Thanksgiving became an important New England regional holiday.
"After the Civil War, Thanksgiving—and with it, pumpkin pie—extended its national reach, bolstered by write-ups in women's magazines like the one that [Sarah Josepha] Hale edited.
"In 1929 Libby's meat-canning company of Chicago introduced a line of canned pumpkin that soon became a Thanksgiving fixture in its own right, replacing the need for roasting and straining one's own squash."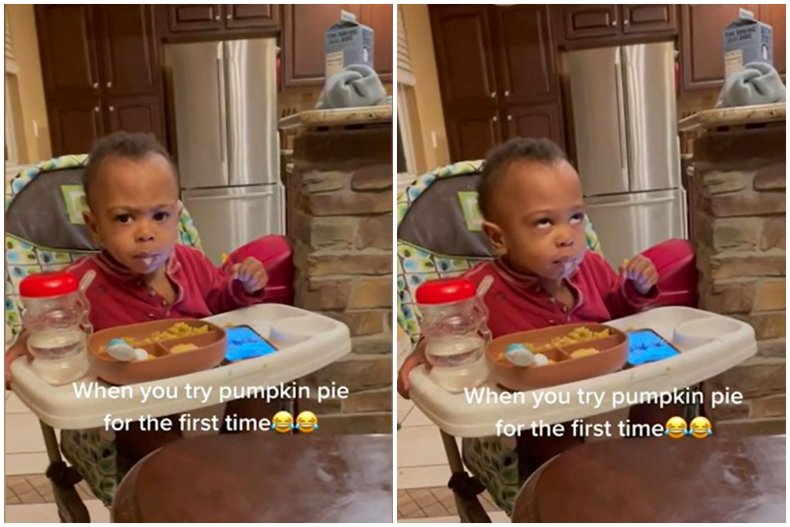 Update 12/1/21, 5:15 a.m. ET: This article was updated with video and photos from Tia Dunham; 11:30 a.m. ET: This article was updated with comment from Dunham.