Boy Spends $1K on GrubHub After Taking Dad's Phone to Play Games
A Michigan got a lot more than they could stomach over the weekend when their young son ordered over $1,000 worth of food via GrubHub.
The incident occurred on Saturday night in Chesterfield Township, Michigan, just outside of Detroit. Local father Keith Stonehouse was home with his 6-year-old son, Mason, while his wife was out seeing a movie with friends.
At one point, half an hour before Mason had to go to bed, Stonehouse gave his son his phone to play games on. Instead of playing games, the boy opened the GrubHub and went wild, ordering over $1,000 worth of food from numerous restaurants in the area.
Speaking with MLive.com about the whole affair, Stonehouse said that he did not think much of it when the first car arrived with a delivery. Given that his wife works at a local bakery, he assumed it was something to do with a big wedding in town over the weekend.
"I was putting Mason to bed and saw a car pull up and the doorbell rang with the driver dropping off a big bag of stuff," Stonehouse said. "My wife owns 'A Slice of Heaven Cakes' bakery and it was a big wedding weekend, so I thought it was just someone dropping off decorative stuff they used from her. But it was from Leo's Coney Island. I said, 'What the heck?'"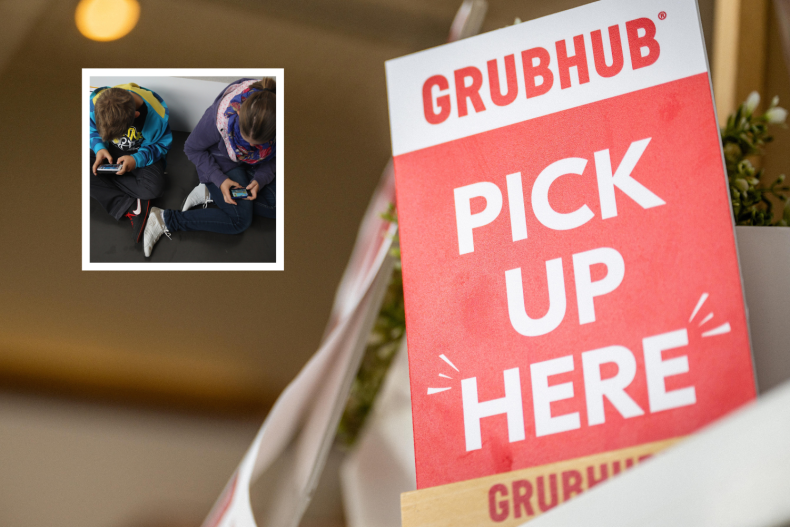 As more and more cars with more and more deliveries showed up, Stonehouse began to understand what was actually happening. He also soon realized that there was seemingly no way to reverse the damage done. Reaching out to one of the restaurants, he was told that he would need to contact GrubHub, which he found no way to do.
One of the orders, $439 from Happy's Pizza, was so large that it tripped Stonehouse's credit card fraud alert and was declined, though a $183 order of shrimp from the same location did go through. Some of the other orders included salads, shawarma and chicken pita sandwiches, chili cheese fries, ice cream, grape leaves, rice, and more, according to MLive.com.
"While all of the food was being delivered and I figured out what happened, I went to talk to Mason about what he did and this is the only part that makes me laugh," Stonehouse continued. "I was trying to explain to him that this wasn't good and he puts his hand up and stops me and says 'Dad, did the pepperoni pizzas come yet?' I had to walk out of the room. I didn't know if I should get mad or laugh. I didn't know what to do."
Moving forward, Stonehouse said that he would work to make sure the app was better hidden on his phone and is changing his phone password. He recommends other parents take similar measures.
Newsweek reached out to GrubHub for comment, and a spokesperson said they've worked to ease the burden on Stonehouse.
"We reached out to Keith Stonehouse once we heard about the unexpected spending spree his son went on," the spokesperson said. "We wanted to make things better for him and his family, so have offered to send him $1,000 worth of Grubhub gift cards."
A similar incident took place in Kingsville, Texas, in the spring, when a 2-year-old boy playing with his mother's phone managed to order 31 McDonald's cheeseburgers using the DoorDash app. His mother, Kelsey Burkhalter Golden, took the situation in stride, offering the food for free to her Facebook friends.
"I have 31 free cheeseburgers from McDonald's if anyone is interested," Golden wrote in a post. "Apparently my 2 yr old knows how to order doordash."
Update 02/01/23 2:20 p.m. ET: This article was updated with comment from Grubhub.