Walmart announced Tuesday that it will decrease its handguns and ammunition sales — one month after a shooting in El Paso, Texas killed 22 people and injured dozens of others.
The large-scale retailer had stopped selling assault rifles in 2015 and raised the minimum age to purchase guns to 21 last year in the wake of the Parkland shooting, but is taking it a step a further after more recent gun-related incidents. The store will now halt the sale of short-barrel rifle ammunition, after selling the last of its current supply, Walmart CEO Doug McMillon wrote in a corporate memo on Tuesday.
McMillon went on to say that the retailer would no longer be selling handguns in Alaska, which is currently the only state where Walmart sells handguns. It will also discontinue the sale of handgun ammunition across Walmart locations worldwide.
"We know these decisions will inconvenience some of our customers, and we hope they will understand, McMillon wrote. "As a company, we experienced two horrific events in one week, and we will never be the same."
Within hours of the statement, excited citizens expressed both their delight and disappointment with America's largest retailer, many using the hashtag #BoycottWalmart to protest in favor of Second Amendment rights.
Last year, Dick's Sporting Goods announced that it would no longer sell assault style weapons, sparking a similar reaction from the internet. The chain's CEO, Ed Stack, pulled firearms from 125 of its store locations following a shooting at Marjory Stoneman Douglas High School in Parkland, Florida. It was revealed that alleged gunman Nikolas Cruz had purchased a firearm from the sporting goods chain.
There were also many online in favor of Walmart's choice, spreading the word on Twitter with messages of support. "Thank you, @Walmart," actress Alyssa Milano tweeted Tuesday. "This is a great start."
"We will treat law-abiding customers with respect, and we will have a very non-confrontational approach," McMillon said Tuesday. "Our remaining assortment will be even more focused on the needs of hunting and sport shooting enthusiasts."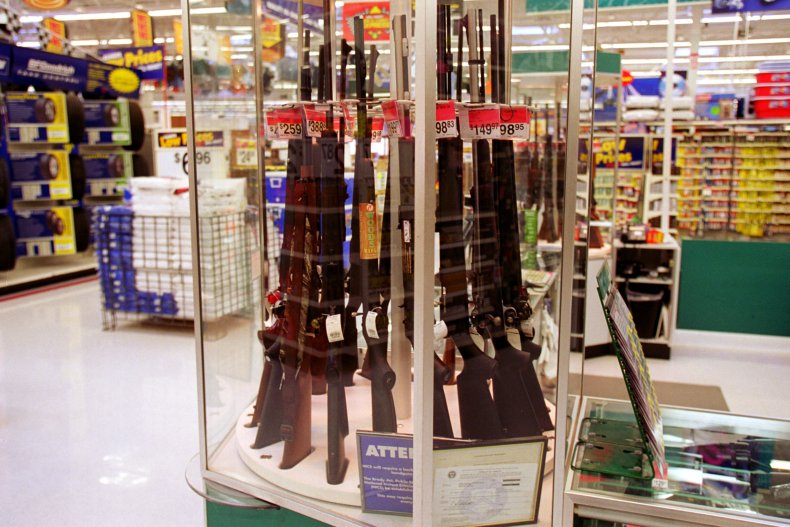 Walmart is also calling on the government to take action on the matter, and offering its "decades of experience selling firearms" to serve as a resource in the national debate on responsible gun sales."
"We encourage our nation's leaders to move forward and strengthen background checks and to remove weapons from those who have been determined to pose an imminent danger," McMillon continued in his memo. "Congress and the administration should act."