'I'm Crying': Boy's 'Beautiful' Reaction to Surprise Paris Trip Goes Viral
One boy's "beautiful" reaction to a surprise trip has gone viral and left the internet in tears.
Deona Smith, the boy's mother, posted a video of his reaction to TikTok on Saturday and wrote: "It's been a tough two years with COVID, homeschooling, and illnesses. We deserve to treat ourselves."
The post has amassed more than 3.5 million views and thousands of comments from viewers who agreed that Smith had earned the "best mom award" for surprising her son with a trip to one of the most-visited cities in the world.
"When he thinks he's going to Chicago, but..." read the video's text overlay.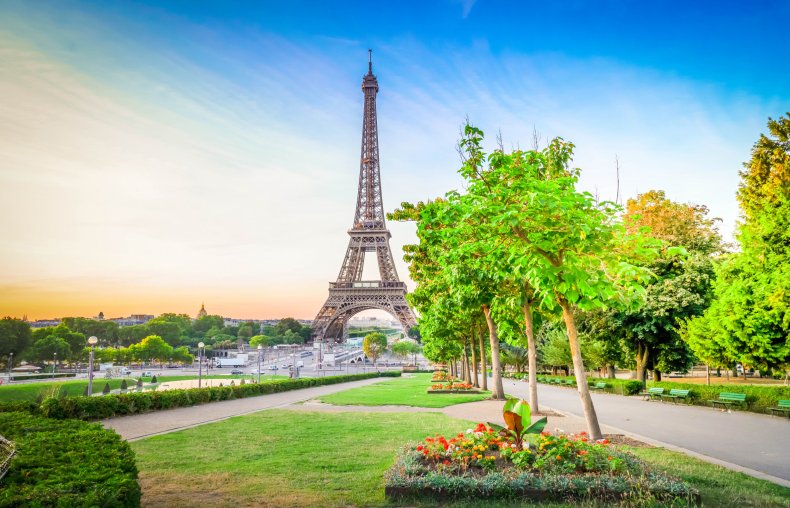 The video opened with Smith's son, Joseph, standing inside the airport with a card in hand.
"Okay, so this is for all of our hard work," Smith said from behind the camera. "[And this is] our first trip since COVID, so I just wanted to do a little something special for you."
Joseph rips open his card, and his face immediately lights up upon reading that the two are actually traveling to Paris, not Chicago.
"We're actually going to Paris, mom? We're going to Paris?" he excitedly asked Smith.
"Right now," she replied. "I know you thought we were going to Chicago, but we're going to Paris. Are you ready?"
"I'm ready," Joseph squealed.
On its website, France's Ministry for Europe and Foreign Affairs said that tourism represents "close to 8 percent of GDP and 2 million direct and indirect jobs." In 2019, the ministry said, the country welcomed "a record 90 million international tourists." That same year, Paris alone welcomed more than 19 million visitors, making it the second-most visited city in the world, according to Forbes.
Of course, France's tourism industry was hit hard by the coronavirus pandemic. Speaking to prospective travelers last summer, France's tourism minister Jean-Baptiste Lemoyne said he missed encountering international travelers within the country.
"We want to hear Dutch, German, English, Italian, Spanish being spoken everywhere in the country," Baptiste said. "We miss it. We miss you."
Commenters were happy to watch Smith's son's excitement over their trip to the city of love.
"Seeing kids be happy is the freaking best," wrote hellotefi.
"You seem like the best mom! And such a sweet kid," said Erin McGoff.
Drew Afualo commented: "This is so sweet omgggg y'all deserve it. Sending you and your baby so much love."
"Those eyes just lit up," 758 observed. "So beautiful."
"I'm cuh-RYING! This is sooooo beautiful! Have a trés magnifique time!!!" exclaimed Lyvonne Briggs.
Katdunn added: "BEST MOM AWARD."
In a statement to Newsweek, Smith said that Joseph has been traveling since he was two months old, "but not internationally."
"I went to Italy in 2019, and he sent sad text messages because he couldn't go. Upon my return, I got his passport because he obviously was interested in seeing the world, but COVID shut everything down so we didn't and couldn't travel," she said.
"During COVID, I worried about Joseph. He was so concerned about catching it and passing it to his grandparents that he didn't leave the house. He went to school virtually like many kids, his grades suffered and he didn't see his friends. Then his grandfather was diagnosed with colon cancer and I got laid off from work. It was a rough two years and I knew we needed a break," she continued.
So, Smith asked Joseph to compile a list of his top five travel destinations, which included Paris and Chicago.
"He loves art and studied the Mona Lisa in school so he wanted to see the famous painting and the Eiffel Tower. So I decided to make Paris the first stop on his list and allow him to finally use his passport," she explained. "I told him Chicago in case I couldn't make Paris work, and when I determined Paris was possible, I decided not to tell him until we arrived at the airport."
It's perhaps no secret that the pandemic has had quite an impact on the air travel industry. According to the International Civil Aviation Organization, it was estimated that global passenger traffic was down 49 percent in 2021 from 2019. Additionally, the industry also saw an estimated $324 billion revenue loss in 2021 compared to 2019.
To help support the "recovery of travel and aviation" both domestically and internationally, airline lobbying group Airlines for America, along with 28 other airline and travel groups, wrote a letter to the White House in February asking for the removal of "pre-departure COVID testing for vaccinated international travelers," Newsweek reported.
In March, the union representing the flight attendants of Southwest Airlines also asked President Joe Biden to lift the federal mask mandate for public transportation.
"We strongly believe it is now time to give our members and passengers the opportunity to choose if they prefer to wear a mask while flying," the union wrote.
04/13/2022: This article has been updated to include comments from Deona Smith.