'The Boys' Actor Antony Starr Teases 'Very Uncomfortable' Homelight Scenes
The Boys Season 3 began with many shocking moments from Butcher (Karl Urban) getting powers to Victoria Neuman's (Claudia Doumit) Superhero identity, but one quite surprising moment was the #Homelight announcement.
At the end of the new season's third episode, which landed on Prime Video on Friday, June 3, Homelander declared that he and Starlight, the newly minted Co-Captain of The Seven, are in love.
The whole thing is, of course, a sham that is forced on Starlight by Homelander, who also brought back The Deep (Chace Crawford) into The Seven and threatened to kill hundreds of innocent lives if she ever released the video footage she has from Flight 37 in Season 2.
#Homelight spells trouble for Annie January, aka Starlight, and it will make for some "uncomfortable moments" for the superhero, actors Antony Starr and Erin Moriarty told Newsweek.
Antony Starr and Erin Moriarty on Homelight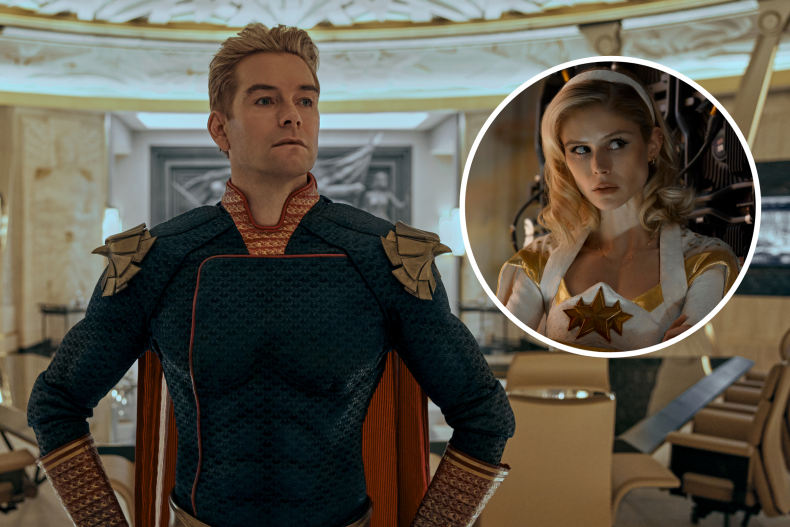 Starr said he found the idea of #Homelight "hilarious" when he first read it, saying: "I think these characters are the opposite ends of the scale, right? We've got the best character on the show, unequivocally, and the worst, really. Pretty much everyone else falls within those two extremes.
"So I thought well the natural thing to do is to throw those two together, and of course given where the characters are at, and what's going on in context, it makes for some very uncomfortable —and for the audience enjoyable— moments."
Moriarty concurred with her co-star, as she said of the opening three episodes: "Yeah, I thought that having them be Co-Captains was one thing, and I thought that was awesome and interesting, I was so excited to dive in with Antony to explore that dynamic.
"But then when I read the script where it took it up a notch and they announced #Homelight, that I didn't see coming and I love that Homelander took it that far, and that Annie has to meet him there.
"I never expected that to happen on the show, so when something like that surprises you as the actor when you're reading the script, and you also really like the concept of it in terms of a plot point, it was really cool."
Homelander Is About to Snap
Homelander has been on the brink of snapping since Season 1, but the superhero appears to be in an even worse state in Season 3.
His popularity is waning in the aftermath of his relationship with Stormfront and her public controversy, and he's also lost the support of Vought International CEO Stan Edgar (Giancarlo Esposito).
"I think there's always been a vulnerable side to him, but more than ever this season we get to see a whole other version of him that is really... we get to see very clearly how emotionally deficient he is, and how damaged he is," Starr said of his villainous character's vulnerability this season.
"We get to see a little bit of a view inside, you know, how did this kid cope? How did he get through and what did his imagination construct to help them get through the moments that he couldn't deal with because he has always been on his own?"
Starr added that while his character is a villain he has always been keen to make sure Homelander was never a two-dimensional character.
He continued: "Not that we're trying to garner empathy for the character, but I think from the actor's, from my, perspective, it's always about trying to offer a little more light, and shade, and a little more context so we don't get into very arch, moustache-twirly territory, which would be kind of boring to do and boring to watch. So, yeah, it's been a fun season."
The first three episodes of The Boys Season 3 are available to watch on Prime Video now, and the show will continue to air weekly every Friday.