Head of Pro-Trump Super PAC Says Brad Parscale Spent Campaign Cash 'Like a Drunken Sailor'
A financial crisis might be looming for the campaign for the re-election of President Donald Trump according to The New York Times which has reported around three-quarters of the $1.1 billion raised between the start of 2019 and July 2020 has already been spent.
A review of federal campaign filings and interviews with more than a dozen current and former campaign aides by the paper, including Ed Rollins, a veteran Republican strategist, paint a picture of a potential cash crunch for the Trump campaign.
The Quote
Rollins, who runs a small pro-Trump super PAC took aim at Trump's former campaign manager, Brad Parscale, accusing him of spending money "like a drunken sailor," telling The Times: "If you spend $800 million and you're 10 points behind, I think you've got to answer the question 'What was the game plan?'"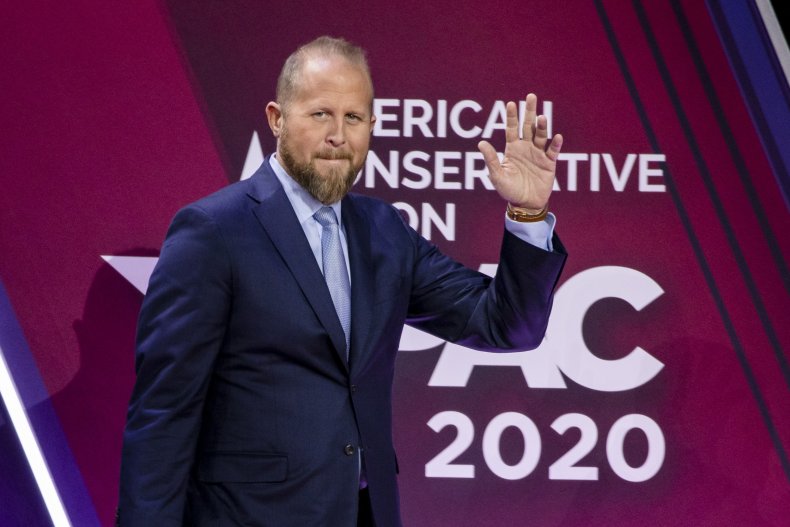 Why it matters
Starting an election campaign as the incumbent confers a financial advantage, as it did for Trump's predecessors Barack Obama and George W. Bush, and Trump's filing for re-election on the day of his inauguration was intended to give him a head start to the stockpiling of his war chest.
Joe Biden was reportedly $187 million behind Trump when he emerged as the Democratic contender, but an analysis of the president's campaign spending has shown a degree of profligacy that has evaporated funds.
More than $800 million of the $1.1 billion the Trump campaign raised has gone on outlays such as $156,000 for airplanes to pull Trump banners, $6 million on "donor mementos" and up to $11 million for two Super Bowl ads.
Meanwhile, two months out from polling day, the Biden campaign is going from strength to strength, raising $364.5 million last month, much more than the previous single-month record of $193 million raised by Obama in his 2008 campaign.
The counterpoint
Parscale has insisted he had run the Trump campaign "in the same way I did in 2016, which also included all of the marketing, strategy and expenses under the very close eye of the family," and that, "no decision was made without their approval."
Parscale told The Times: "Any spending arrangements with the RNC since 2016 were in partnership with [RNC chairwoman] Ronna McDaniel who I consider a strategic partner and friend."
There has been considerable belt-tightening since July when Bill Stepien replaced Parscale, who remains as a senior adviser.
This includes scrapping plans to spend $50 million on coalition groups and $3 million for a NASCAR car bearing Trump's name. Stepien said the campaign has enough money to win and that "the most important thing I do every day is pay attention to the budget."
Communications director for the Trump campaign, Tim Murtaugh, said that the president's fundraising "is breaking records" and that twice as much would be invested between now and election as during the same period in 2016.
"President Trump has also built the world's greatest digital fundraising operation, a dominant ground game, and a third advantage Joe Biden can never match—enthusiasm," he told Newsweek in an emailed statement.
"President Trump's reelection strategy reflects the unique 2020 campaign calendar and we're confident that his success in rebuilding our economy, and Joe Biden's desire to increase taxes by $4 trillion and shut down our economy, will prove the pivotal contrast this fall," he added.
This story has been updated to include a statement to Newsweek from the Trump campaign.
Head of Pro-Trump Super PAC Says Brad Parscale Spent Campaign Cash 'Like a Drunken Sailor' | Politics