Biden Campaign Breaks Record for Online Fundraising in August, Raking in $364 Million Overall
Democratic presidential nominee Joe Biden raised more money through small-dollar online fundraising in the month of August than any presidential candidate ever has previously in a single month. Those online receipts alone propelled the campaign to shatter the former overall single-month fundraising record.
The Biden campaign announced in a Wednesday press release that Biden and the Democratic National Committee raised a combined $364.5 million last month—dwarfing what is believed to be the previous single-month record of $193 million raised by former President Barack Obama ahead of his first election in 2008. According to Biden's campaign, about 57 percent of the money ($205 million) came from small-dollar donors online, meaning the online donations alone were more than the previous overall single-month fundraising record.
"That figure blows me away. And we raised it the right way, from people across the country stepping up to own a piece of this campaign, investing in the future we want to see for our kids and grandkids," Biden said in a statement. But he urged his supporters to remain vigilant, saying that Trump's campaign was also being well-funded, including by "outside, dark money"—a reference to super PACs.
The former vice president sent a message to supporters saying that the amount of contributions had humbled him. "Even in a global recession, working families set aside some money to power this campaign, and a little bit added up in a big way," Biden said.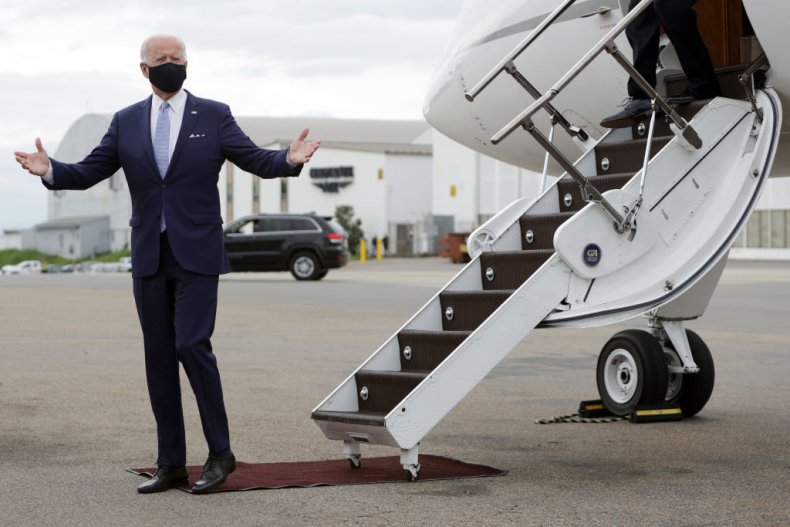 Newsweek reached out to President Donald Trump's campaign for comment, but it did not respond by the time of publication.
In July, Trump's reelection campaign and the Republican National Committee outraised Biden and the DNC by nearly $30 million. The GOP incumbent president and his party brought in about $169.3 million in July compared to $140 million raised by Biden and the Democratic Party. But the amount raised by both Biden and Trump combined in July still totaled more than $50 million less than the Democratic nominee's record-shattering August haul.
Notably, Biden's August total was more than two and a half times as much as the $143 million former Democratic presidential candidate Hillary Clinton garnered in the same month ahead of the 2016 presidential election. Trump only raised $90 million in August 2016, but the Clinton campaign's superior fundraising ability did not propel her to victory.
The Trump campaign and the RNC have not yet announced how much they raised in August. Following the RNC last week, they said $76 million had been brought in during their four-day convention. That was compared with the $70 million the Biden campaign brought in the week previously during the DNC.
Most national polls, as well as recent surveys carried out in key battleground states, suggest that Biden has a significant lead over Trump. Grinnell College released the results of a poll conducted from August 26 to 30, showing Biden with 49 percent support compared to 41 percent for Trump—a lead of 8 points. The current FiveThirtyEight average of national polls shows Biden ahead by just over 7 percentage points, while the RealClear Politics average has the Democratic candidate in the lead by a little more than 6 points.