Brad Pitt's Skirt at the 'Bullet Train' Premiere Divides Opinions Online
Brad Pitt battled a heatwave in Germany by opting for a skirt and shirt combination when walking the red carpet at the premiere of his new movie Bullet Train.
His look has caught the attention of many social media users, and while some have praised the wardrobe choice, others have criticized him for wearing a skirt.
Bullet Train is Pitt's latest action thriller from his production studio Plan B. His co-stars Zazie Beetz, Brian Tyree Henry, Joey King and Aaron Taylor-Johnson joined him at the event in Berlin on Tuesday, July 19.
Pitt turned heads on the red carpet with his brown jacket and skirt combination. He completed the look with a salmon buttoned shirt, and black boots. Tattoos were visible on his shins between the skirt and boots. When asked by a reporter why he's wearing a "kilt," Pitt said it was for the "breeze."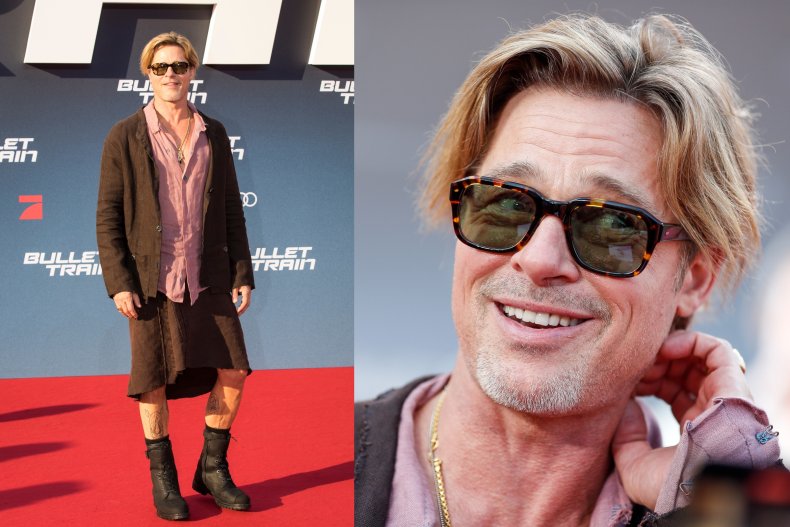 "Just when you think Brad Pitt couldn't get sexier, he wears a skirt," wrote playwright and podcaster Melanie Tait on Twitter, seemingly approving of his outfit choice.
A Pitt fan account, @SimplyBradCom, commented on his overall aesthetic at the premiere, suggesting there's "no eff's given" on his part.
American journalist Elisha Krauss took the opposite viewpoint. "Whoever convinced Brad Pitt to wear a skirt should be flogged," she wrote.
The opinions swayed between celebrating Pitt for his choice, while a smaller portion criticized him.
"Brad Pitt out there normalizing men wearing skirts on his latest red carpet," wrote @FourRedShoes. Meanwhile, @G0dhatesme stated that Pitt "absolutely slayed" with his look in Germany.
"Looks like he either 'lost the bet' or maybe he got his girlfriend's luggage by mistake," @PNWgramma said, before adding: "Sorry Brad but you just look a bit mental."
"Men in skirts," wrote @b_the_myth. "Yep, this world is finally cooked, done... over."
"Oh my eyes, my eyes," exclaimed @Thea744 on Twitter. After a slurry of insults thrown in Pitt's direction, they finished their point by saying "he is trying so hard to emulate young stars like Harry Styles."
The skirt also made a splash over on TikTok, where thousands of users were quick to comment on the look.
"People mad about the skirt really don't know much as Brad Pitt did a whole photo shoot with dresses/skirts way early on," pointed out @victorbraeseke. The photo shoot in question was a cover shoot for Rolling Stone magazine in 1999 when Pitt was sporting his shaved head look. He was photographed outdoors wearing tight glamorous dresses.
Some TikTok users complimented Pitt's impressive calves which were on display but others, like @crepethinpancake, suggested "it's giving 'Hey there fellow teens'" vibes.
Pitt's R-rated movie Bullet Train comes out in movie theaters everywhere on August 5. He stars as a seasoned but unlucky American assassin onboard a bullet train in Japan, and he must compete with other assassins who have connected objectives on the train.