Georgia's Brad Raffensperger Doesn't Rule Out Voting for Donald Trump Again
Georgia's Secretary of State Brad Raffensperger didn't rule out voting for President Donald Trump again if he ever appeared on a future Republican ticket, despite their ongoing dispute about the election results in Georgia.
Speaking to ABC News on Sunday, the Republican said he would "probably" always support GOP candidates when asked whether he would vote for Trump again, but did not definitively say that he'd support another Trump run.
Pressed on whether he would still consider voting for him again, Raffensperger said: "Well, President Trump is not on the ballot in 2024 right now, so we'll just have to wait and see what would happen."
The Republican state official was coy about whether he would back the commander-in-chief against a Democratic rival as the pair continued to joust over the presidential election vote in Georgia and the veracity of the voting process in the state.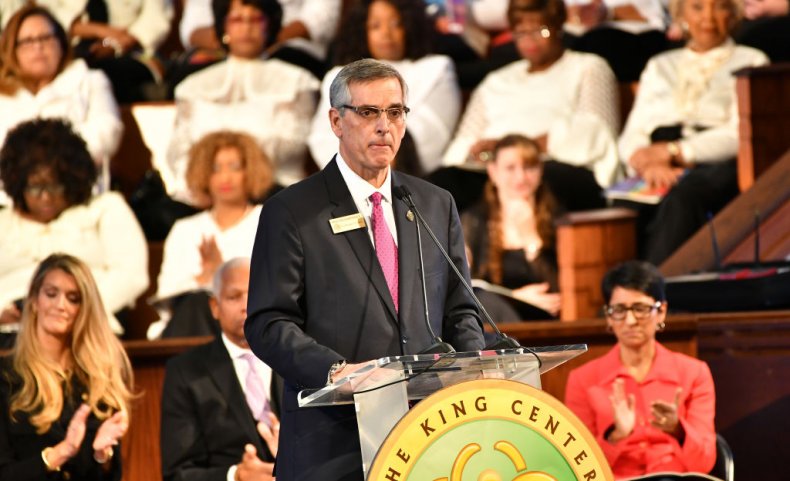 In a recording of a phone call between the pair, obtained by The Washington Post, President Trump tried to pressure the Georgia secretary of state to "find 11,780 votes," enough to overturn the result of the election in the state.
He also repeated claims that there was mass voter and electoral fraud in the state as he told Raffensperger that it was a supposed "criminal offense" for the local election official not to report it to authorities.
"The people of Georgia are angry, the people of the country are angry," Trump said at one point. "And there's nothing wrong with saying that, you know, that you've recalculated."
Raffensperger has not disavowed the presidential election result in Georgia, nor found additional votes for Trump. The vote for President-elect Joe Biden in the state has so far been upheld. According to data from the last recount in Georgia, Biden beat Trump by 11,779 votes, or 0.2 percentage points.
Speaking on the phone call obtained by the Post, Raffensperger flatly told the president that the data he had was "wrong" after Trump urged him to "find" more votes for him and say he'd "recalculated" the election result.
Appearing on ABC News last night, Raffensperger elaborated. He said: "The data that he has is just plain wrong. He had hundreds and hundreds of people he said that were dead that voted. We found two. That's an example of his bad data."
Newsweek has contacted the Georgia secretary of state's office for further comment and clarification. This article will be updated with any response.