Bradley Cooper's Doppelganger Wanted by Police for Alleged Shoplifting
Police in Henry County, Georgia have issued an urgent appeal for help locating a man accused of shoplifting from a Home Depot.
In a post shared to Facebook, the authorities called on the public to get in touch if they have any information on an unidentified male accused of stealing a Bosch Rotary Laser Kit from a branch of the popular home improvement store in McDonough.
However, while the social media post was quickly flooded with replies, the majority appeared to focus on the fact the suspect bore a striking resemblance to Hollywood actor Bradley Cooper.
According to a 2015 study by researchers in Australia the chances of someone having an exact doppelganger ranks at about one in one trillion.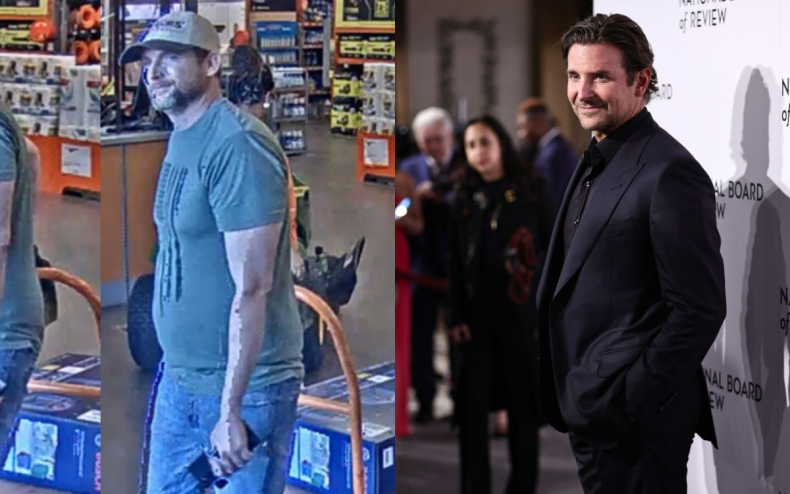 However, scientists also estimate that there's a 1 in 135 chance that a pair of complete doppelgangers, who match up exactly in eight key facial features, exist somewhere in the world.
While Cooper's look-alike may not be an exact match for The Hangover actor, he certainly shares facial similarities with the 47-year-old.
Fans on Facebook were quick to spot the similarities when the Henry County Police Department issued its appeal for help.
"Guy looks like Bradley Cooper," one wrote with another chiming in: "that's Bradley Cooper from Wish." A third wrote: "I came to comment that it looked like Bradley Cooper. Glad I wasn't alone. But seriously is this not a prank!?"
A fourth, meanwhile, couldn't resist writing: "Get [Lady] Gaga to call him" in reference to his A Star Is Born co-star, with another quoting the film: "Must be hard...keepin it so hardcore."
Others were not-so-complimentary. "Bradley Cooper has seen better days," one said while another lamented: "Bradley Cooper really put it on for this role."
But while fans were quick to have a laugh at the suspect's expense, it was no laughing matter for the authorities.
According to the Henry County Police Department appeal, the alleged theft took place on July 23. Anyone with information on the identity of the suspect, should call Detective Sergeant J. Holisky at 770-288-8252, the Henry County Non-Emergency Dispatch at 770-957-9121, or text us tips, photos, and videos to 770-220-7009.
While the authorities are on the lookout for his look-alike, Cooper has recently faced criticism of an altogether different kind relating to his appearance.
The Oscar-nominated actor is busy working on his latest film Maestro, which sees him playing the part of West Side Story composer Leonard Bernstein.
It's not been a project without its critics though. Some accused Cooper of 'Ethnic cosplay' over his decision to play Bernstein with his detractors saying the part should have gone to a Jewish actor.
Newsweek has contacted the Henry County Police Department for comment.