Brain Imaging Scans Show What Happens When 'The Iceman' Faces Unusually Cold Temperatures
How 58-year-old Wim Hof can withstand the extreme cold is something of a scientific mystery, but a new study of his brain has helped scientists develop a better understanding of his unique trait.
Hof—better known as "The Iceman"—credits his unusual ability to a set of self-developed techniques dubbed the "Wim Hof Method," or WHM. The method involves three components: breathing exercises, training of mindset/concentration and gradual exposure to cold, according to his website. In an effort to understand what's happening internally while he's in such temperatures, researchers from Wayne State University School of Medicine conducted a controlled whole-body cold exposure experiment.
While wearing a full body suit infused with temperature-controlled water, the extreme athlete underwent a combination of two types of imaging techniques: functional magnetic resonance imaging (fMRI) and positron emission tomography (PET), according to the study published February 10 in the journal Neuroimage.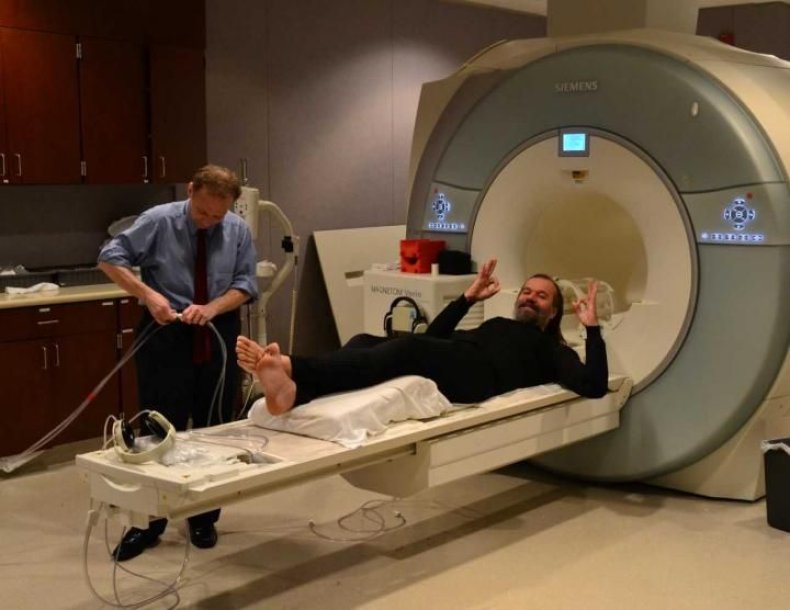 The Dutch man practiced the WHM while undergoing the two scans. Findings revealed that the intense breathing method allowed him to regulate his skin temperature and possibly his internal temperature, too.
"The willful regulation of skin temperature—and, by implication, core body temperature, even when the body is being stressed with cold—is an unusual occurrence and may explain his resistance to frostbite," Otto Muzik, study author and professor at Wayne State University School of Medicine, said in a statement.
Muzik and his colleagues also examined interesting activity happening inside his upper brain stem.
"This area is associated with brain mechanisms for the control of sensory pain and is thought to implement this control through the release of opioids and cannabinoids," Muzik said.
The results raise the tantalizing possibility of using WHM to intervene with various types of clinical syndromes, the authors wrote in their published paper. Mood or anxiety disorders might be likely targets, study author Vaibhav Diwadkar, a psychiatry and behavioral neurosciences professor at Wayne State University, said in a statement. However, much more research is needed to get a more clear picture on the science behind The Iceman's bizarre techniques.