Brandon Bernard's Execution Was the First to Take Place During a Presidential Transition in 130 Years
The ninth federal execution this year under the Trump administration took place on Thursday—the first during a presidential transition in more than 130 years.
Brandon Bernard was executed by lethal injection inside a death chamber in Terre Haute, Indiana, for the slaying of a religious Iowa couple more than two decades ago when Bernard was 18 years old. His case is a rare example of execution for a crime committed while the person was an adolescent.
The 40-year-old was the youngest person to receive a death sentence in nearly 70 years for a crime committed as a teen.
The federal government's last lame-duck execution was that of Richard Smith, a Choctaw Indian who was put to death by President Grover Cleveland's outgoing administration in January 1889 for a murder committed on tribal land in Arkansas.
Four more federal executions have been scheduled in the weeks before President-elect Joe Biden's inauguration, including that of Alfred Bourgeois on Friday. After the upcoming executions, the Trump administration—which resumed federal executions after a 17-year hiatus—will have put more inmates to death than any other presidential administration in the last 100 years. It would surpass the 10 executions carried out under Franklin D. Roosevelt's administration beginning in the 1930s.
Bernard was one of five Texas gang members convicted in the killing of two youth ministers, Stacie and Todd Bagley, in 1999. While three others involved in the crime were given lesser sentences, Christopher Vialva, the gunman, was executed back in September.
Bernard was pronounced dead at 9:27 p.m. Eastern time on Thursday.
"I'm sorry ... I wish I could take it all back, but I can't," Bernard said during his three-minute last words, speaking to the family of the Bagleys. "That's the only words that I can say that completely capture how I feel now and how I felt that day."
Several high profile celebrities brought Bernard's case to the public's attention this week. Kim Kardashian West, who called for President Donald Trump to halt Bernard's execution earlier this week, detailed a phone call with Bernard just hours before his death.
"Hardest call I've ever had," she tweeted. "Brandon, selfless as always, was focused on his family and making sure they are ok. He told me not to cry because our fight isn't over."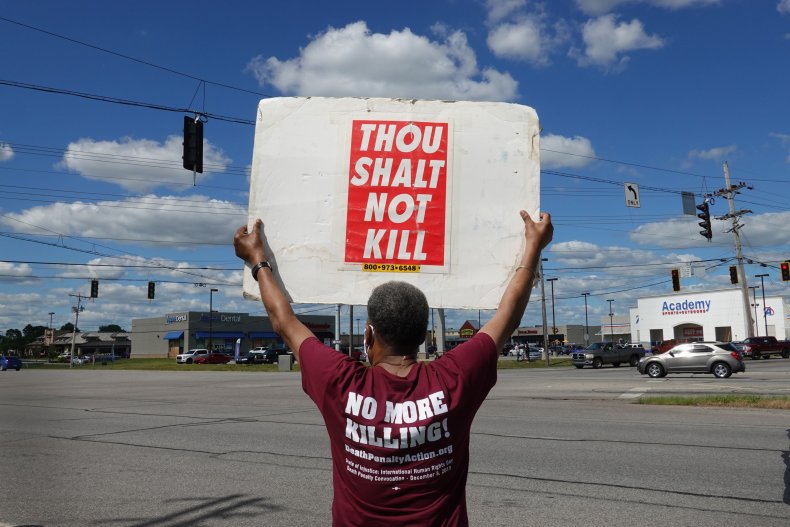 In a last-minute effort, Bernard's defense team requested from the Supreme Court to halt the execution, bringing in two high-profile attorneys: Alan Dershowitz, who was part of Trump's impeachment defense team, and Ken Starr, well-known as part of the independent counsel that led to the investigation of Bill Clinton. The court denied the stay on Thursday night, two and a half hours before the execution was scheduled to proceed.
"Before Brandon's execution, five of the jurors who sentenced him to death said they no longer stood by that verdict," Robert Owen, Bernard's attorney, said in a statement following the Supreme Court's decision. "They joined the lead appellate prosecutor on Brandon's case in urging President Trump to commute his death sentence to life without parole."
"Brandon's execution is a stain on America's criminal justice system," Owen continued. "But I pray that even in his death, Brandon will advance his commitment to helping others by moving us closer to a time when this country does not pointlessly and maliciously kill young Black men."
In a 2016 video statement from death row, Bernard said that he "can't imagine how [the Bagleys] feel about losing their family," according to the Associated Press. He added: "I wish that we could all go back and change it."
His legal team also noted that Bernard embraced religion and took part in helping at-risk youth during his time in prison. Bernard's clemency petition highlighted his role in youth outreach programs.
Following Bernard's execution, Todd Bagley's mother, Georgia A. Bagley, tearfully thanked Trump, Attorney General William Barr and the U.S. Justice Department for bringing closure to her family.
"Without this process, my family and I would not have the closure needed to move on in life," she said in a statement by the Bureau of Prisons. "It has been very difficult to wait 21 years for the sentence that was imposed by the Judge and Jury on those who cruelly participated in the destruction of our children, to be finally completed."