'Brandon' Caller Jared Schmeck Takes Back Claim He's Not 'Trumper', Says Election 'Stolen'
"Let's go Brandon" caller Jared Schmeck has claimed that the 2020 presidential election was "stolen" from former President Donald Trump despite previously maintaining that he did not support the ex-president.
Schmeck, a 35-year-old father of four, trolled President Joe Biden and First Lady Jill Biden by saying Let's go Brandon" during a phone call as part of the North American Aerospace Defense Command (NORAD) Santa-tracker broadcast on Christmas Eve. The phrase has recently become a popular code for conservatives to say "f**k Joe Biden" without explicitly swearing.
In an interview published on Sunday, Schmeck told The Oregonian that he was not a "Trumper" but a "free-thinking American and follower of Jesus Christ" who had "nothing against" Biden. However, a "Make America Great Again" hat-wearing Schmeck insisted that the media had misinterpreted his remarks during a Monday interview on former Trump adviser Steve Bannon's War Room Pandemic podcast.
"I have to say I thought it was really darn funny, we had a really good laugh about it," said Schmeck, who made the call from the bedroom of his two young sons. "I'm proud of it...I am a Christian man. For me, it's God first and foremost, I don't follow any one man blindly. But some of the media's run with that and said I don't support Donald Trump. That's absolutely false."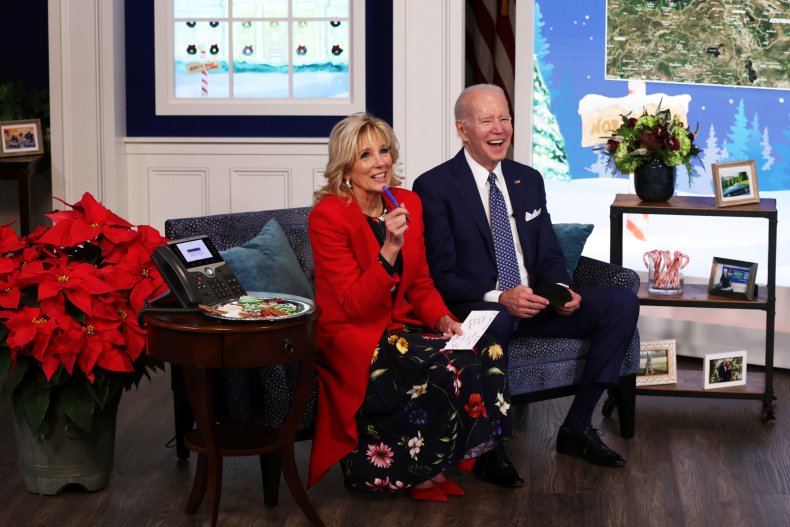 He added, "Donald Trump is my president and he should still be president right now. The election was 100 percent stolen. I just want to make that clear. But 'let's go Brandon' is more than just 'F Joe Biden.' 'Let's go Brandon' encompasses the entirety of our frustration with Joe Biden, the administration, the leftist mob, the cancel culture, the mainstream media."
In his Oregonian interview, Schmeck lamented that what he deemed to be a "joke" remark ad led to him receiving online abuse "for utilizing my freedom of speech." Trump's niece, Mary Trump, sarcastically tweeted on Monday that it was "a shame how this man's first amendment rights keep getting violated" in response to his interview with Bannon.
Schmeck's call with the Bidens did not initially provide any clues that the coded insult would be used, with the bulk of the call being focused on what presents his children were hoping for on Christmas. The president responded to "let's go Brandon" being uttered at the very end by saying, "let's go, Brandon, I agree."
Donald Trump Jr. tweeted that Biden's response was evidence "he has no idea what it actually means" and "is more clueless than we even thought."
No credible evidence has emerged to support the notion that the election was "stolen" from Trump, despite the former president repeatedly touting false conspiracy theories and opinion polls suggesting that a majority of his voters in 2020 believe the claims. Biden defeated Trump by 74 votes in the Electoral College and over 7 million national popular votes.
Newsweek reached out to the White House for comment.