Biden's 'Brandon' Caller Jared Schmeck Says He's Not a 'Trumper,' Receiving Abuse
A man who said "let's go Brandon" to President Joe Biden during a Christmas Eve phone call says it was meant as a joke and insisted that he's "not a Trumper."
The phrase has become popular among conservatives, particularly supporters of former President Donald Trump, as a euphemism for "F*** Joe Biden."
But Jared Schmeck has said that he meant "no disrespect" to Biden when he used the phrase during a call with the president and first lady as part of a North American Aerospace Defense Command (NORAD) Santa-tracker broadcast.
"I understand there is a vulgar meaning to 'let's go Brandon,' but I'm not that simple-minded, no matter how I feel about him," Schmeck, 35, a father-of-four who works for an electric company, told The Oregonian newspaper.
"At the end of the day, I have nothing against Mr. Biden, but I am frustrated because I think he can be doing a better job," he said.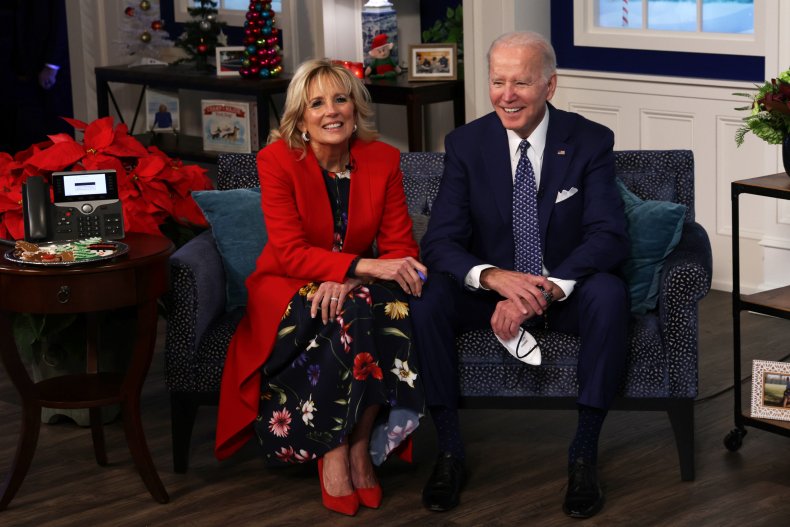 Schmeck and his young son had jovially spoken with the president and Jill Biden from the boy's bedroom.
But he ended the call by telling the Bidens: "I hope you guys have a wonderful Christmas as well. Merry Christmas and let's go Brandon."
"Let's go Brandon. I agree," Biden replied, as the first lady chuckled.
Schmeck posted a video of his side of the call on YouTube. "We called NORAD and they patched us to the President! Let's Go Brandon! I had no idea this was being livestreamed at the time!" the caption said.
Schmeck told The Oregonian that he had assumed the call would be automated.
He also said that he's not a supporter of former President Donald Trump, but is frustrated with Biden's policies including federal vaccine mandates as well as issues including inflation and the supply chain crisis.
"There's no animosity or anything like that," Schmeck said. "It was merely just an innocent jest to also express my God-given right to express my frustrations in a joking manner... I love him just like I love any other brother or sister."
Schmeck said that he "stood 100 percent behind what I did and what I said," but also complained about the backlash his remark prompted on social media.
"I am being attacked for utilizing my freedom of speech," he said, adding that he had also received some vague but threatening calls.
According to The Oregonian, Schmeck is a former police officer who resigned from the Medford Police Department in 2018. He did not disclose why he resigned when asked by the newspaper.
The White House has been contacted for comment. Schmeck could not immediately be contacted for further comment.