President Joe Biden said he agreed after a Christmas caller trolled him by saying, "let's go Brandon," during a North American Aerospace Defense Command (NORAD) Santa-tracker broadcast on Friday.
NORAD has annually been "tracking" Santa's journey on Christmas Eve to deliver gifts around the world for 66 years. On Friday, Biden and first lady Jill Biden participated in a broadcast as part of NORAD's tracking efforts, taking calls from viewers. One caller, identified as Jared from Oregon, called in and decided to troll the president.
"Yeah, I hope you have a wonderful Christmas as well. Merry Christmas and let's go Brandon," the man, who said he was the father of a 2-year-old daughter named Penelope, told the Bidens just before he hanging up the phone.
Without missing a beat, Biden smiled and replied: "Let's go Brandon. I agree." The first lady chuckled.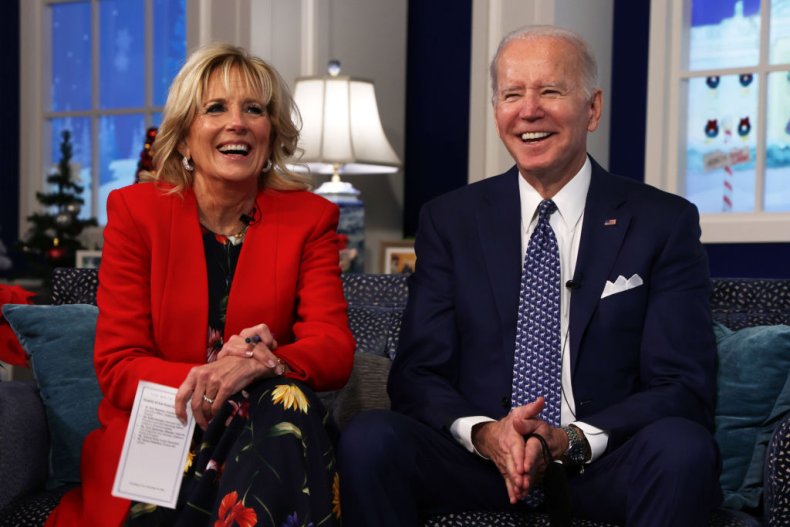 The term "let's go Brandon" has become a popular euphemism among Biden critics—meaning "f*** Joe Biden." Those opposed to Biden—and particularly supporters of former President Donald Trump—adopted the euphemism after a TV reporter mistakenly said in October that the crowd at a NASCAR event was chanting "let's go Brandon" when they were actually saying "f*** Joe Biden."
Since then, the slogan has been repeatedly used in fundraising emails sent out by Trump. Biden critics have put the phrase on bumper stickers, signs and t-shirts. Trump supporters have also made cryptocurrency coins called $LGB for "let's go Brandon" and $FJB for "f*** Joe Biden."
It's unclear whether the president and first lady were aware of the slogan's meaning when the caller confronted them with it on Thursday. Newsweek reached out to the White House for comment but did not immediately receive a response.
The holiday season has arrived as Biden's poll numbers and popularity with the American public has tanked over the past several months. Numerous crises—including the ongoing surge in the COVID-19 pandemic and rapid inflation driven largely by supply chain issues—have plagued the president's administration during his first year in office.
FiveThirtyEight's average of recent polling results shows that just over 43 percent of Americans approve of Biden. Meanwhile, some 51.5 percent disapprove of the job the president is doing.
Polling conducted from December 19 to 21 and released this week by YouGov found that just 39 percent of Americans approve of the president. Survey results from December 20 to 22 by Rasmussen Reports put Biden's approval rating at 41 percent, while data from American Research Group's December 17 to 20 polling results shows the president's approval at 46 percent.