Trump Widens Lead Over Biden to 6 Points in Hypothetical 2024 Matchup: Poll
Former President Donald Trump's lead over President Joe Biden has widened—suggesting that he is well positioned to defeat his political rival if they face off again in the 2024 presidential race, new polling shows.
Biden has confirmed that he plans to seek reelection in 2024, despite significant speculation that the 79-year-old will step aside and allow another Democrat to run. The president's poll numbers have plummeted over the past several months. Trump has not officially announced another presidential campaign but has consistently hinted at the possibility.
The latest polling data, released Wednesday by London-based Redfield & Wilton Strategies, suggests Trump would have a clear advantage over the Democratic incumbent if the presidential election were held today. The former president currently leads Biden by 6 points in the company's hypothetical 2024 matchup.
Just 38 percent of eligible voters surveyed by Redfield & Wilton said they'd cast ballots for Biden in the 2024 election. Meanwhile, 44 percent of respondents said they'd support Trump if he were to run—an increase of 2 percent for the former president since a December 5 poll. However, neither potential candidate has majority support, and 12 percent of eligible voters said they don't yet know who they'd back in the election.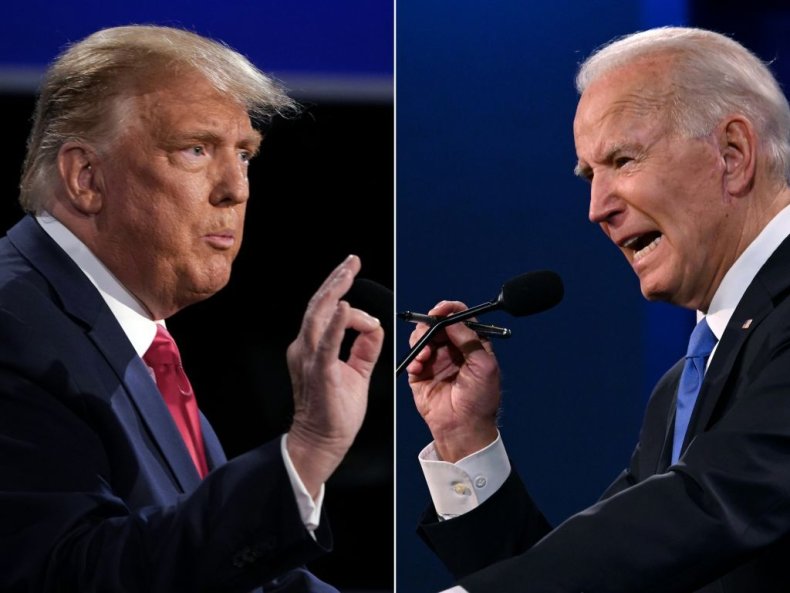 "This poll marks the third lead for Donald Trump over Joe Biden that we have seen in our national polling, including polls conducted in advance of the 2020 Election," the consulting company's write-up of the poll results explained. The poll was conducted on December 18 and had a sample size of 1,500 eligible voters.
Separately, data from Rasmussen Reports, a conservative polling company, shows that more likely voters approve of Trump, compared with Biden. The company's tracking survey data from Thursday shows that 44 percent of likely voters approve of the former president, while only 41 percent approve of the current commander in chief.
Biden's low approval rating in the Rasmussen data aligns with polling released this week by NPR/PBS News Hour/Marist. That separate poll found that just 41 percent of Americans approve of the job Biden is doing. Meanwhile, 55 percent said they disapprove of the president.
On Wednesday, Biden again asserted his intention to seek a second term. "I'm a great respecter of fate. Fate has intervened in my life many, many times. If I'm in the health I'm in now, if I'm in good health, then, in fact, I would run again," the president said.
He suggested that Trump seeking another term would make it more likely he'd run again in 2024. "Why would I not run against Donald Trump if he were the nominee? That would increase the prospect of running," Biden said.
White House press secretary Jen Psaki told reporters in November that Biden plans to seek a second term. Back in March, the president told journalists during a White House press conference that he planned to run again and anticipated that Vice President Kamala Harris would be his running mate.
"Yes, my plan is to run for reelection. That's my expectation," he said at the time.
Meanwhile, Trump has not officially confirmed or denied whether he will mount a 2024 campaign. He has repeatedly answered questions about his political ambitions by saying his supporters are "going to be very happy." Trump has also predicted that Biden won't seek another term.
"So I would think that maybe he wouldn't be running, based on his performance. I would not imagine he would be running," Trump told Orlando, Florida's WDBO at the beginning of December.
Other recent surveys have shown Trump beating Biden in a hypothetical 2024 matchup. Polling released by Emerson College in early November showed the former president 2 points ahead of the incumbent. Trump was supported by 45 percent of registered voters in that survey, while Biden was backed by just 43 percent.
Another November poll, carried out by USA Today and Suffolk University, showed that more Americans are opposed to Biden running again, compared with those against Trump seeking another White House term. Nearly two-thirds of those surveyed said they don't want Biden to seek reelection, while 58 percent said they were opposed to another presidential bid by Trump.