Trump Doubts Biden Will Seek Reelection in 2024: 'I Would Not Imagine He Would Be Running'
Former President Donald Trump has cast doubt on President Joe Biden's 2024 re-election plans, suggesting that his political rival will not even seek a second term in the White House.
Biden asserted in the spring that he anticipated running for president again in 2024, but many have speculated that he will step aside and allow another Democratic candidate to run. The president will be 81 at the time of the next presidential election, and his approval rating has plummeted over the past several months.
"I would give them an F—if permissible an F minus," Trump told Orlando, Florida's WDBO during a Friday morning interview when asked about the Biden administration's performance.
"Look, he's gonna make a statement, and I don't know if anybody knows what's in their future," Trump said after he was asked about his assessment of Biden's 2024 plans. "Because, frankly, things can happen and things can happen for him, and maybe things—in his case—are already happening," the former president continued.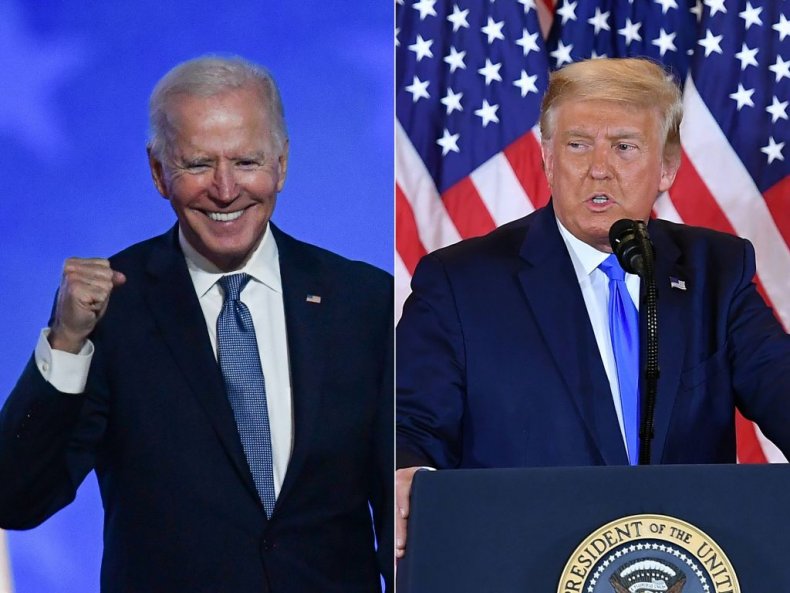 "So I would think that maybe he wouldn't be running, based on his performance. I would not imagine he would be running," Trump said.
During the interview, Trump again hinted at the possibility that he will seek another term in 2024. "A lot of your listeners are people that will be very happy with what my decision will be [regarding 2024], I believe," he said.
In March, Biden said he intends to seek a second White House term. "Yes, my plan is to run for reelection. That's my expectation," the president said during a press conference. Last month, White House press secretary Jen Psaki confirmed that Biden will seek office again.
But as his approval rating has dropped precipitously over the course of 2021, some have speculated that Vice President Kamala Harris or another Democrat could run instead. Harris and Biden have publicly distanced themselves from this speculation. The vice president said in November that they are not currently discussing the 2024 election.
During an interview with ABC News last month, Harris was asked, "So you're not discussing 2024 yet?" She responded emphatically, "Absolutely not."
Recent polls have suggested that Trump would be well positioned in a potential rematch against Biden. Multiple surveys of voters show the former president ahead of the incumbent.
Polling results released in November by Redfield & Wilton Strategies showed that 44 percent of Americans would cast ballots for Trump in a hypothetical matchup, while just 39 percent would support Biden—a lead of 5 percentage points.
Notably, that same survey also showed Trump pulling ahead of Biden, compared with a similar one conducted a couple of months before. When the poll was conducted in September, just 42 percent of respondents backed Trump, which tied with the 42 percent supporting Biden.
Another poll, released in November by Emerson College, showed Trump narrowly ahead of Biden. Trump was backed by 45 percent of registered voters, while Biden was supported by only 43 percent—a lead of 2 percentage points for the former president.
A recent survey conducted by USA Today and Suffolk University also showed that more Americans oppose Biden seeking another presidential term, compared with those who are against Trump running for the White House again. Nearly two-thirds (64 percent) of respondents said they were against Biden seeking an additional four years as president. Just 58 percent said they were opposed to Trump running again.
Newsweek reached out to the White House for comment but did not immediately receive a response.