Kamala Harris Says She and Joe Biden 'Absolutely Not' Discussing 2024 Re-Election
Vice President Kamala Harris insisted that she and President Joe Biden are not currently discussing the 2024 election amid plummeting poll numbers and reports that some Democrats are considering looking for alternative candidates.
Biden suggested in March that he plans to seek a second term in 2024 and that he would expect Harris to be his running mate once again. Since then, both the president and vice president have seen their approval ratings drop significantly with the American public, and reports have suggested that Democrats may be looking for other options to maintain control of the White House.
During a Thursday interview with ABC News' Good Morning America, Harris was asked directly about Biden's plans ahead of the next presidential election.
"Has President Biden told you whether he's going to seek re-election in 2024?" anchor George Stephanopoulos inquired the vice president.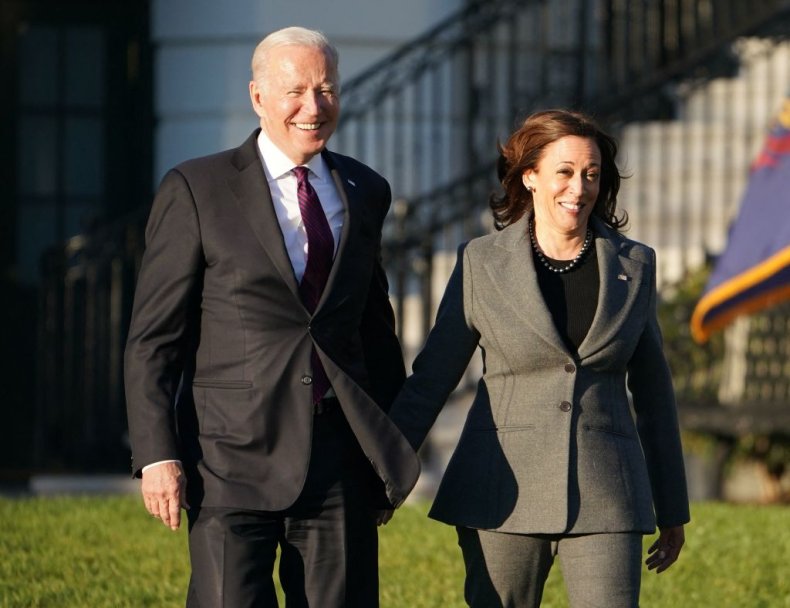 "What President Biden and I started our day talking about, as we normally do, is bringing in members of our intelligence community to review the presidential daily briefing and talk about classified information around threats to our national security," Harris responded.
She continued to outline her daily schedule, suggesting the administration is focused on the job of governing—not thinking about re-election at this point.
Stephanopoulos then doubled down on his question, asking: "So, you're not discussing 2024 yet?"
"Absolutely not," Harris responded, shaking her head.
At a March press conference, Biden said he would "fully expect" Harris to be his running mate in 2024 if he seeks another term.
"She's doing a great job. She's a great partner," he said at the time.
Asked whether he planned to run for the presidency again, Biden responded: "Yes, my plan is to run for re-election. That's my expectation."
Many have raised concerns about Biden's chances in 2024 even before his poll numbers slumped in recent months. The president will be 81 years old at the time of the next presidential election. Biden is already the oldest president in U.S. history, as former President Ronald Reagan previously held that record being 77 at the end of his second term in 1989.
While Biden's approval rating has dropped substantially, Harris' remains even lower, according to recent polls. While about 43 percent of Americans approve of Biden, only about 37 percent felt the same about Harris, according to averages compiled by FiveThirtyEight.
Many have suggested that Biden could step aside and Harris would run at the top of the presidential ticket in 2024. However, others have speculated that Biden's secretary of transportation, Pete Buttigieg, who ran unsuccessfully for the Democratic Party's 2020 presidential nomination, could launch another bid in the next presidential election.
Former Senator Chris Dodd, a Democrat and friend of Biden's, cast some doubt on the president seeking another term in recent comments to The New York Times. He suggested Harris would be a top contender for Democrats if Biden were to step aside.
"I'm hoping the president runs for re-election," Dodd said. "But for whatever reason that might not be the case, it's hard to believe there would be a shortlist without Kamala's name on it. She's the vice president of the United States."
Newsweek reached out to the White House for comment but did not immediately receive a response.