'F Joe Biden' Trends on Twitter After Man Trolls President During Christmas Eve Call
The right-wing slogan "F Joe Biden" was a top trending topic on Twitter on Christmas Day after a caller trolled President Joe Biden with a euphemism for the phrase—"Let's go Brandon"—during a Christmas Eve call with him and first lady Jill Biden.
The Bidens took Christmas Eve phone calls during a North American Aerospace Defense Command (NORAD) Santa-tracker broadcast on Friday. One caller, who identified himself as Jared from Oregon, decided to troll the president before he hung up.
"Yeah, I hope you have a wonderful Christmas as well. Merry Christmas and let's go Brandon," the man told the Bidens just prior to ending the call.
Biden smiled and replied: "Let's go Brandon. I agree," as the first lady chuckled. It was unclear whether the president understood the meaning of the right-wing slur. The White House did not respond to Newsweek's request for comment.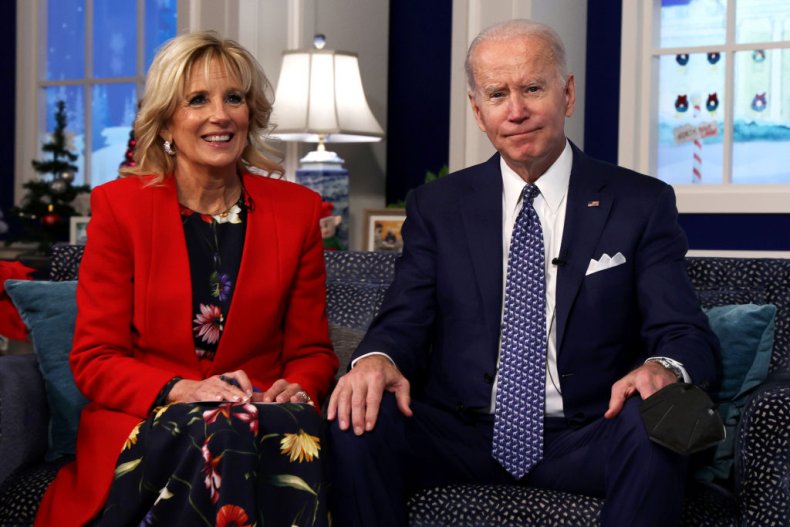 After the interaction, Twitter users began sharing their thoughts on the interaction. While many mocked the president, others criticized the caller and defended Biden. As of the time of writing, "F Joe Biden" was a top political trending topic on the social media platform with more than 31,000 tweets discussing the term.
"You think President Poops-his-pants took back the joke when he cluelessly repeated words from a caller the other day?" Washington Times columnist Tim Young tweeted. "Oh and... F Joe Biden," he added.
"I'm part of the crowd that's been saying F Joe Biden a lot longer than these Billy-Bob-come-lately conservatives. They agree with 95% of the conservative agenda Biden has been responsible for his entire career," Twitter user Johnny Akzam wrote in a post. "They're just too ignorant to realize he's one of them."
Others dismissed the incident and defended the president.
"Trump supporters think Joe Biden didn't get the 'Let's go Brandon / F Joe Biden' reference. Of course he did. He just didn't care. The current President of the United States is not so insecure as to have his feelings hurt by a cheap insult. They're thinking of the former guy," the Palmer Report account tweeted.
"The people yelling & typing 'F- Joe Biden' or even saying it to the POTUS on the phone via the Brandon meme with their kids there think Donald Trump, the racist, 2ce-impeached, migrant child-snatching, COVID superspreader, crap economy+ insurrection guy was a great president, so," MSNBC host Joy-Ann Reid weighed in.
"Christmas is better with a human president. (Proud o) F Joe Biden," author John Pavlovitz tweeted.
Some were conflicted, finding the trolling humorous but also believing the caller's actions were inappropriate.
"Confession: I find it in poor taste to tell the President of the United States 'Let's go Brandon' when the man just wanted to wish you Merry Christmas. Good manners should still matter," conservative blogger and radio host Erick Erickson wrote in a series of tweets.
"And yes, I did laugh, because I do think it is funny, but I also think it is bad manners. If the president of the United States calls to wish you a merry Christmas, be flattered you get to speak to the president of the United States," Erickson added.
"Let's go Brandon" became a popular slogan among Biden critics after a TV reporter mistakenly said in October that the crowd at a NASCAR event was chanting "let's go Brandon" when they were actually saying "f*** Joe Biden." Since then, many supporters of former President Donald Trump have embraced the term, putting it on shirts, signs and bumper stickers.
Some have even created new cryptocurrencies based on the slogans. There are now digital coins called $LGB for "let's go Brandon" and $FJB for "f*** Joe Biden."